City Brew Tours offers unforgettable all-inclusive tours and beer-focused experiences in some of the best beer cities throughout North America. With over a decade of experience, City Brew Tours has created the ultimate craft beer experience that blends history, beer knowledge, transportation, and great food with unrivaled access to an area's top breweries and their beer.
Our mission is to be the leading curator of craft beer experiences for visitors, locals, and the community as both an ambassador and an advocate for the brewing industry.
---
Meet City Brew Tours Phoenix Franchisee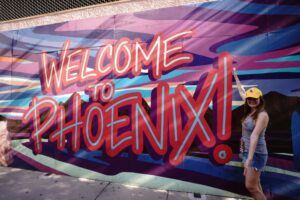 Holly Pigeon changed careers from marketing to tourism so she could share her favorite beers and breweries from her native state of Arizona. A native – gasp! Specifically, Holly enjoys sours and hefs, but she's learning to expand to other styles after being on two City Brew Tours, one in Portland and the other in Boston. She has a nine-year-old son named Brady (after Tom) and they're super into football (Pats) and basketball (Suns). Holly and her team of awesome beer experts can't wait to take you on your next beer adventure!
Where City Brew Tours began
City Brew Tours was founded in Burlington, Vermont in 2008 by Chad Brodsky, a college kid who had fallen in love with craft beer while studying in Vienna. Thirsting for more, he returned home and enrolled in the University of Vermont's "Beer Making 101" class. Fortunately, Chad quickly realized he wasn't cut out to brew beer. Instead he bought a used church van, put on his lederhosen, and set off to spread the gospel of craft beer.
Chad's timing was perfect. MSNBC had recently pronounced Burlington the fourth best beer city in the world, and Americans were starting to get a taste for craft beer. Vermont Pub and Brewery founder, Greg Noonan, was the first to open his doors to the new business, and Burlington Brew Tours was born. At the tender age of 21, Chad became the first to establish a brewery tour company on the East Coast.
Burlington Brew Tours became well known for its unique tours led by beer geeks who doubled as designated drivers. By 2012 Chad had perfected his business model. He left his full-time job in finance and opened a second location in Boston. With tours running in two cities, Chad changed the company's name to "City Brew Tours" and set off to add more locations.
By the end of 2017, Chad was juggling operations in five cities and needed help. Enter Barry Hansen, Jr., a professional brewer and part time City Brew Tours beer guide who was instrumental in launching operations in Washington, DC a couple years prior. Barry grew into the role of COO, became co-owner and used his background in leadership, biotechnology and the brewing industry to streamline logistics and expand the company.
With Barry on board, City Brew Tours grew quickly. The company opened three new locations and launched a franchising program in a span of just two years. As of 2023, City Brew Tours operates in 20 cities and continues to expand.