Unbox new flavors
Ask about the Holiday Party Experience! Now Booking.
Deck the halls with Unboxed Experiences' Holiday Party Beer & Cheese Pairing Experience! There's no better way to celebrate this time of year than by getting together with your team for some good food and great company. This one hour virtual event includes Custom Tasting Boxes filled with seasonal craft beers, gourmet cheeses, holiday snacks, and fun little stocking stuffers!
We'll deliver gourmet tasting boxes to you and your guests' doors, then invite you to sip along as one of our unforgettable hosts leads you and your guests through a lively beer and cheese pairing over videoconference. From employee engagement to client appreciation, our Holiday Party Beer & Cheese Pairing Experience is a fantastic solution to both internal and external facing event needs.
Hundreds of corporate event planners trust us to help them put their best foot forward. Let us craft a virtual event solution for you!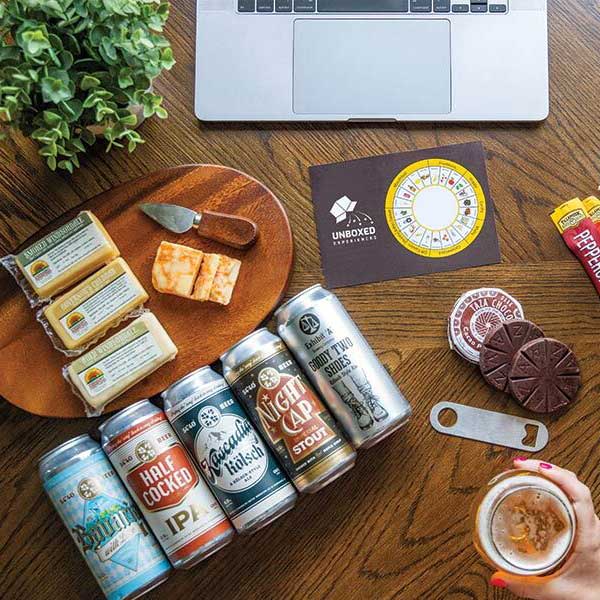 Gourmet Goodies
Each guest will receive a tasting box before the pairing experience. All tasting boxes include craft beer and gourmet cheese in a variety of styles. Depending on the tier, boxes include 3-5 beers and cheeses and may include artisanal chocolate and/or smoked meats. Our dedicated virtual event planners will guide you through our menu of tasting box inclusions and help you choose the right combination for your event.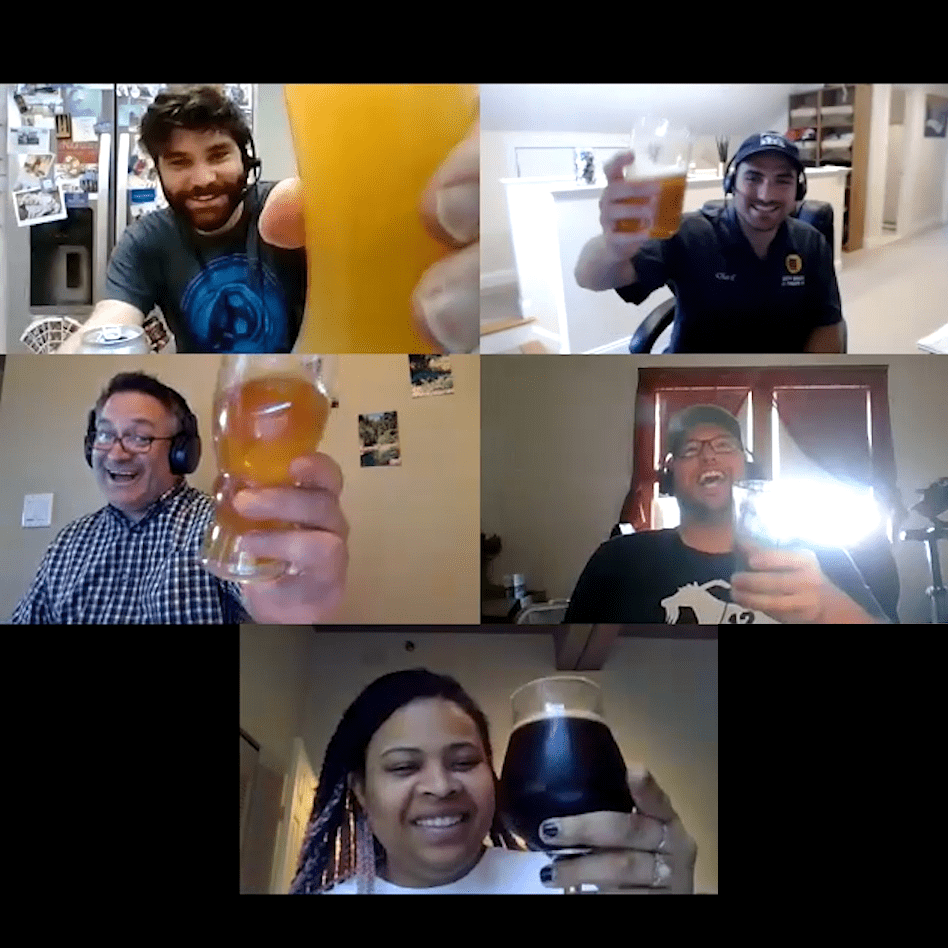 Interactive Experience
Our Beer & Cheese Pairing Experiences are led by energetic and entertaining hosts who know how to get a room buzzing – even a virtual one. Each experience is live and fully interactive. Guests will love chatting together, discussing pairings with their host, and showing off their cheese boards to each other.  The Experience is also a fun and energizing reprieve from a long day of meetings or conference sessions.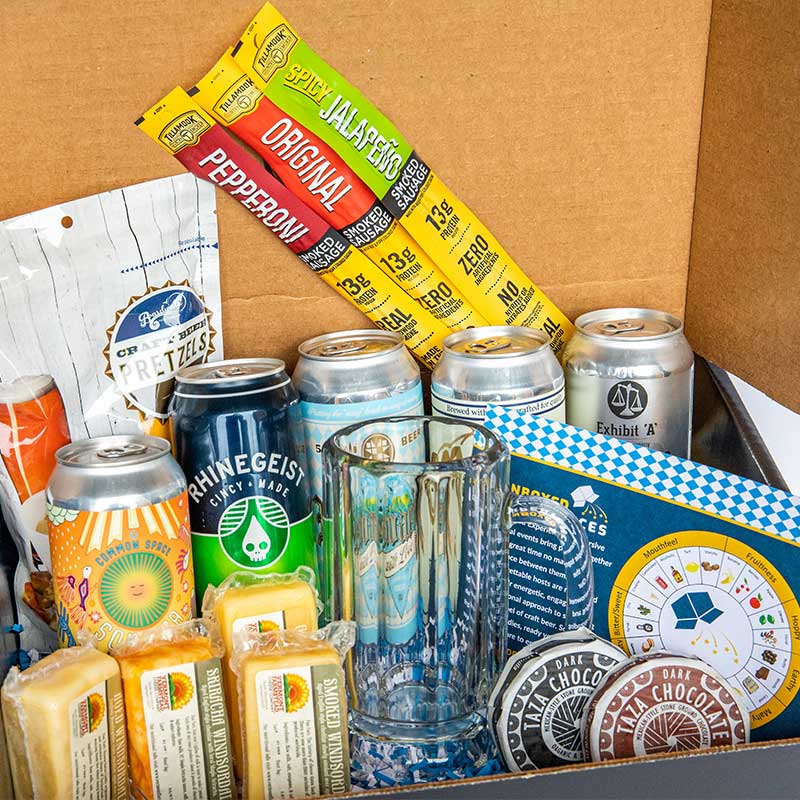 Seasonal Flair
In addition to our signature Pairing Experience, we offer five themed experiences that change with the seasons. Each features seasonally appropriate beer, cheese, goodies, gifts and activities.
On Tap Now: Holiday Party – There's no better way to celebrate the holidays with your team than by enjoying delicious craft beers, artisan-made cheeses and luxurious snacks.
Previously Tapped: Oktoberfest – Enjoy traditional Oktoberfest style beer while learning the rich history of the German festival.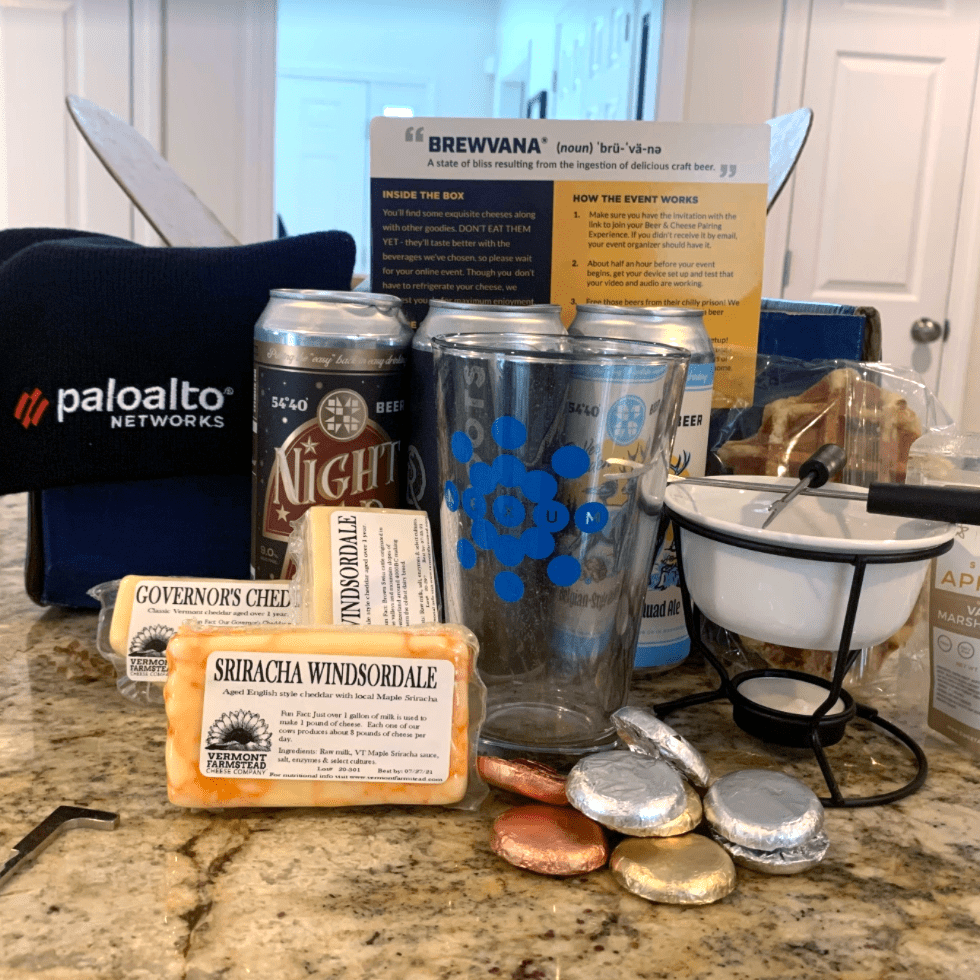 Box Customizations
Customize your tasting boxes to make your Beer & Cheese Pairing Experience even more memorable. Customizations include but aren't limited to: branded merchandise (pint glasses, bottle openers), custom note cards, and non-alcoholic beverages. Have a great customization idea? Let's talk!
Browse Tasting Boxes
Tasting boxes are available in our signature or seasonal variations. Both variations include an energetic hour of beer and cheese pairing, and seasonal boxes include some extra festive flair. All boxes are customizable, and we can even include branded promotional materials, gifts and notecards.
Seasonal Tasting Boxes
We also offer a Spring themed event!
Signature Tasting Boxes
Let us know a bit about your event and we'll get to work putting together an unforgettable Unboxed Experience for you and your team.