A quick guide to 10 Asheville breweries worth your time
10 ASHEVILLE BREWERIES YOU NEED TO CHECK OUT
Tucked away in the beautiful wilderness of North Carolina, there are more Asheville breweries than you can shake a stick at. The mountain town has been dubbed "Beer City USA" because of its disproportionately large beer scene; Asheville has the most breweries per capita in North Carolina and is near the top of that list nationwide.
What started as a small beer scene in the mid-1990s has blossomed into one of the nation's best craft beer towns today. Asheville breweries keep piling up national accolades, and well-known national craft beer brands have set up shop in the mountain town.
Whatever you're looking for when you visit a brewery, Asheville has something to suit your needs. Here are some of the best Asheville breweries to check out while you're in town.
Pro Tip: Explore Asheville's awesome beer scene with some help from local expert craft beer enthusiasts! City Brew Tours Asheville whisks you around Asheville breweries so you can sample the best beer across the city with provided transportation, beer-paired food and an informative local guide. Click here to explore Asheville breweries with City Brew Tours.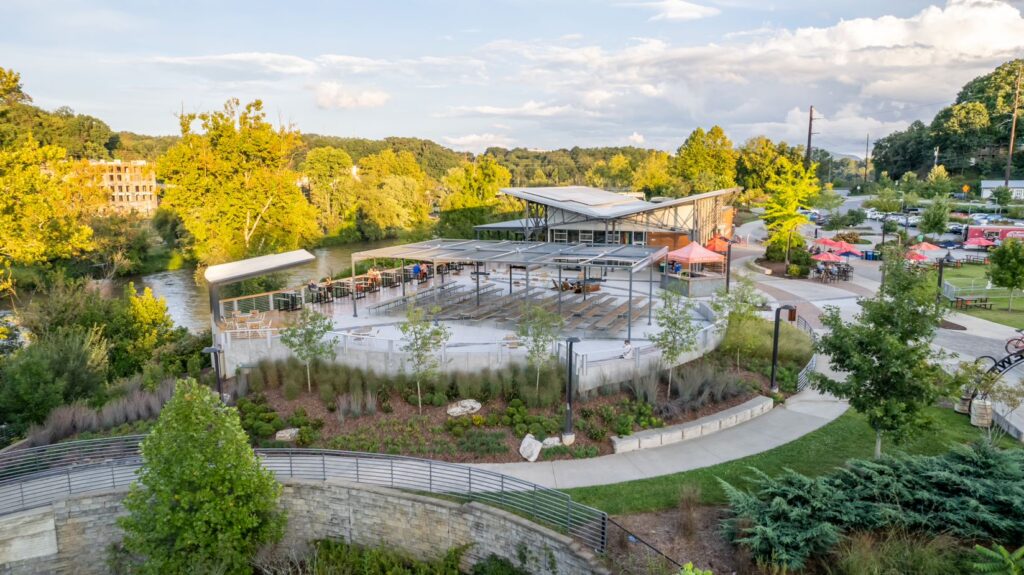 1. New Belgium Brewing
BEST BREWERY TO BRING YOUR DOG
Nationwide craft beer giant New Belgium Brewing has a real gem of a facility in Asheville. The New Belgium Brewing Asheville location has a huge outdoor seating area overlooking the French Broad River, making it a perfect spot to bring your four-legged friends. The brewery always has dozens of drinks on tap, including its famous Fat Tire Ale.
21 Craven St., Asheville | www.newbelgium.com/visit/asheville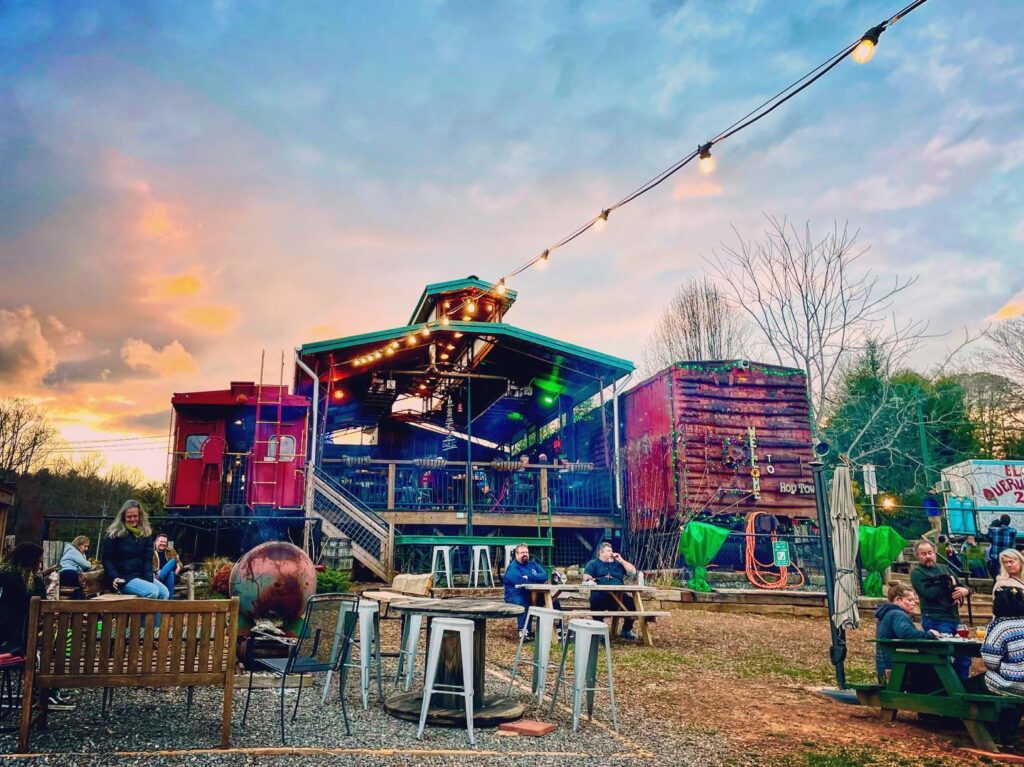 2. Whistle Hop Brewing Company
BEST KID FRIENDLY BREWERY IN ASHEVILLE
About a 15 minute drive south of Asheville, Whistle Hop Brewing Company is a family friendly paradise for craft beer lovers. The brewery features tons of games to keep kids entertained, including a 6-hole mini golf course, disc golf Connect 4, mini bowling and lots of room to run around and play. For the adults, well, the beer is pretty great, too. Whistle Hop Brewing Company keeps a variety of styles on tap, including traditional Europan lagers, hoppy IPAs and several highly-rated sour beers.
1288 Charlotte Hwy., Fairview | www.whistlehop.com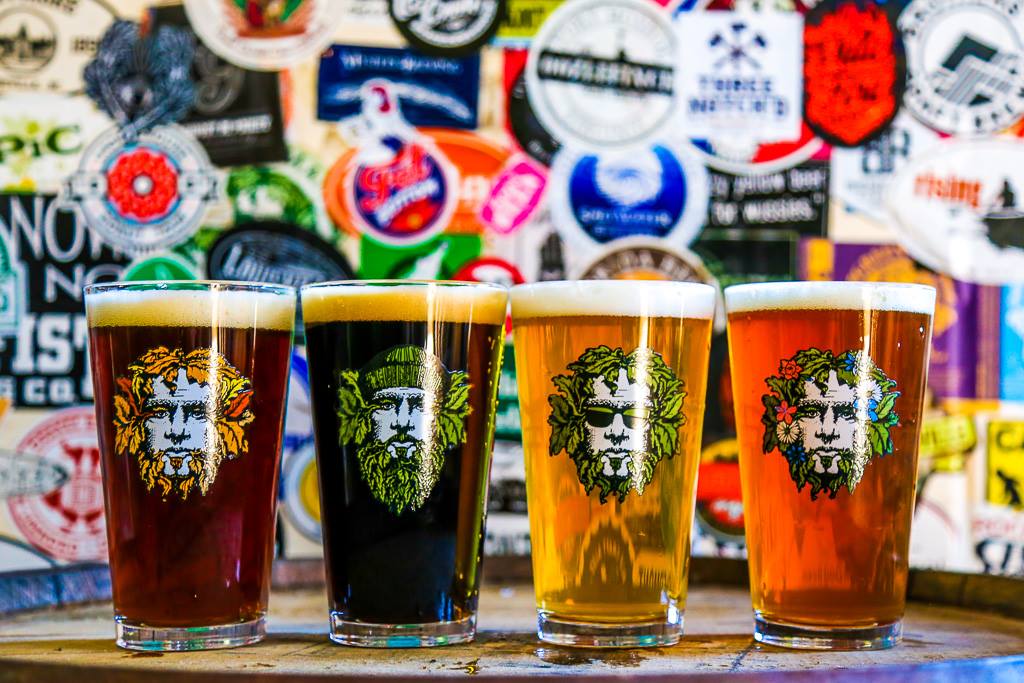 3. Green Man Brewing Co.
BEST BREWERY WITH A VIEW
In a city surrounded by mountainous landscapes and a river cutting through the middle of town, there are several taprooms with great views. Few beat the scene at Green Man Brewing Co., however. The brewery's "Green Mansion" is a 3-story, 20,000 square foot facility with a top floor tasting room that offers a scenic overlook of the Blue Ridge Mountains. The bar on the top level has 18 taps and plenty of space to spread out.
27 Buxton Ave., Asheville | www.greenmanbrewery.com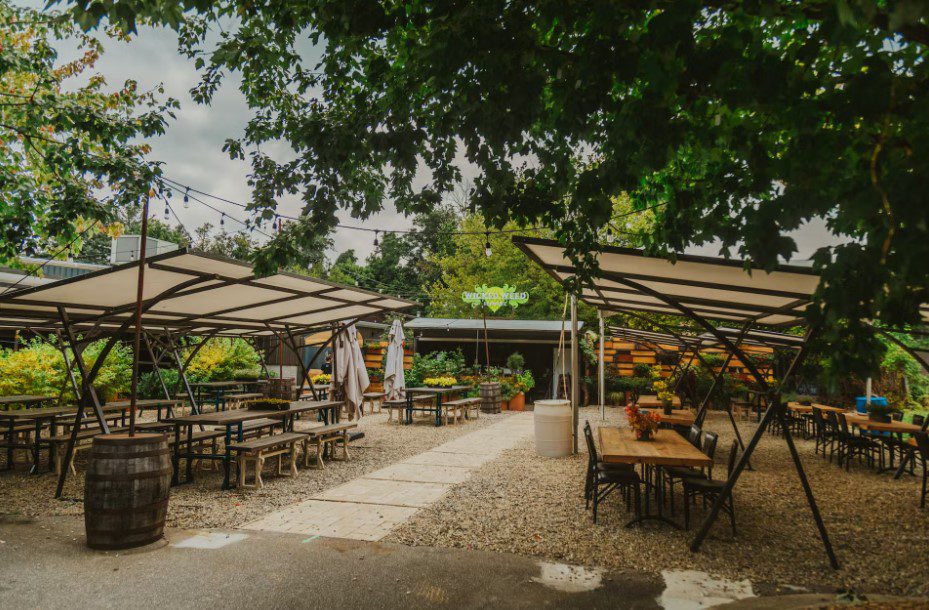 4. The Funkatorium
BEST BREWERY FOR SOURS
If sour beers are your thing, you're in luck. The Funkatorium in Asheville (the sibling taproom of Wicked Weed Brewing) has long been a pilgrimage destination for sour and farmhouse ale enthusiasts nationwide. Visitors can enjoy over a dozen distinct styles of sour beer in The Funkatorium's expansive and beautiful biergarten. Be sure to try one of The Funkatorium's barrel-aged sours, or opt for a traditional European-inspired farmhouse ale.
147 Coxe Ave., Asheville | www.wickedweedbrewing.com/location/funkatorium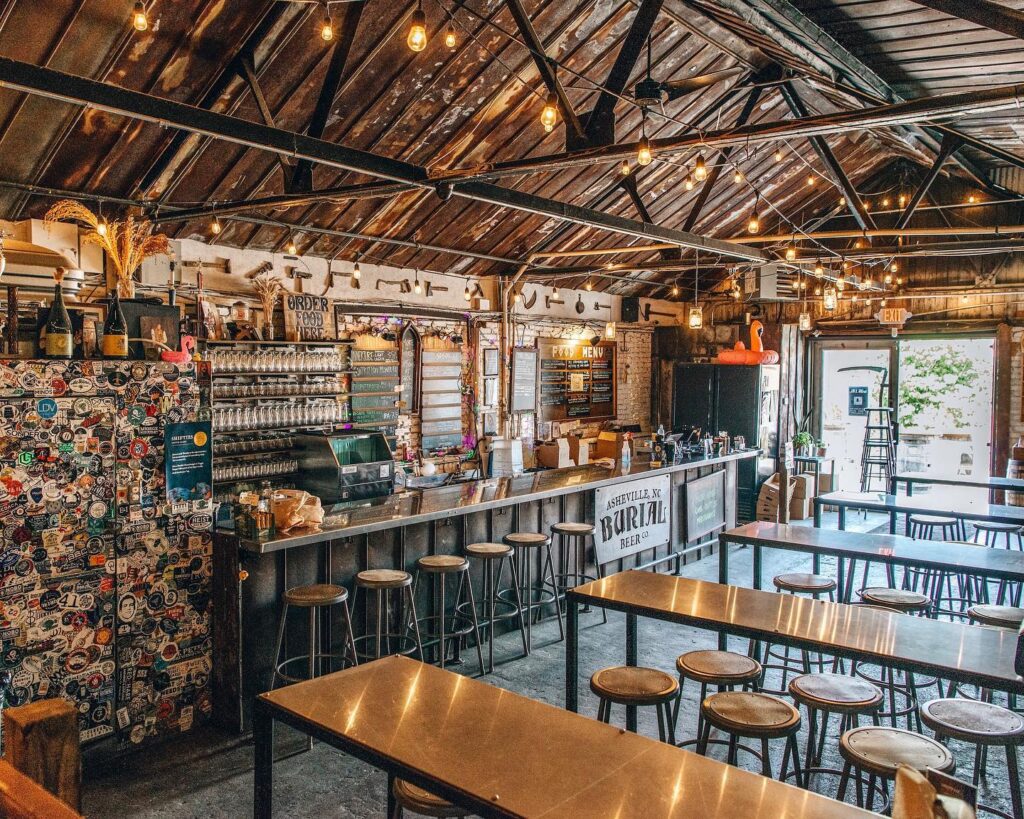 5. Burial Beer Co.
BEST BREWERY FOR AN IPA
Burial Beer Co. in Asheville holds the distinction of having some of the best IPAs in the country, full stop. The brewery churns out IPAs for fans of everything hoppy, with hundreds of highly-touted IPAs listed on Untappd. Whether you're looking for a hazy New England IPA or a classically bitter IPA, Burial Beer Co. has something on its menu for you. What if you hate IPAs? Well don't worry, Burial Beer Co. has highly rated stouts, pilsners and farmhouse ales to suit the needs of any palate.
40 Collier Ave., Asheville & 10 Shady Oak Drive, Asheville | www.burialbeer.com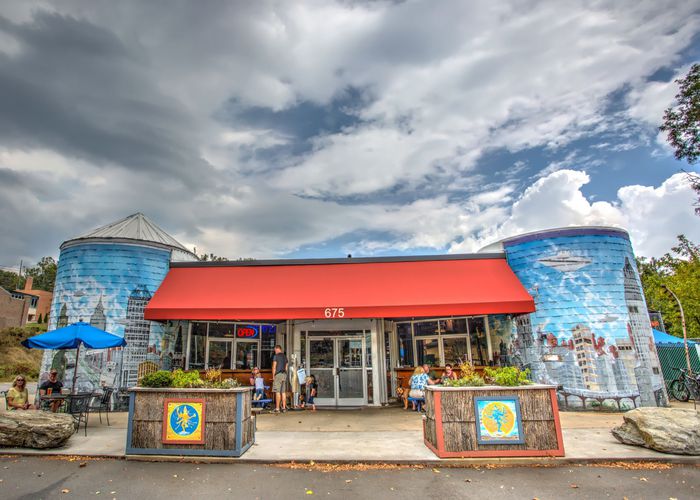 6. Asheville Brewing Company
BEST BREWERY FOR FUN EVENTS
On top of boasting a ridiculous tap selection featuring dozens of brews, Asheville Brewing Company's North Asheville taproom is also outfitted with a pizza joint and dine-in movie theater. The brewery hosts nightly screenings of movies in its two theaters, but also fills up its programming calendar with stand-up comedy shows, trivia nights and other fun events.
675 Merrimon Ave., Asheville | www.ashevillebrewing.com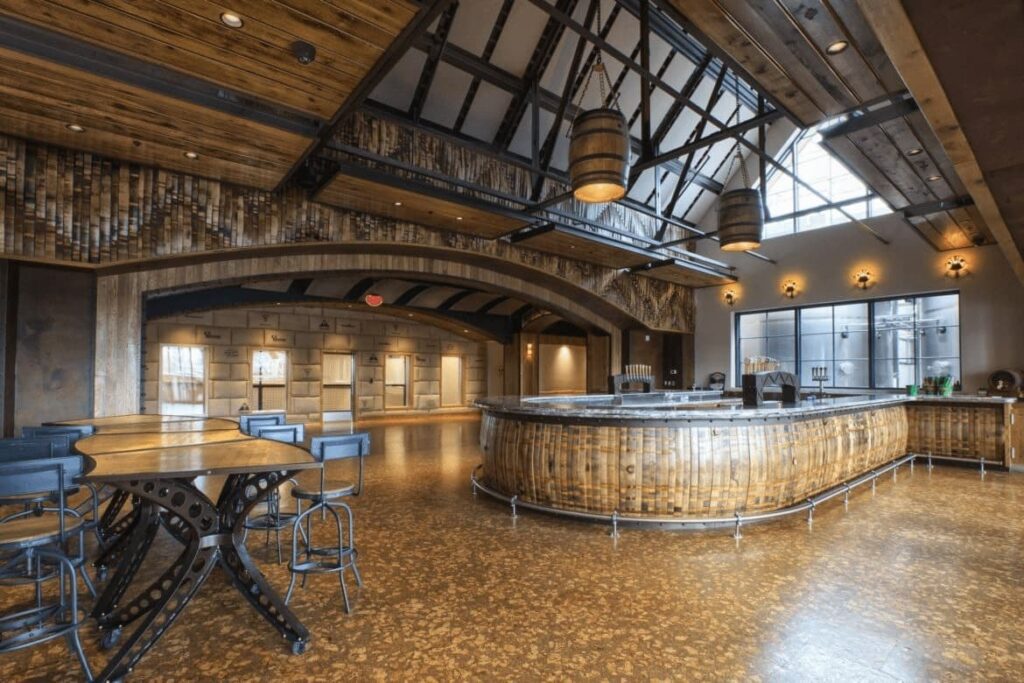 7. Sierra Nevada Brewing Co.
BEST BREWERY FOR LARGE GROUPS
Sierra Nevada Brewing Co., perhaps known best for its nationally-renowned pale ale, opened a huge taproom just south of Asheville. The Sierra Nevada Asheville taproom opens its back patio to the public on a daily basis. If you're coming with a lot of friends and family, there is tons of seating at Sierra Nevada to go along with its reliably delicious beers.
100 Sierra Nevada Way, Mills River | www.sierranevada.com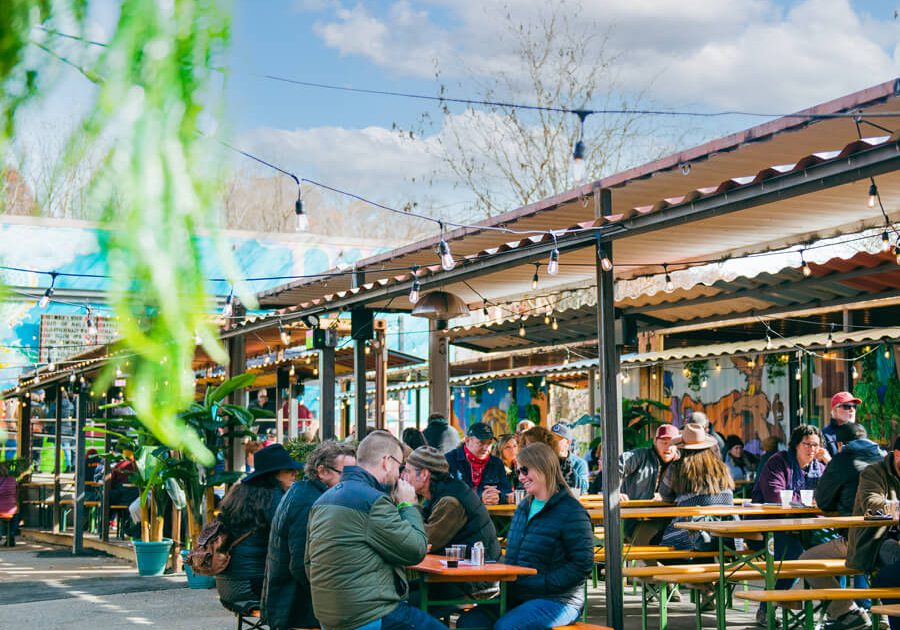 8. Hi-Wire Brewing
BEST BREWERY IN RIVER ARTS DISTRICT
The River Arts District, or RAD, is a cultural hub that stretches along the eastern shore of theFrench Broad River. Former warehouse spaces have been converted into artist makerspaces and the district is filled with great cafes, hip restaurants and a couple of fantastic breweries. Hi-Wire Brewing is one of those breweries, and we love it because of its philosophy of crafting approachable, highly-enjoyable beers. The tap list at Hi-Wire Brewing's RAD Beer Garden can be relied upon to put out a selection of brews sure to satisfy everyone who walks through the doors.
284 Lyman St., Asheville | www.hiwirebrewing.com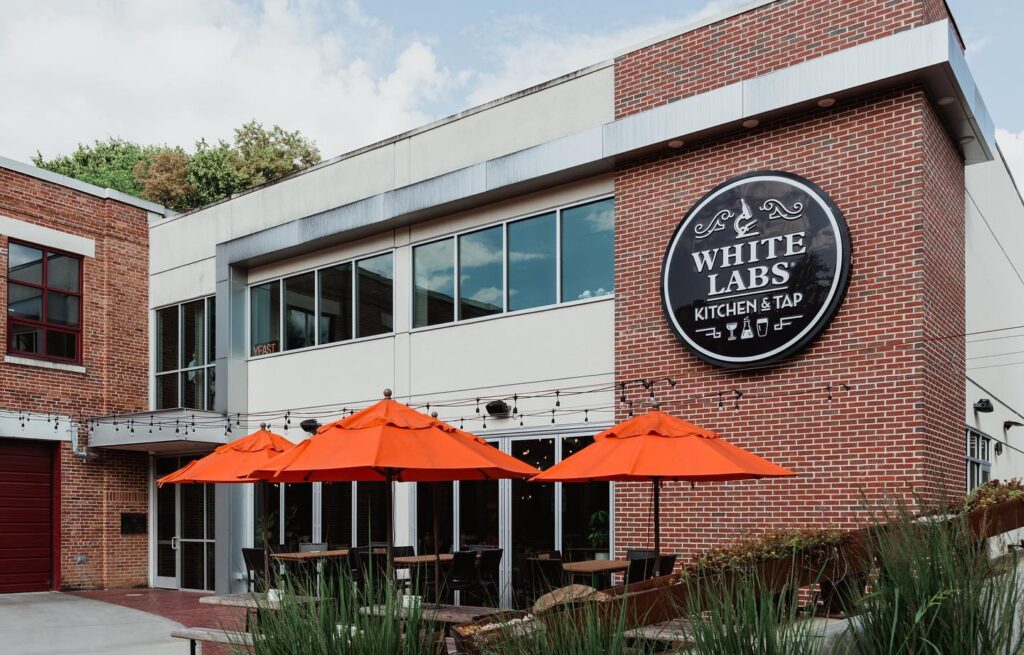 9. White Labs Brewing Co.
BEST BREWERY WITH FOOD
The beer scene in Asheville is rich with food trucks and in-house kitchens, so you won't have a hard time finding any Asheville breweries with food available. Our top choice? White Labs Brewing Co. Yes, it may be a brewing yeast manufacturer, but White Labs pinned Asheville as the site of one of its experimental brewing facilities, and that came with a full kitchen, to boot. The star of the menu at White Labs Brewing Co. is the pizza, made from dough that has been fermented (what else?) for 72 hours. Don't skip the brunch at White Labs Brewing Co., either!
172 S. Charlotte St., Asheville | www.whitelabsbrewingco.com/asheville-nc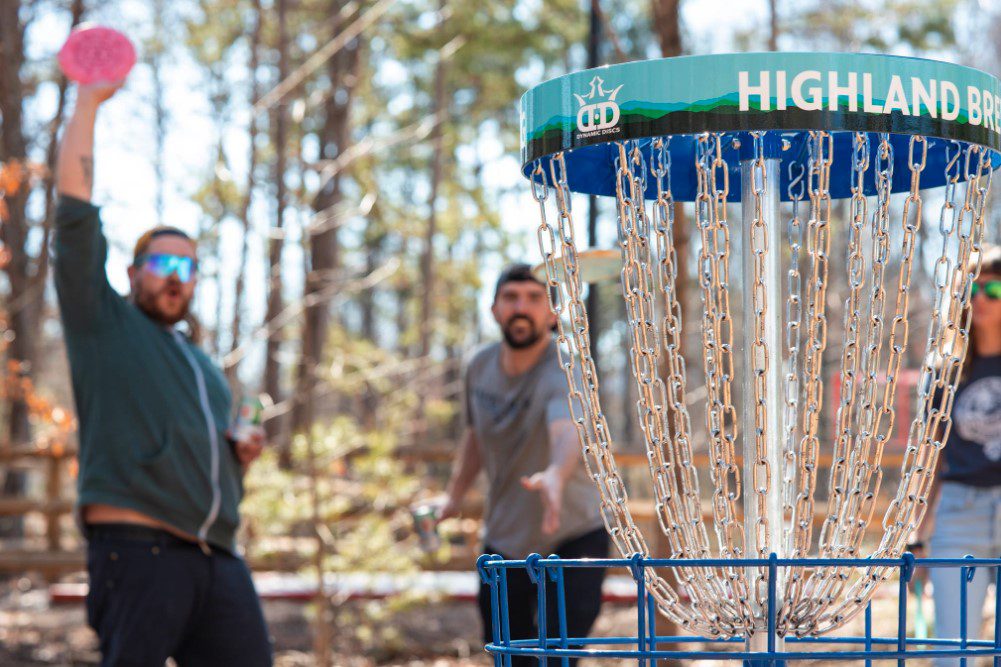 10. Highland Brewing Co.
BEST BREWERY TO PLAY DISC GOLF
Highland Brewing Co. first opened its doors in 1994 and is considered to be the father of Asheville's contemporary craft beer scene. Today, Highland Brewing Co. sits on a 40-acre plot of wilderness just outside of town where they've built family-friendly facilities, a hiking trail, sand volleyball courts and a 9-hole disc golf course (with an 18-hole course on the way.) Few things pair better than craft beer and disc golf, especially on a sunny day, so we say this is a must-stop for anyone visiting Asheville.
12 Old Charlotte Highway, Ste. 200, Asheville | www.highlandbrewing.com

OTHER CRAFT BEER BARS AND BREWERIES IN ASHEVILLE
All Sevens Brewing
Archetype Brewing
The Bier Garden
Catawba Brewing Company
Cellarest Beer Project
Cursus Keme
DSSOLVR
Foggy Mountain Brew Pub
French Broad Brewery
Ginger's Revenge
Hillman Beer
New Origin Brewing Company
One World Brewing
Oyster House Brewing Company
Thirsty Monk
Twin Leaf Brewery
Urban Orchard Cider Co.
Wedge Brewing Company
The Whale
Zillacoah Beer Co.
ASHEVILLE BREWERY MAP