The annual scholarship aims to support the growth and development of future beer industry leaders
December 6, 2021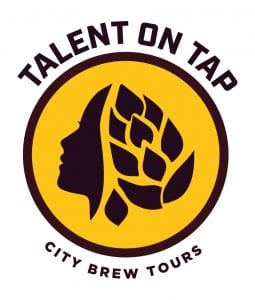 City Brew Tours, an award-winning curator of craft beer tours and experiences in North America, is now accepting applications for its second annual Talent on Tap Scholarship program. This scholarship fund goes to support woman-identifying people of color from unique backgrounds who want to make positive changes and leave a lasting impact in the beer industry.
Applications are accepted beginning Monday, Dec. 6, and will be considered through Monday, Feb. 1. Recipients of the Talent on Tap Scholarship award will be announced in February. To apply, please follow this link.
The Talent on Tap Scholarship is open to all woman-identifying people of color 18 years or older who are interested in pursuing education related to the beer industry. The award provides financial support for many educational pursuits, such as Cicerone® Certifications, Beer Science programs, brewing training and other hospitality certifications.
Following a year in which historical gaps in diversity and safe spaces in the craft beer industry again came to a prominent light, City Brew Tours acknowledges the need for a beer community that is supportive of and inclusive to all. With this scholarship, City Brew Tours supports woman-identifying people of color to not just become members of the craft beer community, but to make sure they have appropriate access to the education and training necessary to become leaders and innovators in the field.
"Craft beer is now made and sold in every state in the U.S., with creative expression shown in limitless brews nationwide. But for many people, there are barriers to breaking into the brewing industry. City Brew Tours is dedicated to helping our industry become a more diverse and safe environment for women of all backgrounds to thrive," said Chad Brodsky, Founder and CEO of City Brew Tours. "We have learned a lot about the craft beer industry in the past year, and how it is not always a safe and welcoming environment for women and people of color. We can and must do better. Through this scholarship, City Brew Tours provides resources and opportunities for women of color, who have been historically underrepresented in our industry, to drive positive change within craft beer."
In 2021, the Talent on Tap Scholarship awarded funds to three outstanding people of color—Naomi Waltengus, Razia Gonzales and Gloria Rakowsky—pursuing beer education and certification studies.
Waltengus, a resident of Washington, D.C., used their scholarship award to pursue beer education courses from the Prud'homme Beer Certification® program. After taking courses that included education on beer history, style guides, beer serving and more, Waltengus said they are now preparing for the Prud'homme Level 2 certification exam.
"The Talent on Tap Scholarship allowed me to take a deeper dive into the world of beer. I think some of the greatest barriers in the beer industry are not having that entry point and not having resources. Through the grant I had the opportunity to take a course on my own and learn more," Waltengus said.
Currently, Waltengus' success in Prud'homme courses is already leading to opportunities for them to create inclusive environments in craft beer. Waltengus said they are now hosting beer tasting sessions with friends, which Waltengus uses to pass their newly-gained knowledge along to other people interested in beer.
"I want beer to be approachable to other people. I think a lot of people are curious about beer, but also intimidated because beer as an interest and industry has been seen as a white, cishet male thing. My goal is to dispel that notion and show people that there is room for everyone," Waltengus said. "Talent on Tap has been so instrumental in me going on my journey and learning everything I have learned. It has changed the way I interact with beer and the way I'm in craft beer spaces. Now, I don't feel as much as an outsider in those spaces."
Over the past year, scholarship recipient Gonzalez has used the funds granted through the Talent on Tap Scholarship to enroll in multiple beer education and brewing programs. Gonzalez, a Brewtender and Marketing head at Pilot Brewing Co. in Charlotte, North Carolina, utilized her scholarship funds to take the Advanced Cicerone® Certification class, which includes education on beer styles, the brewing process, beer evaluation and more. According to the Cicerone® website, there are less than 150 Advanced Cicerone® in the entire world. Additionally, Gonzalez enrolled in multiple yeast management courses with White Labs, a brewing industry leader in yeast production and fermentation. These on-demand classes provide in-depth instruction from industry experts, and Gonzalez enrolled in courses to learn how to reuse yeast in a brewery setting and how to utilize microbes to brew sour beer.
"The Talent on Tap Scholarship provided me with additional financial resources to take courses I otherwise wouldn't have, and enabled me to purchase books needed to further my Cicerone® studies," Gonzalez said.
Moving forward, Gonzalez said she aims to focus her efforts on establishing a welcoming space for people of all backgrounds to eat and drink together. After setting her sights on opening a brewery, Gonzalez adjusted her vision to include a holistic space with a wine and beer bar, a pop-up coffee bar and a community kitchen that showcases local chefs.
"An emphasis will be placed on creating a welcoming space for everyone, including special attention to friends with disabilities," Gonzalez said. "I am thankful for the education I have obtained, and I plan to host educational events and provide educational resources to employees, providing them with the foundational knowledge needed to further their own careers."
Rakowsky, a Syracuse native and veteran of the craft beer industry, also utilized her scholarship award to pursue certification from Cicerone® courses. In 2020, Rakowsky founded Crafted Minds, a beer education program that offers basic and advanced courses through online classes and tasting experiences. Since Crafted Minds launched, Rakowsky has been passing along her knowledge of the beer industry in an open and inclusive space.
Through its Talent on Tap Scholarship, City Brew Tours hopes to find more candidates like Waltengus, Gonzalez and Rakowsky who want to carve out their own role in the craft beer world. City Brew Tours is dedicated to reducing barriers that women of color face in the beer industry, though the company understands that financial support on its own is not sufficient to combat the lack of diversity in the world of craft beer.
Applications for the Talent on Tap Scholarship are accepted beginning Monday, Dec. 6. The deadline for application submissions is Monday, Feb. 1. To learn more about the scholarship, please visit www.citybrewtours.com/talent-on-tap. To apply for the scholarship, please fill out the form linked here.
---
About City Brew Tours
Founded in 2008 by Chad Brodsky, City Brew Tours offers unforgettable all-inclusive tours and beer-focused experiences in some of the best beer cities throughout North America. With over a decade of experience, City Brew Tours has created the ultimate craft beer experience that blends history, beer knowledge, transportation, and great food with unrivaled access to an area's top breweries and their beer. www.citybrewtours.com
---
Talent on Tap Media Files
Logo – PDF
Logo – JPG
Logo – PNG
Please contact Iain Oldman if you have any questions or need assistance.