"I like the look on someone's face when I give them a beer that is out of their comfort zone. Often, this is a sour, where I then can tell them it's just fermented, melted Warheads candies. Just kidding! It's yogurt bacteria! But seriously, yogurt bacteria, so cool."
– Andrew Smith
Andrew Smith, a sour-beer-loving Bostonian, is August's Guide of the Month! He's gone above and beyond to bring you beer, knowledge, and entertainment, all with a smile on his face.
Entertainment
"Driving, talking about beer, being entertaining, herding semi-inebriated cats; it's a lot to do," says Andrew, remembering his first day as as an esteemed beer guide. "Apparently, I was entertaining enough, but the rest of it had to come later." While he has learned tank-loads about beer over the course of the year that he's been with City Brew Tours, his entertainment factor has also kept on climbing.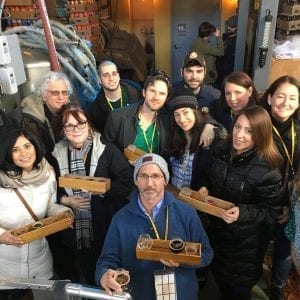 "I come from a background of performing and producing film and theater, and this is another aspect of my career," says Andrew. No wonder he knows how to get a group feeling so happy and comfortable! Best of all, though, is his genuine love for the job. "I like when I can blow someone's mind with some of the crazy history facts about beer or some of the cool science-y parts of the making of beer," he says.
Beer
When it comes to beer itself, Andrew reveals that there is so much to love about the beverage. He believes that most of the country has yet to discover that beer can be so much more than the golden lager to which Americans have grown accustomed. He adds that the many styles and versatility of beer in the present moment is simply incredible.  "I love that ability for something to taste like something else," says Andrew, "and with beer, some of that comes from ingredients added in, but lots of it is chemistry and the interactions of yeast, hops, grain, and water. Four simple ingredients. Amazing.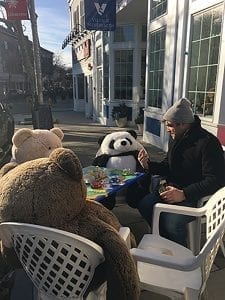 " This enthusiasm translates to his tours, where he educates the public and coaxes them out of their comfort zones to try something new.
His beer guide performance is directly in line with his personal beliefs about the beer drinking experience. He suggests, "Find something you like and then keep going. If you like light beer, drink light beer, but try something new every now and again." He encourages you to "then try it with food!" He provides some great pairing suggestions, like trying a dark lager or amber ale with BBQ, claiming that the union can be simply "mind-blowing."
As aforementioned, Andrew loves sour beer the best. At the moment, he's stocking up on two Bostonian brews, Slumbrew Heaven Scent, a passion fruit sour, and Nightshift Harborside, a gose brewed with oysters. True to his love of variety, Andrew also enjoys Nightshift's draft-only El Lechedor that he describes as "Horchata milk stout aged in bourbon barrels with poblano peppers and vanilla," which sounds absolutely delicious! He's a fan of citrus IPAs as well and looks forward to the use of Galaxy Hops in lots of up-and-coming local New England Style IPAs.
Boston
Overall, Boston is Andrew's home. He's lived all over–Dublin, London, Connecticut, New York–but so far, he says, "none of them have the heart that Boston does." In addition to this, Andrew says, "We're a small city with massive civic pride, great sports teams, and even though we can be pretty ruthless with a joke, we take care of each other." When he isn't working, he can be found "writing or working on films," or simply enjoying the beauty of New England: "I often spend my days off … boating or going to the beach and some breweries, usually in Maine, and usually with my lovely girlfriend Alanna."