As an full-time arborist, Liz spends her days slinging chainsaws. As a part-time City Brew Tours beer guide, she spends her nights slinging beer facts — and she sure is good at it.
Liz joined the team in July after making a move to Boston and wasted no time getting into her new role. With COVID hanging around, new guides like Liz have had to train 100% virtually, which is just as well seeing as how our craft beer experiences have had to go virtual as well. In her short time with CBT, Liz has lead dozens of our Beer & Cheese Pairing Experiences – virtual "happy hours" where people learn how to match up their favorite styles of beer and cheese for maximum flavor and enjoyment. We're incredibly impressed with Liz's enthusiasm and how quickly she learned the ropes and leaned into her role as a beer guide.
Meet Liz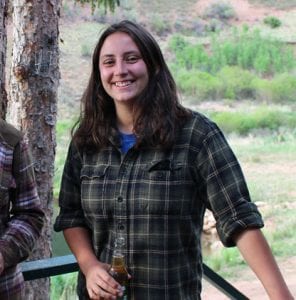 Which city are you from and how long have you lived there?
I'm originally from Colorado Springs, Colorado (Olympic City, USA), but I'm currently living in Boston. I've only lived in Boston for about a month and half!
Tell us something weird or surprising about your city!
Something weird or surprising about Boston –  my full time job here is as an arborist (I take care of tree health, take out dead trees, and repair storm damage) and I've recently discovered that many parts of the city have leaf blower commissions. It is illegal without a permit in many areas to use a leaf blower, and there are groups of individuals that review permits and police areas where leaf blowers may be in use often! Funny enough, its not due to noise, but due to particulate matter entering the air…..Who knew?
When did you taste your first craft beer? Were you into it or did it take you some time to warm up?
I tasted my first craft beer in early college at a friend's house during a movie night. It was Laughing Lab, a Scottish ale from Bristol Brewing Company. Prior to that, I actually said I didn't like beer! So I wasn't very into it. I didn't start to hop on the craft brewery train until a little over a year later, and I started to try every brewery I could.
How did you get into the beer/beverage industry?
City Brew Tours is my first foray into the beer/beverage industry! I have many friends who are professional brewers, bartenders, or homebrewers. So I've spent a ton of time in and out and around the industry. I was drawn to CBT because of the touring aspect – I had previously been a tour guide at Cave of the Winds Adventure Park (the highest elevation cave in North America), and I've done a lot of presenting in front of crowds when I worked for an AmeriCorps program.
What types of tours/experiences have you guided?
So far, due to COVID, I've been guiding Beer and Cheese Pairing Experiences online. I've done large groups (50 people), small groups, private groups, corporate groups, birthday parties, AirBnB events, and more. Honestly, I've been really enjoying them. There are so many interesting folks, and they LOVE learning the perfect pour and the appraisals.
Tell us about a memorable moment during one of your tours/experiences. 
One of my favorite moments so far during my Beer and Cheese Pairing Experiences was actually very recently. I was co-facilitating a large corporate group (40) with another guide, and the group was blowing up the chat. It was so strange, because everyone had their camera turned off, but they were asking tons of questions! It felt like we were talk show hosts! We were playing off each other, asking beer and cheese questions to the audience, making jokes, testing each other's beer knowledge. It was a hoot.
Online experiences are new to CBT. Do you think they have staying power? Why?
I think the online experiences are here to stay. Having guided so many now, folks find them to be worth the money, and a great way to unwind at the end of the day. So many corporate groups are virtual teams (even pre-COVID), and now we have provided them another way to connect that is more cost effective than flying folks in or organizing an outing from different parts of the country. We can be date nights, birthday parties, father's day gifts, and provide joy and amazing tastes and info to folks around the nation. Isn't that part of the magic of CBT? Creating memorable experiences and providing expert beer knowledge!
Regardless of what you drink the most, if your personality was a beer style, which would you be? 
If my personality was a beer style, I'd probably be an Irish Red Ale – a little sweet, well-balanced, approachable, and really goes well with lots of great food. Sometimes, they'll kick you in the teeth with a bold flavor, but they end out with a great finish. You can nerd out about how they're best drunk and best made, which I also like. Funny enough, I have no Irish heritage. Most of my family came from Scotland, but I did have relatives who landed at Plymouth!
What's your favorite drinking game?
My favorite drinking game has to be King's Cup. Pour in some Coors Light, and LET'S GO.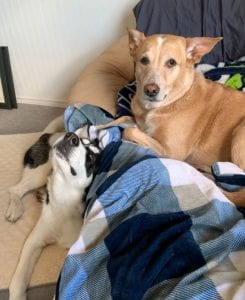 Do you have pets? What are their names and personalities?
I have two dogs. One dog is a one-year old Husky/Shephard mix named Zephyr. He's a lovable omega doofus. He loves his leopard stuffy. He's also HUGE. My other pup is a 11-year-old cattle-dog mix named Artemis. She's a rescue, and has many quirks, but my favorite thing about her is that she'll always come up for morning cuddles. We rescued both our pups, which I can't speak highly enough of!
Which beers are your go-tos?
My go-to beers are Deschutes Fresh-Squeezed, Hopalypto by Rockyard Brewing, and Voodoo Ranger from New Belgium. And to be honest, a crisp cold Bud Light Lime on a hot day after working in the yard.
Where is your favorite place to grab a beer?
My favorite place in the world to grab a beer is Cerberus Brewing Company in my hometown. They have an incredible outdoor patio with cornhole, it's dog-friendly, and they have the absolute BEST food. Soon I'll find a favorite place in Boston – but due to COVID, it's been challenging to go discover new spots.
Finish the sentence: Craft beer tastes best when…
… you try something new, and, in the process, you discover something new about yourself and beer as a craft. <3