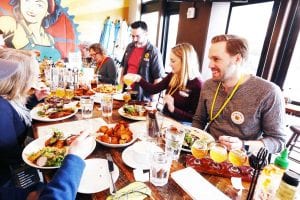 Have a holiday or other special occasion coming up? Brighten up your meal with a menu specifically suited for the beer styles you plan to serve.Now is the time of year that we start to see those heavy hitting beers freeing themselves from their high gravity fermenters and breaking through the charred walls of their oak barrels. Not only does the beer get heartier in winter, the food follows suit. So here's a quick guide to walk you through some of City Brew Tours' favorite beer and Holiday food pairings! 
As far as we're concerned, once it starts getting cold it's stout and porter season! These darker beers err on the side of chocolate and coffee roasts, so naturally they pair well with deserts. Seriously, try and find a way to make it not work. However, don't be pressured into the pairing. If you've got your hands on an elaborate beer, or maybe one that contains lots of adjuncts, sometimes that beer is best enjoyed on its own. Don't stop at desserts, get adventurous and try a stout with some raw or smoked oysters. The salinity pairs great with the toastiness of the malty characteristics, so much so that some breweries will take it in the other direction and add oyster shells to their stouts! 
How about those winter lagers? We're drooling already at the thought of the dark Czech lagers, the Tmaves, the Kulmbachers, the Baltic Porters! Start thinking about those charcuterie boards. Smoked cheeses and meats are going to work great with any of these dark lagers, and your triple cream cheeses and bries are going to work well across the board with most beers, including your IPAs. Keep exploring with jams, mustards, crackers, chutneys, assorted nuts—all these items easily and quickly expand the flavors offered on any appetizer board. 
Now's also the time to break out the double or triple IPAs, which should keep you (very) warm and toasty until spring returns. The high ABV and the hop bitterness of big IPAs makes these a stand-up choice for stronger flavors, like smoked meats, or gamey meats like lamb or venison. These are also going to work really well with your sweeter desserts like carrot cake or crème brûlée. So versatile, and so delicious, it's hard to decide where to start with a strong IPA! 
There's always that one relative or friend who's "just not that into beer." Usually you can find a winner if you can get a Witbier into their glass—skip the orange garnish! Witbiers pair really nicely with any kind of lighter seafood fare, but are notorious for drinking perfectly with steamed mussels, extra points for steaming in a Witbier! These lighter style beers also work really well with vegetable dishes, salads, and lighter fare. 
So get on out there and start mixing and matching flavors! Like all things in life the only way to get good at it is to practice. And that means you're going to have to eat a lot of food, and drink a lot of beer. 
But not all heroes wear capes.
December 7, 2021  |  By Isaac Bell