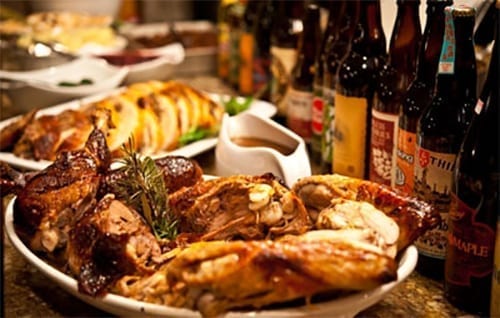 We're all still in the full swing of cooking for the holidays and, just like at Thanksgiving dinner, there are options for holiday beer pairings with every dish. There is joy in preparing a wide variety of delicious food for family and friends over the holidays, and there are a multitude of local brews to pair with appetizers, entrees and desserts! Eliminate the anxiety of cooking for the in-laws using some of our suggested pairings below. Each beer is paired with a suggested recipe from Allrecipes to elevate your holiday meal.
Belgrade Tripel | Beglian-Style Tripel Ale | 8.5% ABV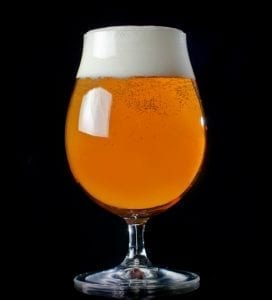 This Belgian-style tripel is a soft, smooth beer with complex flavors including coriander and orange peel. The combination of citrus and spice makes this a great palate cleanser. Enjoy this with many earthy, natural flavors, like cheese, and sip on it with hor d'oeuvres.
Sip slowly, folks—the night is only beginning and we don't want you to have to go to bed before your guests!
Love Stout | Dry Stout | 5.5% ABV

This dry stout is creamy in texture with chocolate and coffee flavors that mingle with the dark beer's roasted barley aroma. Pair this with smooth foods, like soft cheese or chocolate cake, and especially salty, raw oysters. Love Stout complements grilled vegetables by highlighting their caramelization and contrasts their salty flavor. It's a great pairing for those holiday guests who are looking for alternative dishes to the main course.
Aurochs Porter | Porter | 5.6% ABV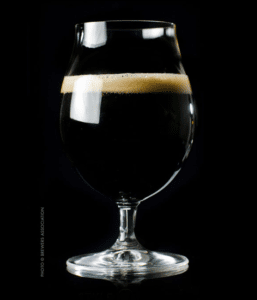 Aurochs Porter brings a balanced flavor that comes from roasted quinoa, millet and buckwheat instead of barley, making this an entirely gluten-free pairing option. This makes it the perfect pairing for heavily flavored and textured meals. Fats in certain meats like roasted duck or pork contrast the beer's hop profile while simultaneously enhancing the roasted quality of the beer's grains–a perfect balance between roasted holiday flavors and toasty memories.
Ignite | India Pale Ale | 6.5% ABV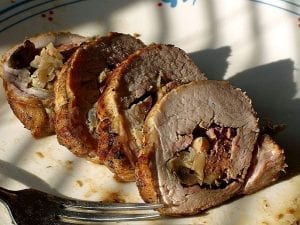 Ignite is a bold IPA that has bright citrus notes, strong resin flavors, hop bitterness and a dry finish. This beer is best enjoyed with intensely flavored foods and desserts with high fat content to balance the hop aroma and flavor. All pork dishes, particularly pork loin, pair well with citrus IPAs, which in turn bring out the subtle flavors of the dish. The vibrant orange citrus—a traditional holiday flavor—enhances the taste of many winter-seasonal meals Ignite even has a deep, orange color!
Bourbon Barrel Aged Admiral Buck| Imperial Bock  | 9.8% ABV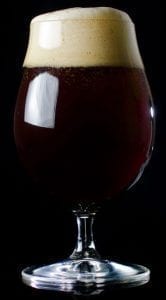 Rich notes of toasted bread and mellow sweetness are distinct qualities of this full-bodied beer style. Checkerspot Brewing Co. takes its imperial bock to the next level by barrel aging the beer, which adds layers of complex spice and dark caramel notes. Go for highly spiced dishes, like Cajun salmon, when looking to cut the rich sweetness of this beer. To enjoy this brew to its fullest, pair it with slow-cooked beef or pork for a toasty, flavor-balanced meal on the delectable, sweeter side. Why not revel in the holiday sweets?
Munich Dunkel | Dunkelwiesse | 5.5% ABV

Munich Dunkel, a German-style dark lager, finishes with a bready taste thanks to the use of dark malts. The holiday sweetness is balanced by a subtle nutty flavor. The dunkel is a crowd pleaser because of its versatility, allowing it to pair well with both proteins and vegetable sides. This year, we recommend you enjoy this medium-bodied, creamy beer with tart and spicy desserts, like a cranberry tart or ginger cake.