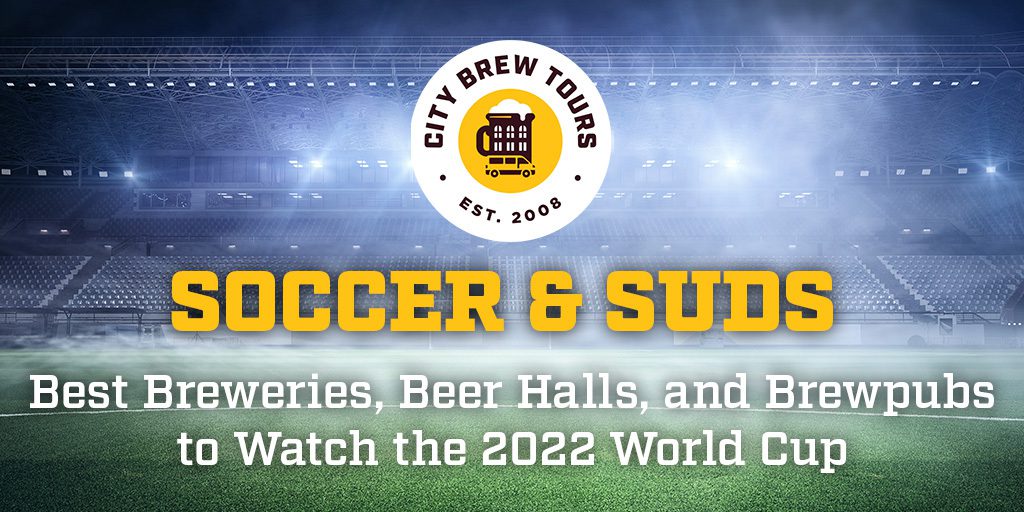 The 2022 World Cup is just around the corner, and soccer fans across the U.S. are getting amped! If you're like us, you're counting down the days until kick off, November 20th. In anticipation, we've put together a list of the best breweries, beer halls, and brewpubs in cities across the United States to watch the games, because what is better than combining beer and soccer—two of the most popular pastimes in the world! With a variety of craft beers on tap, great food options, and plenty of TVs, you can't go wrong at any of these spots. Raise a pint (or two) and get ready for some exciting GOOOOOOOOOOAAAALS!
Jump To:
Austin – Acopon Brewing Co.
Acopon Brewing Co will certainly have their televisions tuned into World Cup games starting November 20th. Located west of Austin, this Dripping Springs microbrewery specializes in English ales, and nothing gets you in the mood for some footy like a pint of ESB or a mild ale. Though a neighborhood hotspot, Acopon is sure to offer a less hectic viewing experience than some of the bars and breweries in downtown Austin.
211 W Mercer St, Dripping Springs, TX | apoconbrewing.com
Austin – Hopsquad Brewing Co.
One of the official locations for Austin's American Outlaws—a nationwide group that supports men's and women's US national soccer teams—Hopsquad Brewing Co is the place to be for game days. They'll be airing nearly all the matches (except the ones at 4am local time, who can blame them?) and even opening early for the 7am games. They also serve food from their foodtruck, Doughsquad.
2307 Kramer Ln, Austin, TX | hopsquad.com

Baltimore – Guilford Hall Brewery
Baltimore's premier beer hall, Guilford Hall, will host daily World Cup viewing parties from November 20th – December 18th. A $10 cover charge gets you access to a massive screen for the big games as well as access to the 20 TVs mounted throughout the hall. There's also a great selection of European brews and foods, door prizes, raffle, auctions, and games to add to the energetic atmosphere.
1611 Guilford Ave, Baltimore, MD | guilfordhall.com

Boston – BearMoose Brewing Company
With lots of room to spread, TVs, games like pinball and darts, and excellent beer, BearMoose Brewing Company is a great place for casual World Cup viewing. Bring your favorite game-watching food along to really settle in for the full experience at this Everett craft brewery.
1934 Revere Beach Pkwy, Everett, MA | bearmoosebrewing.com
Boston – Night Shift Brewing
If you're looking to catch a match along with some of Boston's finest beer and food, stop by Night Shift's Lovejoy Wharf location. Hunker down at the long bar in front of a television, grab a pint of lager, order some pizza or apps, and you have yourself your own World Cup viewing party in downtown Boston.
1 Lovejoy Wharf #101, Boston, MA | nightshiftbrewing.com

Burlington – Zero Gravity Brewery
Zero Gravity Beer Hall is Burlington's best brewery to set up headquarters for the 2022 FIFA World Cup. They will be live streaming all games that air after 8am  from opening day on November 20th to the last match on December 18th. Be sure to stop by during one of the first few games to grab a Zero Gravity World Cup mug for discounted pours while watching.
716 Pine St, Burlington, VT | zerogravitybeer.com

Cleveland – Hofbräuhaus
Big German beer name, Hofbräuhaus, has a location in Cleveland that is perfect for watching some World Cup games. This microbrewery offers up that old world atmosphere—inspired by the 400+ year old original Hofbräuhaus—as well as authentic Bavarian-style beer and food. They open at 11am every day, so you can catch the 11am and 2pm games here.
1550 Chester Ave, Cleveland, OH | hofbrauhauscleveland.com

DC – Astro Beer Hall
If you want that ultimate sports bar with tons of seating surrounded by televisions, look no further than Astro Beer Hall in downtown DC. This multi-level venue offers 15 draft beers, a wide selection of go-to game day food, and a daily happy hour that begins as the last match of each day wraps up, allowing you to refuel after yelling or cheering at the TVs for two hours.
1306 G St NW, Washington, DC | astrobeerhall.com
DC – Silver Branch Brewing Company
Just north of Washington, DC, this craft brewery brews and serves up beer inspired by European and American traditions. Silver Branch already has the first 2022 World Cup game—Qatar v. Ecuador—on the calendar for November 20th, and will be sure to air the following games throughout the tournament. Grab some fully loaded nachos, a pint of pilsner, and cheer on your favorite team.
8401 Colesville Rd #150, Silver Spring, MD | silverbranchbrewing.com

Denver – Prost Brewing Co. & Biergarten
There's no better brewery to watch the USA and Germany teams than the Prost Biergarten. They will kick off the World Cup viewing parties with the November 20th opener, then host viewing parties through December 1st for all the USA and Germany games. Prost will even open the biergarten early these days, offering German-style breakfast for viewers!
2540 19th St, Denver, CO | prostbrewing.com

Houston – Spindletap Brewery
If you're into more casual viewing of the 2022 World Cup, Spindletap Brewery offers a spacious seating area with plenty of TVs, amazing eats, and delicious craft beers. From Thursday-Sunday they open at 11am, so you can catch those midday matches along with a pint of lager and a wood-fired pizza or snacks from scheduled food trucks.
10622 Hirsch Rd, Houston, TX | spindletap.com
Houston – Social Beer Garden
If you want the real deal watch party for this year's FIFA World Cup, look no further than Houston's Social Beer Garden. They will be showing every single game, no matter the hour, in both English and Spanish. This beer garden not only boasts a massive seating area, indoors and out, but also a massive 20ft HDTV which will air the games. Social Beer Garden will also have food and coffee for you on board for all games.
3101 San Jacinto St, Houston, TX | socialbeergardenhtx.com

Los Angeles – Common Space Brewery
Common Space Brewery is kicking off the World Cup festivities this year on November 21st at 11am for the USA v. Wales match. From there, this Hawthorne microbrewery will be airing all USA and Mexico games, even opening early on these game days. Nothing says 'soccer fan' more than slugging back a Mexican Lager at 8am on a Tuesday and cheering on your team.
3411 W El Segundo Blvd, Hawthorne, CA | commonspace.com
Los Angeles – Los Angeles Ale Works
Opening early for all the morning World Cup games, L.A. Ale Works in Hawthorne will have big screen TVs with sound on, food vendors, and—most importantly—beer ready to go for World Cup fans. Enjoy some fresh pupusas during the Mexico v. Poland match or gourmet brunch truck food for the early USA v. Wales match.
12918 Cerise Ave, Hawthorne, CA | laaleworks.com

NYC, Brooklyn – Endless Life Brewing
Support your favorite soccer team this month as well as NY state farmers, maltsters, and hop growers by dropping into Endless Life Brewing for the World Cup. This Brooklyn brewery uses only NY State-sourced ingredients and is live streaming all the World Cup games from November 20th to December 18th.
585 Franklin Ave, Brooklyn, NY | endlesslifebrewing.com
NYC, Brooklyn – Keg and Lantern Brewing Company
Local favorite Keg and Lantern Brewing Company is a great brewery for watching the soccer games with its many flat screen TVs, cozy atmosphere, and delicious house brews and pub fare. The Greenpoint location opens at 11am everyday so you can catch the 11am and 2pm World Cup games and enjoy a few pints with a tasty lunch.
97 Nassau Ave, Brooklyn, NY | kegandlanternbrooklyn.com
NYC, Brooklyn – Wild East Brewing Company
Wild East Brewing Company is welcoming the World Cup with early openings, live-streaming, cask-tappings, and special beer releases! They'll be open for most games starting at 8am, they'll even be open on Thanksgiving from 11am-6pm. You can also look forward to lager pitcher specials and other fun surprises throughout the tournament while enjoying the games on Wild East's large screen in their taproom.
623 Sackett St, Brooklyn, NY | wildeastbrewing.com
NYC, Queens – Rockaway Brewing Company
Starting Monday, November 21st, USA v. Wales match, Rockaway will be showing all 2pm World Cup games at their Queens location, sans cover charge. In addition, if you show up wearing a team jersey, they'll knock a dollar off your first beer!
415 B 72 St, Queens, NY | rockawaybrewco.com
NYC, Manhattan – Bierhaus NYC
This festive German beer hall located in Midtown is the ideal place to catch 2022 World Cup games in Manhattan. They will have all 2pm games projected on their massive screen in their spacious seating area—which is great for groups and anyone wanting to watch alongside a lively crowd. Swig down some fresh Hofbräu bier and enjoy a classic Bavarian menu to round off your viewing experience.
712 3rd Ave, New York, NY | bierhausnyc.com

Philadelphia – Brauhaus Schmitz
Philly's favorite German beer hall is hosting a couple World Cup events in addition to live streaming matches throughout the tournament. On November 25th there will be a USA v. England viewing party, with VIP tickets available for those who want an open beer bar and buffet. Also be sure to save the date for World Cup Sunday Funday on December 18th!
718 South St, Philadelphia, PA | brauhausschmitz.com
Philadelphia – Yards Brewing Company
Spring Garden's Yards Brewing Company offers an expansive seating area peppered with TVs for World Cup viewing. It's the place to be for sipping and sampling small-batch brews while enjoying an afternoon match and meal. They also run a Happy Hour during weekdays from 3pm-6pm so you can refuel mid-game with some wings and a 20oz draft pour.
500 Spring Garden St, Philadelphia, PA | yardsbrewing.com

Pittsburgh – Dancing Gnome Brewery
In addition to having the 2022 World Cup games on in their taproom, Dancing Gnome will also be opening early for all USA matches. This hop-focused craft brewery offers some of the best pale ales, IPAs, and DIPAs Pittsburgh has to offer, as well as crushable styles like pilsners, kolsch ales, and dunkels perfect for game day drinking.
1025 Main St, Pittsburgh, PA | dancinggnomebeer.com
Pittsburgh – Hofbräuhaus
The iconic Hofbräuhaus microbrewery is the perfect place to catch some World Cup games this year. Its Pittsburgh location offers patrons not only traditional German food and beer but also an authentic atmosphere inspired by its 400+ year old brewery in Munich—perfect for any soccer fan! They open at 11am every day so you can enjoy both midday matches.
2705 S Water St, Pittsburgh, PA | hofbrauhauspittsburgh.com

Portland – Kells Brewery
It can be tricky finding a brewery open on the west coast for watching the 2022 FIFA World Cup in Qatar, but that's where Kells comes in. They will be live streaming almost every game, from kick off to finals, they will be open for the 7am and 8am matches. And such is the popularity of Kells during the World Cup, you won't be the only soccer fan there bright and early.
210 NW 21st Ave, Portland, OR | kellsbrewpub.com

Salt Lake City – Fisher Brewery
Salt Lake City favorite, Fisher Brewery, is a great spot to grab a beer and settle in for a World Cup match or two. They'll have some TVs set to live stream the games that kick off at 11am local time (which is when they open every day), and you can enjoy a couple pints before snagging a half time snack from the scheduled food truck.
320 W 800 S, Salt Lake City, UT | fisherbeer.com

Seattle – Machine House Brewery
Machine House Brewery, which serves up British-style beers, is opening early at 11am the weekend of November 25th, live streaming three key matches—England v United States; Argentina v Mexico; Spain v Germany—on their projector and TVs. They also plan on showing knockout matches December 3rd and 4th as well as the final match on December 18th.
5840 Airport Way S #121, Seattle, WA | machinehousebrewery.com