10 INSPIRATIONS FOR YOUR BOSTON TRIP TO DO LIST
By Kalimah M.
Why visit Boston? There are so many reasons, and here we've collected 10 of our favorite things about Boston for you to keep in mind as you're planning your trip to one of the most vibrant and beautiful cities in the United States — trust us, Quincy Market isn't the only thing worth adding to your itinerary. With all of these great things to do, you'll want to book The Weekend Like a Local package with The Hilton. Not only will you get 50% off your Sunday night stay, you'll also get exclusive discounts on beloved activities in the city. So here it is – 10 of the best things about Boston, to be used as inspiration while you're creating the itinerary for your next vacation!  
The food.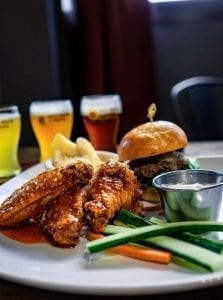 Food is just one of the many perks of visiting Boston. Renowned for its seafood, Boston is home to an array of restaurants serving fresh seafood, most of which is locally sourced, caught right off the rich coasts of Massachusetts. While Boston's seafood has already made a name for itself, you'd be surprised at the delicious cuisine you can find when you take a look at some of our unsung heroes. If you like Italian food, then you're in luck. There are over 80 restaurants and patisseries for you to choose from in the North End, also known as Boston's Little Italy. Between 1880 and 1930, Boston saw over 4.2 million Italian migrants, most of whom came from Mezzogiorno (Southern Italy). The North End has historically been a hub of Italian heritage and culture and, in addition to its beauty, it is now known for its delicious and authentic Italian cuisine. 
The history. 
If you didn't already know, Boston is a goldmine of historical significance. There is a historical landmark every 2 feet, and there is a slew of tours throughout Boston that you can use to help you discover it all. Hop on a classic Old Town Trolley Tour, or spice things up with a Boston Ghost Tour. Follow the Freedom Trail on your own or with a guide to hit all the must-see landmarks. You can stop off at several national historic sites: walk the Minuteman Trail in Concord, visit Thoreau's estate at Walden Pond, tour the houses of some incredible figures like John F. Kennedy or Nathaniel Hawthorne — the history never ends. 
The beer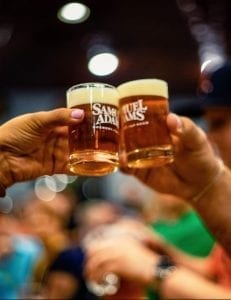 Boston is rich in many things, and beer is one of them. The Pilgrims docked their ships on Plymouth Rock for one reason and one reason only: beer. Our forefathers settled in Massachusetts due to the unforeseen tragedy of running low on beer, and since that day, Bostonians never wish to relive that dreadful experience. From the historic Boston Beer Company established by Samuel Adams to the thriving craft beer scene of new and exciting microbreweries in and around the area, Boston is a beer lover's dream. Grab a taster flight in the taproom of the brewery with the coolest name, or hit 6 birds with one stone with a Boston City Brew Tour and get your sip on at four of the best breweries in the area, while learning about beer history, and seeing Boston through the eyes of a local as your beer guide chauffeurs you around the city.   
The seasons.
When the air begins to crisp, the leaves succumb to brilliant shades of orange, yellow, and red. If you're visiting Boston this fall, foliage sightseeing can be a vacation activity in and of itself. Take a stroll along the Charles or set some time aside to wander the Arnold Arboretum. As time rolls by, the seasons shift and we enter winter. Welp, time to go home, right? Wrong! When the flurries start rolling in, Boston transforms into a winter wonderland. You can check out the Festival of Lights for Hannakah, ice skate at Frog Pond, check out some masterful decorations in and around the entire city, or peruse an ice sculpture competition or two. Stick around for a while, and you'll see those white blankets of snow melt from the tree branches as spring showers wash winter away, making room for bumble bees and a rainbow of colorful blossoms. No matter the season you're visiting in, just be sure to charge your camera. 
The museums.
The fine arts in Boston are top notch; music, theatre, visual arts, and a wonderful assortment of museums! Whatever your thing is, Boston has a museum for you. Technology nerd? Check out the MIT Museum and browse some holography art, befriend a robot, or peruse their collection of historical scientific artifacts. Is biology more your thing? Then you'll regret not experiencing the impressive (and sometimes prehistoric) collection at Harvard Museum of Natural History. More interested in Paintings? Photography? Textiles? Judaica? Egyptian artifacts? The Museum of Fine Arts has it all, with free entry every week on Wednesday nights to boot. And then after you're done admiring the greats, you can head down to the Museum of Bad Art for a laugh. 
The beauty.
The iconic skyline is nothing to turn your nose up at, but there is so much beauty in and around the city that rarely makes it on the postcards. Why not take a walk through the Arnold Arboretum in the spring and witness the bonsais in bloom? Walk along the beach in Gloucester and hope along the rocks. Take a stroll through Beacon Hill as you head toward the Boston Common for a nice picnic, or visit Belle Island Marsh Reservation and say hello to the butterflies.  
The sports
Is anyone more passionate about their sports team than Boston fans? I don't think so. Boston brings you some of the most incredible sports teams such as the Red Sox, Bruins, Celtics, and the Patriots. You can catch a Red Sox game at Fenway Park if you're lucky, the oldest ballpark in major league baseball. Celtics fan? You should be, as they are the team with the most NBA championships in the league. If you're lucky enough to be in Boston while one of its own teams are playing, whether they are winning or losing (though they are probably winning) you're sure to be moved by the dedication and zeal of the fans. 
The music. 
A city that's the birthplace of New Kids on the Block and Aerosmith has got to be on to something. Boston has an incredible music scene, with top-notch local bands playing almost every day of the week. You can experience everything from reggae to metal. It's not just happening at the incredible music venues that greater Boston is home to, but also at bars, breweries, and other smaller performance spaces. In the mood for punk? Check out Out of the Blue. Jazz is what you seek? You're in luck, as jazz is still alive an well in Boston — check out Wally's or the Lilypad to see for yourself. But don't feel confined to the establishments; Boston is littered with talented musicians. Literally. Street performers are one of the cities greatest delights. You may catch an accordion player in Harvard Square, an opera singer outside of the Boston Public Library, or a mandolin player in the subway. If you're a music lover in Boston, make sure you check out all the music venues, from Symphony Hall to the sidewalk! 
The festivals.
With over 4 million people meandering around greater Boston, it is a hub for diversity and culture. Aside from the Italian North End and Chinatown, there are populations from just about every part of the world. You can experience these cultures from more than just all the delicious restaurants (though I suggest you check out a few of those too) — see what the city has to offer from the long list of festivals and cultural parades happening throughout the summer: the Greek Festival, Morrocan Festival, Carribean Festival. Think the festivities end there? No way! Boston is a city of festivals. Branch out and visit Honk Fest, satisfy your sweet tooth at the Fluff Festival, put on your sunblock and stop by the jazz festivals, pizza festivals, vegan festivals, dance festivals, an array of art festivals, and so much more.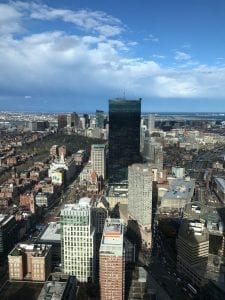 The accent.
Swing by the Packys, get some Sam Adams beah, and meet me in Hahvad Yahd — it'll be wicked pissah, kid. Who doesn't love an accent just as colorful as the people who have it! The beloved Boston accent has a couple of origins, but the world-famous R's replaced with AH's originated from Bostonian settlers migrating from the Southeast of England. Be sure to throw in some local stops on your itinerary too, and enjoy eavesdropping on Bostonians while you're in the area. 
Kalimah Mustafa handles Customer Success for City Brew Tours. City Brew Tours offers all-inclusive daily craft brewery tours and events throughout the East Coast. City Brew Tours is a great way for visitors and locals to get a behind the scenes access to their favorite breweries without having to worry about driving. Enjoy 15% off your next City Brew Tour when you extend your trip and stay with Hilton. Get 50% off Sunday nights + other exclusive discounts too! With dozens of hotels located throughout the region, you can experience all the city has to offer from waterfront culture to a vibrant arts scene and thriving local cuisine with The Hilton's Weekend Like A Local package.