Before you worked at City Brew Tours, what was the most interesting or unusual job you've ever had?
I like to tell people that I was technically a shepherd for a bit, but I wasn't paid…and it was only a single goat…so maybe I can't count that. Still, the shepherding happened while I was training as a mountain guide. Any job that necessitates you don't shower for a long time is at least a bit peculiar.
What interested you in City Brew Tours, how has the company changed since you started?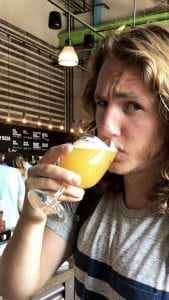 I've always been the over-excitable person who dives headlong into whatever piques my interest. So, after riding the subways with friends on my own haphazard NYC beer tours, and drinking my way through both Portlands, I felt like it was time to get myself an official beer-drinking title.
The biggest change in CBT since I came on-board is that NYC was the baby branch of the family and now suddenly, I must correct myself when talking to tour groups, readdressing NYC as the teenager in the group since opening Montreal and (soon to be) Cleveland.
Hands down, best tour you've ever done?
A school bus filled with 34 seniors in college made for the best tour experience I've ever had. I turned them from Natty Light drinkers to Gose and IPA aficionados and filling a college campus with fine beer tastes felt like a big success.
If you could have a beer with anybody in history, who would it be? What would the beer be?
Nietzsche for sure! Maybe he would lighten up after chugging a few barleywines!
Last book you read?
The Odyssey by Emily Wilson (and Homer, obviously). It features way more wine than beer, but it made me think that we need to popularize ambrosia again.
Are you a home brewer? If so, what's your favorite recipe? Do you have one of your own you'd like to share?
I am! My favorite beer to date was a Belgian IPA that I brewed during the fall. I'm always down to share! But it's always best to talk about them while drinking them, so head over to Bed-Stuy, all are welcome.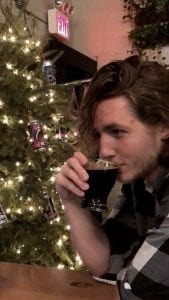 What beer is in your fridge/cellar right now?
There's still a ton of Trillium beers in my tiny NYC fridge (much to my roommates' chagrin), a couple of homebrews, the Ommegang Belgian Quad, some Midwestern beers (Rhinegeist, Columbus Brewing Company, and of course Founders), a couple growlers from Circa, and lots of Grimm.
It's your day off, what are you doing?
Cutting down on the stock in my fridge, writing some short stories, and discovering the unique NYC cocktails hiding out around Manhattan. It's that delicate NYC balance of art, booze, and productivity,