Grand Rapids is one of America's best beer cities and has no shortage of fantastic breweries to visit.
Your Guide to Grand Rapids Breweries, Restaurants and Other Things to Do
Sitting along the beautiful Grand River, and not too far off the shores of Lake Michigan, Grand Rapids is a gem of destination often-overlooked by beer tourists. Grand Rapids breweries are among some of the largest and most storied in all of America, and the city's deep brewing roots continue to produce skilled and innovative brewers.
Breweries in Grand Rapids began popping up in the mid-19th Century as German immigrants brought their brewing traditions across the ocean. Fast forward 150 years, and Grand Rapids has been named "Best Beer City" by USA Today for two years in a row. If you take a look under the hood, it's no secret why.
Grand Rapids is home to a bevy of independent breweries that offer something unique for every palate. Further, Grand Rapids' brewing industry includes several women-owned breweries and Black-owned breweries, making it one of the more diverse craft beer scenes in the country.
We think the quality of Grand Rapids breweries make the city one of the premier destination in the country for beer lovers, so we've put together this guide of some of the best spots in town for a pint. Keep reading for a list of the best Grand Rapids restaurants, as well as a rundown of what to do in Grand Rapids during your visit.
To explore the Grand Rapids beer scene from home, pick up a box from the City Brew Tours Beer Club. Grand Rapids was the beer club's featured city in May 2023 and included 8 hand-selected cans of craft beer sourced from Grand Rapids' independent breweries.
Grand Rapids Breweries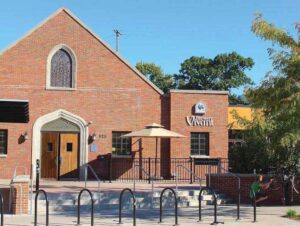 Brewery Vivant
Founded in 2011, Brewery Vivant has been active in the Grand Rapids beer community ever since its inception. The brewery publishes its "Beer The Change" sustainability report every year, highlighting its accomplishments and goals regarding its carbon footprint and overall community impact.
Brewery Vivant heavily focuses on traditional European beers, with an emphasis on French and Belgian styles. Few breweries in America execute on European styles better than Brewery Vivant. Try Brewery Vivant's highly-rated Wizard Burial Ground Belgian Quad for a beer that will knock your socks off. If you're looking for a refined and easy drinking brew, Brewery Vivant's Farm Hand Saison should be right up your alley.
New Holland Brewing
Known nationwide for its barrel-aged Dragon's Milk series, New Holland Brewing is a must-stop destination for stout lovers in Grand Rapids. The brewery first opened in 1997 in Holland, Michigan, which is right off the shores of Lake Michigan. Since then, New Holland Brewing has expanded with a brewpub in Grand Rapids and two spirits tasting rooms in the state.
New Holland Brewing's Dragon's Milk series delivers incredibly strong and flavor barrel-aged stouts, golden ales and red ales. If that's not your thing, New Holland Brewing has more relaxed year-round and seasonal offerings to drink throughout the year. If we haven't given you a reason to visit New Holland Brewing yet, the brewery also releases pub-exclusive beers at its brewpub locations, giving you access to deliciously rare beers.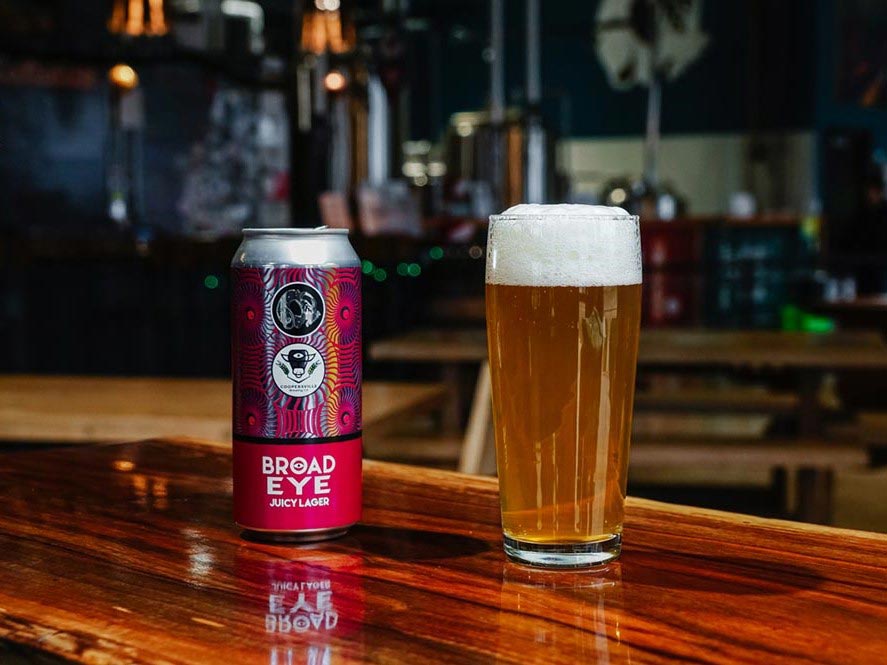 Broad Leaf Brewery & Spirits
One of the more enterprising breweries in Grand Rapids, Broad Leaf Brewery & Spirits is a drinker's paradise. Beyond the full slate of flavorful beers, Broad Leaf Brewery also produces flavorful spirits. At both its brewpub locations, Broad Leaf Brewery & Spirits offers boozy slushies and cocktails featuring its in-house liquor.
But Broad Leaf Brewery & Spirits is a destination for regular old beer drinkers, too. The brewery emphasizes bold flavors in its beers, and its tap list regularly features heavily-hopped double IPAs, fruited sours and the occasional experimental beer. One thing is for sure, and that is Broad Leaf Brewery & Spirits is a destination for beer drinkers with adventurous palates.
Brewery Nyx
Situated right off the Grand River, Brewery Nyx continues the legacy of women leading the way in Grand Rapids' craft beer scene. Brewery Nyx is Michigan's lone brewery that is 100% gluten-free, a venture spurred on by founder Jess Stricklen's own struggles to find drinkable beer within the craft beer industry.
So how do they do it? Well, the team at Brewery Nyx has expertly crafted beer recipes made from alternative grains like rice and millet. Despite what some might see as a restriction, gluten-intolerant drinkers will be thrilled to find a variety of styles available at Brewery Nyx, including IPAs, stouts and the highly-rated Salted Lime fruited beer.
Speciation Artisan Ales
Producers of highly sought-after bottles, Speciation Artisan Ales is for the fans of funk. The brewery and winery is honed in on making incredibly delicate and wholly unique farmhouse ales alongside low-intervention wine.
Speciation Artisan Ales & Native Species Winery just gets out of the way during the fermentation process for its drinks, letting the local bacteria influence its drinks in inimitable ways. Visit Speciation Artisan Ales in Grand Rapids to get your hands on unique bottles that you truly cannot find anywhere else.
Greyline Brewing Co.
An independent brewery featuring an awesome line up of beers, a full food menu and constant live music, Greyline Brewing Co. is where Grand Rapids locals go to grab a beer. Greyline Brewing keeps over a dozen of its in-house brews on at all times, leaning heavily on ales. But you won't find a selection of 10 hazy IPAs at Greyline Brewing. Instead, the brewers opt to dance around with styles, frequently offering up Rye IPAs, Black IPAs, Triple IPAs, pale ales and everything in-between.
Greyline Brewing also opens its Corner Stage to local musicians and entertainment throughout the week. Most nights, you'll be able to sit down with a pint in-hand and listen to local music, and that's something we can cheers to.
Restaurants in Grand Rapids
Robinette's Apple Haus & Winery
Open since 1973, Robinette's Apple Haus & Winery is filled with the aromas of its freshly baked breads, donuts, pastries and pies.
Grand Rapids Downtown Market
Do you have a group of picky eaters? Can't decide on one restaurant? No worries! The Grand Rapids Downtown Market is a modern food hall featuring more than 10 dining options, including barbecue spots, taco stands, bakeries and more.
The Søvengård
Grand Rapids' Scandinavian eatery The Søvengård uses seasonal and local produce for its plates, so its menu is never truly the same.
Forty Acres Soul Kitchen
Forty Acres Soul Kitchen is an authentic, contemporary American restaurant that celebrates Black culture through dishes like fried green tomatoes and bread pudding. Don't skip on visiting the cognac bar!
Butcher's Union
Butcher's Union is Grand Rapids' premier destination for steak and whiskey. Need we say more?
What to Do in Grand Rapids
Fish Ladder Park
Designed by artist Joseph Kinnebrew and completed in 1974, Fish Ladder Park is an interactive installation that allows the public to enjoy wildlife while simultaneously helping to preserve wildlife. Chinook salmon, Coho salmon, steelhead, brown trout and other native fish species all use the fish ladder during different parts of the year during their annual swim upstream.
Gerald Ford Presidential Museum
Grand Rapids is home to the presidential museum and burial place of Homer Simpson's favorite president—Gerald Ford. The Gerald Ford Presidential Museum houses special collections from Ford's administration, such as an exhibit of special footballs from Ford's life.
Frederik Meijer Gardens and Sculpture Park
Frederik Meijer Gardens & Sculpture Park is a majestic botanical garden, art museum and outdoor sculpture park spread out over 158 acres in the northeast corner of Grand Rapids. Highlights include a sculpture from artist Ai Weiwei and the Michigan's Farm Garden.
Meyer May House
The Meyer May House is one of the best preserved homes designed by famed American architect Frank Lloyd Wright. Tours are available of the interior of the house, considered "Michigan's Prairie masterpiece".
Grand Rapids Map