Boston has been Andy Rhodes's home for the past sixteen years this September. What better way to celebrate than with a Guide of the Month profile? Andy is the City Coordinator for Boston, the second city that City Brew Tours began touring after Burlington, and he is approaching his fourth year as a CBT beer guide. He is the man with all the answers and experience for the other City Brew Tour Boston beer guides–and the thing about Andy is that he always wears a smile.
"You can Create Here"
His very first day guiding as beer expert and extraordinaire was followed by back-to-back tours for two days after that. "The only people giving tours in Boston were Chad and I," says Andy. "Brew Tours had only been operating in Boston for about five months." He's been here since the beginnings of City Brew Tours' growth and has only fallen in love with the city since. "I love the history here," he says. "It's a city that looks to the future, but never forgets its past." Filled to the brim with New England charm, Boston is also a place of modernity. "You can create here and have it appreciated," says Andy.
"Beer is for Sharing!"
He definitely appreciates his job that allows him to both bring people together and escort them around the city that he loves. "The fact that I get to include beer is a big bonus," says Andy, who believes this to his core: "Beer is for sharing! It's a bonding beverage between friends and can bring strangers together." This falls directly in line with his tips for beer drinking, which include simply drinking with friends. "If people say they don't like beer, they just have not found their beer yet," he says.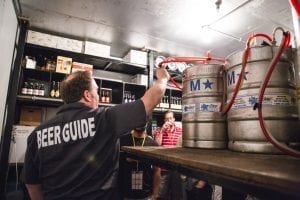 "Dark and Malty and Aged in Barrels"
Personally, Andy can't decide on just one beer that he enjoys. "I like my beer dark and malty and aged in barrels," he says, going a more general route to describe the kind of beer he tends to enjoy. When it comes to beer-drinking activities, he simply likes sharing. "Sharing is caring!" he says. "I like bringing beer to friends and introducing them to new things." Andy isn't a home-brewer, wittingly identifying himself instead as a "home-drinker" and  "historian and keeper of stories" who will try everything his home-brewing friends create.
Outside of his City Coordinator position, Andy enjoys working with his local theatre community. He can also be found "spending time with [his] beagle, the family, or the x-box."
Thanks for everything, Andy!