Before you worked at City Brew Tours, what was the most interesting or unusual job you've ever had?
Too many weird ones to count. Right now, one of my favorite strange jobs is narrating sea lion feedings for fancy events at the Central Park Zoo.
What interested you in City Brew Tours, and what is your favorite part of being a guide?
I've been a tour guide for a decade, and I have been drinking good beer even longer, so getting to put those two things together was a real winner. Getting to introduce folks to styles of beer they've never tried is the best. It makes my day when someone finds a new type of beer they love!
Hands down, the best tour you've ever done?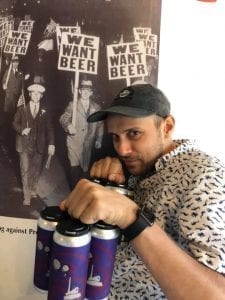 Three Aussies, two Long Islanders, a foul-mouthed 83-year-old grandma from Brooklyn (who had an extra pint at each stop) and a newly-minted 21-year-old from Virginia. It was truly epic.
If you could have a beer with anybody in history, who? What would the beer be?
Alexander the Great. He's been a favorite of mine forever, so I have a laundry list of questions. Since he probably wouldn't be drinking beer (he preferred wine), I'll just bring a NEIPA for myself.
What words of wisdom do you have for anybody taking a tour?
Just try it! I have had so many people swear off of a style, only to try a sample and discover that they actually love it. It's only a few ounces, and you never know…
Last movie you saw?
Star Wars: The Rise of Skywalker. I'm one of those.
Are you a homebrewer? If so, what's your favorite recipe? Do you have one of your own you'd like to share?
Sadly, no. My Brooklyn apartment isn't big enough for both humans and brewing equipment. Although, honestly, in a battle between me and beer, I think beer would win.
What beer is in your fridge/cellar right now?
I brought all the good stuff out for New Year's Eve, so it's a bit barebones right now. However, there is always a 6 pack of Five Boroughs Brewing Company's Tiny Jucy IPA in there.
What's the most useless talent you have?
I can recite pi to 100 digits.
What is your favorite thing to do on your days off?
What are those?? New Yorkers are always on the go, so like most of us I have a bunch of gigs. On those rare "golden days," I'm probably at a museum, at the library, at brunch, or asleep.