June's Guide of the Month is none other than Jenni, one of our DC guides!
What interested you in City Brew Tours, and what is your favorite part of being a guide?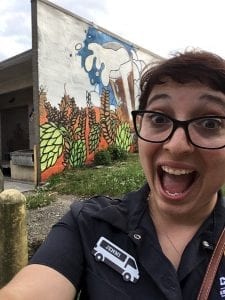 I'm a homebrewer, beer lover, and educator, so when I learned about City Brew Tours, it just seemed like the perfect fit! As I guide I get to meet people from all over the world, which is always fun and exciting. Plus, I always learn new things about beer history, which is my favorite kind of history!
What beer is in your fridge/cellar right now?
I love drinking a Tröegs Crimson Pistil on a hot summer day, so that's what I've got at home right now.
What's something new you've learned about beer in the past week?
I learned that a Double IPA and an Imperial IPA are the same things. I can't believe I didn't know that!
What are you binge-watching right now?
Star Trek Next Generation has been my way to nerd out and chill out for the past few weeks, but I'm also a big fan of trashy reality TV (i.e. The Bachelorette).
What has been one of the funniest moments you've experienced while working at City Brew Tours?
We get all kinds of people on our tours and honestly, I just love watching folks have a good time with their friends and family, My favorite groups are friends who haven't seen each other in a long time – it's so heartwarming. I'm not sure if that's funny per se, but it's absolutely wonderful.
What words of wisdom do you have for a guest that has never taken a tour before?
Try everything! I can't tell you how many times someone comes on the tour saying something like "I don't drink dark beer" and finds out that their favorite beer of the day is a brown ale or a stout. Even if you think you don't like IPA's/dark beers/sours/whatever, give them a go! Your guide knows all the best beers and you just might be surprised.
What is your favorite project that you are currently working on outside of work?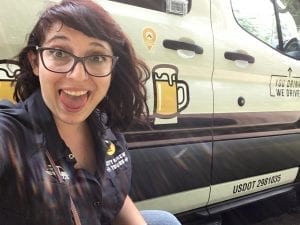 When I'm not leading beer tours, I work in the nonprofit world and am a full-time graduate student. By this time next year, I'll have a Master's degree in Anthropology. And, yes, I will be making everyone on the tour call me "Master Jenni, Queen of All Beers".
Do you have any beer-drinking tips? (glassware, pairings, etc.)
My biggest tip is don't be afraid to trust your taste buds! Take a sip, swirl it around, and then decide how you feel about it. You might be surprised by something you thought you wouldn't like.
If you were a kitchen utensil, what would you be and why?
I'd be a whisk because I'm always here to stir sh*t up. Ayooooooo.