Our may Guide of the Month is our Burlington rockstar, Hannah! This Gose drinking guide took some time to share a little bit about herself below!
How long have you lived in the Burlington area? What is it about the city that you love?
I moved to Burlington in the summer of 2016, so I've been here for about 2 years. I love how active and outdoor oriented the city is. The city really makes the most out of the beautiful landscape and motivates people to enjoy the time outside with community events.  
What do you love about beer? 
I love that it is never repetitious. I am always trying new beers, learning about new styles, meeting new brewers and checking out new breweries. 
How long have you worked for City Brew Tours?
A year in October.
Do you remember your first day? What has changed the most since then? 
Quite vividly. I unknowingly started the tour 15 min early and left six people behind. I've since learned how to use Bookeo, which has greatly improved the quality of my tours.
What's your favorite part of your job? 
Getting to spend so much time at the breweries. Our breweries are so active in the community, its been great to be in the know for their upcoming events and to be able to meet the people that are behind it all.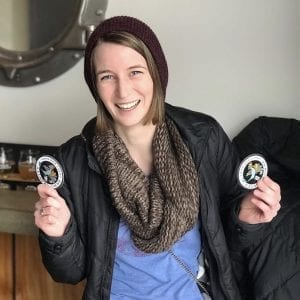 Do you have any beer-drinking tips? Glassware, pairings, etc. 
Put beer in your food. A couple of our breweries have smoked beers on tap right now – they have revolutionized sauces in my kitchen.
What is your current favorite beer? Beer-drinking activity?
Switchback's Tequila Barrel Aged Gose. 
What could someone catch you doing in your spare time? 
Skiing, baking, or volunteering with the local adaptive sports organization.