What interested you in City Brew Tours, and what is your favorite part of being a guide?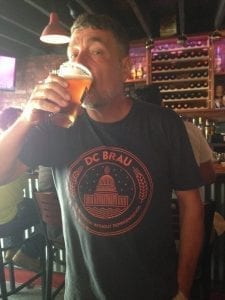 I've always enjoyed sharing my passions for history and beer, and CBT gives me a great opportunity to do both on a nightly basis.
What is the most complex or interesting brewing recipe that you have ever executed?
I actually enjoy making and aging ciders
What's something new you've learned about beer in the past week?
I got to try Dogfish Head's new Low-Cal IPA, Slightly Mighty. They use a fruit I had never heard of, monk fruit, to reduce the malt bill and make a very tasty "light" beer.
If you could only drink one type of beer for the rest of your life, what would it be?
Saisons
What has been one of the most surprising moments you've experienced while working at City Brew Tours?
One of my bachelorette parties asked me to stop at a beer shop at the end of the tour. I thought they wanted to pick up beer for the remainder of their evening, but they stopped to buy me a bottle of Rodenbach Grand Cru which I had mentioned earlier in the tour as one of my favorite beers. Best tip ever!
What words of wisdom do you have for a customer that has never taken a tour before?
Relax and enjoy the ride. Beer history, beer knowledge, and beer tasting make for a great afternoon/evening.  
What beer is in your fridge/cellar right now?
Dock Street Nicethings IPA
What does a typical day off look like for you?
Playing with my dogs and finishing work on the nursery for my grandson who is due any day now.
What are some of your favorite breweries outside of the ones that we run tours at?
We've had some excellent breweries open here in Philadelphia over the last year or two: Wissahickon, Second District, Urban Village, and the wonderful Brewery ARS. I visit them all on a regular basis.