The initiative, Talent on Tap, aims to support the growth and development of future beer industry leaders
May 25, 2022
City Brew Tours (CBT), an award-winning curator of craft beer tours and experiences in North America, awarded its 2022 Talent on Tap Scholarships to an individual devoted to furthering her beer education. The Talent on Tap Scholarship program was created to support women of color from unique backgrounds who have a desire to make a lasting impact in the beer industry.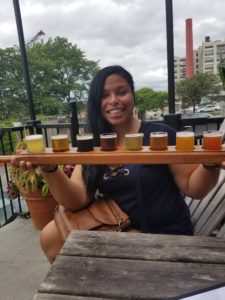 Sherley Santell
Sherley Santell, of Queens, N.Y., is a college administrator with a passion for craft beer and a plan to open up a brewery one day. Sherley was won over to the world of craft brewing when her father gifted back a homebrew kit she gave him for Christmas. While homebrewing was not for him, Sherley took up the craft with enthusiasm. Today, one of her favorite pastimes is visiting breweries and sharing flights of beer with her partner.
Community in Craft Beer
While Sherley looks forward to experimenting with new flavors during the brewing process, the brewery she aspires to open would not stop at just brewing good beer. Her vision is to "create a versatile brewery that symbiotically gives back to the community by collaborating with charities, local artists, and local business owners" and to use that brewery as an opportunity to rise above industry norms.
A sense of community does not begin existing as soon as a brewery announces it, however. Community is built from within, and Sherley aims to create a space where employees feel safe and are encouraged to speak up about issues that affect the industry, such as sexism, exclusion, and racism. It will be a place of invitation and inclusion, where people come to support and collaborate with one another.
This powerful vision is driven by Sherley's belief that "all human beings deserve a chance at doing what they love without being diminished for who they are and their role in the industry, regardless of their ethnicity or gender."
Talent on Tap Scholarship
It was a serendipitous click that led Sherley to the Talent on Tap Scholarship. She had purchased an Underground Brooklyn Brew Tour for herself and her partner prior to the pandemic, and though they were unable to take the tour, Sherley stayed subscribed to the CBT newsletter. It just so happened that the newsletter she decided to open had information about the Talent on Tap Scholarship.
Since being awarded the scholarship, Sherley has already completed the WBA (World Brewing Academy) Executive Overview of the Brewing Process course and plans to sign up for Cornell's Craft Brewing Certificate Program in June.
We are inspired by Sherley's determination and vision, and we're excited to see her future unfold in the craft beer industry! To all of this year's applicants, we thank you for taking the time to share your visions in your applications. To anyone who is interested or knows someone who might be interested in the Talent on Tap Scholarship, we will begin accepting applications for its 2023 cycle in the fall of this year.
---
About City Brew Tours 
Founded in 2008 by Chad Brodsky, City Brew Tours offers unforgettable all-inclusive tours and beer-focused experiences in some of the best beer cities throughout North America. With over a decade of experience, City Brew Tours has created the ultimate craft beer experience that blends history, beer knowledge, transportation, and great food with unrivaled access to an area's top breweries and their beer.