The year is 1810 and today, the twelfth of October, you've noticed the streets of Munich are reverberating with chatter and excitement. Of course you know that the Crown Prince Ludwig is getting married, but never could you have expected that they would invite you to the celebration. As you walk through the streets to the field in front of the city gates, flocks of people flank you with the same destination in mind. The new princess, Theresa of Saxony-Hildburghausen, is stunning in her voluminous, milky white dress, her thin veil cascading down her back and sides and settling gently on the outline of her skirt. The front of her dress is adorned with something, green embroidery, perhaps, and the soft ringlets of her chocolate hair fall to her collarbone, pristine with youth.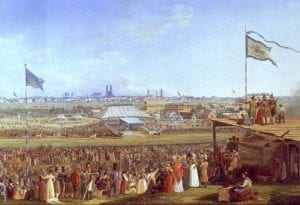 ***
The celebration was repeated the next year, 1811, solidified by the horse racing that closed that year and the wedding reception the year before. Beer vendors set up stands and an agricultural show began (still held every three years), and it was another seven years before the first games began to appear. In 1896, the stands were replaced with tents, and the modern Oktoberfest tradition had begun.
Little did any of the Munich townspeople  of 1810 know that this royal union's festivities would be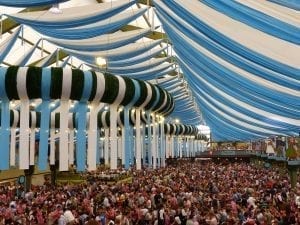 the beginning of the largest beer festival around the world, still celebrated over two centuries later. Six million people on average attend Germany's Oktoberfest to get a taste of the specific brews available at each of the giant tents, some able to accommodate 10,000 people—not to mention the many Oktoberfest celebrations that take place in different countries. If attending, get ready for a whole lot of beer drinking: a serving size is one liter served in a masskrug, the German name for the glassware of this serving size that also has a handle. Servers wear the traditional Bavarian dirndl to bring you large amounts of masskrugs enveloped in their arms sloshing with oktoberfestbier, just waiting to dribble down your chin in your enthusiasm.
The Märzenbier, Oktoberfestbier, and Vienna Lager
It all begins with a duke and his decree. In 1553, Duke Albrecht V
of Bavaria declared that brewing was to cease during the hot summer months (24 April to 28 September) in an attempt to keep the beer from becoming bacteria ridden and dangerous to drink. As a result, March Beer was coined to refer to the beer that was brewed in March and stored in cool lagering caves until served in autumn. By putting the name of this new beer together quite literally in German, we get the term märzenbier.
Fast forward three centuries and the term is locked down for very specific use. In 1841, two brewers created and introduced two curiously similar beer styles: the märzenbier and the Vienna lager. Coincidence? German Gabriel Sedlmayr and Austrian Anton Dreher were friends and worked together to create a lager that wasn't as dark as their others and focused on a toasted malt flavor. In a successful attempt to find a method of kilning malts without direct fire roasting, the two traveled to England and were introduced to kilning malts with hot air rather than fire.
In 1872, Sedlmayr created the first oktoberfestbier, which was made specifically to sell at that year's Oktoberfest. Fittingly, Sedlmayr's brewery, Spaten, is one of only six German breweries that are allowed to sell their beer at the festival to date. The two styles are extremely similar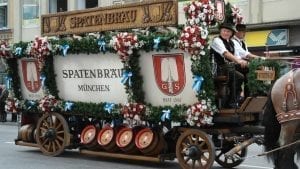 —märzenbier and oktoberfestbier—and you can tell you're tasting at least one of them if the toasted malts are at the center of the flavor. The noble hops might have a slight bitterness, but they are usually mild. This full-bodied, deep amber lager sits heavier than the lightest lager on your tongue and gives way to a welcoming, bready aftertaste, usually boasting somewhere between five and six percent alcohol. If you find your beer has a red tint in color and is drier with a sweeter finish, you're drinking a Vienna lager! When you can, enjoy it best in a flute that lets you admire its beautiful autumnal color and get the most of its aroma as the wide-mouthed glass reaches your lips.
Drink and Be Merry
Now for the good news: märzenbier- and oktoberfestbier-styles are always being created on our side of the Atlantic this time of year. Looking for that unique and fun fall activity this season? Finding a great märzen to celebrate, well, anything at all is a must do fall activity that you should take part in with your beer-loving friends. To make that search even easier and that much more entertaining, our beer guides are here for you. City Brew Tours' expeditions are a fall activity that you don't want to miss. What could be better than enjoying the city and getting a taste of the American twist on a German classic all the while? Fall beer-drinking is a shared and cherished activity around the globe—let's join in on the fun together. Here's what your beer guides suggest in the meantime:
The Top Six Oktoberfest Beers on the East Coast
Burlington
Devon: Switchback Brewing Co. Märzen Fest Bier
Boston
Chad: Idle Hands Craft Ales Brocktoberfest
Philadelphia
Zach: Hofbrauhaus Traunstein (for Brauhaus Schmitz) Brauhaus Schmitz Oktoberfest
Pittsburgh
Barry: Penn Brewery Oktoberfest
Baltimore
Ryan: Heavy Seas Beer Cutlass
Washington, D.C.
Isaac, Marie, Steve: Port City Brewing Co. Oktoberfest