By Kate Hellner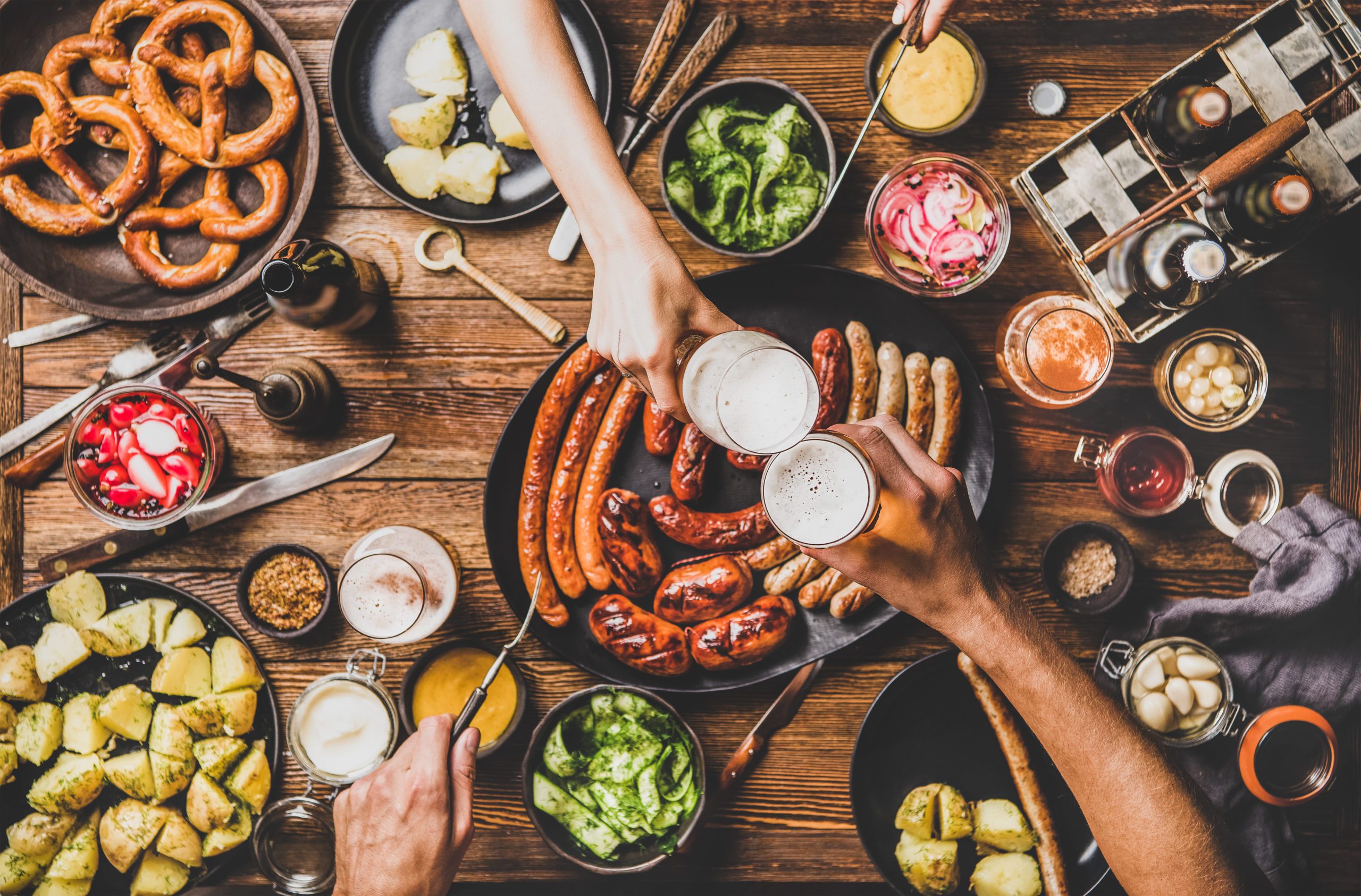 Crisp beers flowing from the tap into fresh steins, crowds of revelers decked out in their finest (or most ironic) lederhosen, upbeat music drifting between the tents. It is the quintessential image of Oktoberfest. But, what is a day of drinking Bavarian beers without feasting on equally iconic Oktoberfest food? 
The rich, decadent festival foods are the workhorses of Oktoberfest, there to save you from the drunchies with their salty, fatty, caloric goodness. The delicious smells waft through the air, reminding you that the beer in your stomach is lonely and needs a friend. So you follow your nose, and what do you find?
BRATWURSTS AND BREZN AND HENDL, OH MEIN! 
But, it doesn't end there! You find more food than you could possibly eat, but you want to try them all anyway—Schweinshaxe, Wiener schnitzel, Obatzda, Spaetzle, Kartoffeln, and Radieschen. If you are a seasoned Oktoberfest pro, you know what these foods are; however if you're like the rest of us, then these words on the menus are nothing but German gibberish. 
Let's break down the food of Oktoberfest.
Wursts
Bratwurst is just one variety of wursts, a.k.a. sausages. A mix of pork and beef and spices, it is arguably the most popular wurst out there; however, Weisswurst actually is the favorite of Oktoberfest. Enjoy this mild wurst made up of minced veal with sweet mustard during the morning of your Oktoberfest celebration. 
Other honorable mentions include knockwurst and currywurst—a bratwurst boiled, then fried, then topped with special curry ketchup.
Brezn
Pretzels, the crowd favorite! Vendors roam around the festival handing out these soft, salty Bavarian giants that everybody loves. One of these twisty, carby delights is the perfect accompaniment to a frosty mug of beer.
Hendl
Spit-roasted chickens. One of the most mouth-watering sights and smells at Oktoberfest. Rows of whole chickens slowly turn on their spit, their crispy, golden skin shining with butter and seasoned with plenty of salt. You could share it with friends, or not. No one would judge or even bat an eye if you didn't.
Schweinshaxe
I'll throw you a bone on this one. It's pronounced SH-vines-HAKS-eh, and it is a roasted pork knuckle! The Schweinshaxe's juicy tender meat is wrapped around the ankle bone of the pig, with its crackling skin—roasted to a deep, dark caramel color—holding it all together!
Wiener schnitzel
No translation is necessary, because no matter where you are in the world that is its name. Just please pronounce the "w" as a "v" if you did not already know. Wiener schnitzel is a cut of veal pounded nice and thin, breaded, and pan-fried in butter. Enough said. 
Obatzda
Pretzels are delicious on their own, but why stop at delicious? Obatzda is the rich, cheesy, insanely exquisite spread that every pretzel should pair with! Obatzda is made with a blend of soft cheeses, butter, your favorite German beer, and spices. Top it off with a sprinkle of chives and before you is the must-have of Oktoberfest!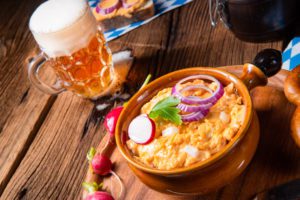 Spaetzle
A type of small, egg noodle made from the simplest ingredients (as all good pasta is). The noodle's indeterminable shape and dumpling-like consistency make it a favorite side dish of meats with gravy, or toss it with cheesy sauce and caramelized onions to make Kasepaetzle!
Kartoffeln
What's the most versatile food you can think of? The potato. Favorite versions of the potato you'll find at Oktoberfest celebrations include potato salad, potato pancakes, and potato dumplings halb & halb. Halb & halb translates into half & half (no surprise there), and these dumplings are made with half boiled potatoes and half finely grated potatoes in order to create that wunderbar dumpling fluffiness.
And last but not least on the list…
Radieschen
Radish! Good, ol' radishes… They don't scream rich and decadent like the rest. But, that is exactly why food like radishes, sauerkraut, and red cabbage are necessary guests at Oktoberfest each year. They provide a nice balance to the meats and pretzels and potatoes and cheese. The radishes at Oktoberfest are traditionally white radishes sliced or spiraled super thin, then sprinkled with salt and chives. 
Of course, there are many more Oktoberfest foods, all of which adhere to this undeniable meaty, salty, buttery, fatty theme and all of which can be paired with a refreshing Bavarian beer!
Speaking of…
THE BEER BUDDIES
I'd be remiss without discussing a few of the go-to beer and food pairings! After all, if you are going to be sitting down with a plate of Oktoberfest food there is going to be a German-style beer on the table as well. So here are some of the festival's best friends.
The first duo is almost too obvious once you see it: pair your weisswurst with a weissbier! The mild veal of the weisswurst and the sweetness from the mustard are a lovely complement to the fruity banana and the sweet, aromatic spice of clove found in a weissbier. It's a delightful combination to begin your day!
Next up is the beloved Bavarian pretzel! You won't be able to avoid them at Oktoberfest (not that you'd want to avoid them anyway). Thus, preparing yourself for the inevitable, the next beer you order is… Anything you want! That's the beauty of the brezn! However, there is something so natural about pairing a pretzel with a pilsner. The thick bread and the salt almost demand a thirst quencher, which is precisely what a pilsner is! 
Find out more about this light, drinkable beer here.
Finally, a hunk of pork knuckle is placed before you, its dark, crispy skin starkly contrasted against the spaetzle and red cabbage also on the plate. Which beer do you fortify yourself with before you dig in? The answer is in the color— Pair your savory, succulent pork with a dark german beer! A dunkel or a schwarzbier (black lager) boasts a roasted, malty, bready flavor profile yet is still lighter, leaving plenty of room for the Schweinshaxe!
OKTOBERFEAST ANYWHERE!
Celebrating Oktoberfest in Germany is on many people's bucket lists, but such is the attraction to this annual event that Oktoberfest festivities are featured all across the world—From Brisbane to Toronto to Savannah to Madrid, from universities to small towns, even from inside your own home.
So if you want to participate in Oktoberfest, but cannot make that trip to Germany, grab some pilsners and pretzels, whip up some obatzda with this recipe, and celebrate! Prost!