Are you a beer-lover looking for a little culinary inspiration? Check out these delicious recipes cooked or baked with brews and collected from beer-lovers like yourself! From decadent desserts enriched with stouts and IPAs to hearty ale stews and soups to tender meat dishes, there is a recipe sure to catch your eye.

1. IPA Cupcakes with Citrus Cream Cheese Frosting
James – Georgia
Perfect for celebrating a beer-lover's birthday, this recipe for IPA cupcakes topped with citrus cream cheese frosting underwent multiple trials and tweaks before finding this final, flawless version. The citrus in the frosting pairs nicely with the beer syrup-soaked cupcakes while the cream cheese holds its own against the hints of IPA.
Which style of beer to use?
Fruit-forward IPA
Recipe
Ingredients
Cupcakes (Yields 24)
1 ½ sticks butter, softened
1 cup sugar
2 ½ cups all-purpose flour
2 tsp baking powder
1 tsp salt
3 eggs, room temp
1 tbsp vanilla bean paste (or extract)
Zest of one orange and 1 tbsp of its juice
½ cup IPA of your choice
¼ cup sour cream
IPA syrup- (Boil 1 cup of your IPA of choice with 1 cup of sugar until it becomes a light syrup)
Frosting
1 ½ bricks of cream cheese (12 oz), softened
¾ stick butter, softened
¼ tsp salt
1 tbsp each fresh orange juice and lime juice (save from orange in cupcake recipe)
1 tsp each orange and lime zest
4 cups powdered sugar
Instructions
Cupcakes
1. Preheat oven to 325 degrees.
2. Whisk together flour, baking powder, and salt in a medium bowl.
3. Cream butter and sugar together in an electric mixer, about 2-3 minutes, until light and fluffy
4. Add eggs one at a time, beating batter after each one. Then add vanilla and orange zest.
5. Whisk together sour cream and IPA. Then add the flour mixture and IPA mixture alternately, beginning and ending with flour mixture.
6. Fill cupcake liners with ¼ cup of batter in each cup and bake for ~18 minutes, or until toothpick stuck in cupcake comes out clean.
7. While the cupcakes are still warm, poke them all over the tops with a toothpick and brush the
syrup on top so it soaks in. The more IPA flavor you want, the more syrup you should use.
8. When they are completely cool, pipe frosting on top. I like citrus frosting because it pairs well with most IPAs, but you can get creative with all the different IPA options out there.
Frosting
1. Cream together cream cheese and butter in electric mixer, 2-3 min, until smooth and creamy
2. Add salt, juices, and zests; beat until combined. Then gradually add powdered sugar until well
combined.
3. Beat on medium high for about 2 minutes, until completely smooth, stopping to scrape sides
and bottom as needed
4. Use piping bag to pipe frosting onto cooled cupcakes.
2. Chocolate Guinness Cake
Chelsea – Ohio
(Original Recipe from Nigella)
This bold, black cake is a showstopper for any party or get-together. The pillowy frosting that sits atop the dark cake mimics the head of a freshly poured pint of stout. While the recipe calls for Guinness, a s'mores milk stout, peanut butter stout, or coffee stout would make for a fun substitution!
Which style of beer to use?
Stout
Recipe
Ingredients
Cake
1 cup Guinness
17 tablespoons unsalted butter
¾ cup unsweetened cocoa
2 cups superfine sugar
⅔ cup sour cream
2 large eggs
1 tablespoon vanilla extract
2 cups all-purpose flour
2 ½ teaspoons baking soda
Icing
8 ounces cream cheese
1 ¼ cups confectioners' sugar
2 teaspoons cornstarch
½ cup heavy cream (or whipping cream)
Instructions
1. Preheat the oven to 350ºF, and butter and line a 9 inch springform tin.
2. Pour the Guinness into a large wide saucepan, add the butter – in spoons or slices – and heat until the butter's melted, at which time you should whisk in the cocoa and sugar.
3. Beat the sour cream with the eggs and vanilla and then pour into the brown, buttery, beery pan and finally whisk in the flour and baking soda.
4. Pour the cake batter into the greased and lined tin and bake for 45 minutes to an hour. Leave to cool completely in the tin on a cooling rack, as it is quite a damp cake.
5. When the cake's cold, sit it on a flat platter or cake stand and get on with the icing. Lightly whip the cream cheese until smooth, sieve over the confectioners' sugar and cornstarch and then beat to combine.
6. If using heavy cream, add it and beat until you have a spreadable consistency. If using whipping cream, whisk first to soft peaks, add a couple of spoonfuls into the cream cheese mixture and once this is combined, fold in the rest.
7. Frost the top of the black cake so that it resembles the frothy top of a pint.
Optional, serve with a side of fresh berries.
3. Texas Brownies
Paul – Pennsylvania
Ooey-gooey brownies have been the trend for a while now, but this Texas Brownie recipe bucks that trend. Soft and fluffy, they lack that density and sit-like-a-rock-in-your-stomach quality as some gooey brownies have. You can play around with the liquid the recipe calls for—substitute the water for more beer or do part beer, part coffee, part water or whatever you want!
Which beer style to use?
Stout or Porter
Recipe
Ingredients
Brownies (17″x11″ pan)
2 cups of flour
2 cups of sugar
2 sticks of butter (1 cup)
½ water
½ stout or porter (when pouring to measure, allow foam to settle)
¼ cup dark, unsweetened cocoa
½ cup buttermilk
2 eggs
1 tsp of baking soda
1 tsp of vanilla extract
Frosting
1 stick of butter (½ cup)
2 tbsp dark cocoa
¼ cup of milk
3 ½ cups powdered sugar
1 tsp vanilla extract
Instructions
Preheat oven to 400.
1. Combine flour and sugar in large mixing bowl.
2. Combine butter (2 sticks), beer, water, and cocoa in a saucepan. Stir and heat to boiling.
3. Pour the boiling mix over the flour and sugar. Add the eggs, buttermilk, baking soda, and vanilla extract. Mix well.
4. Pour into a buttered 17″x11″ pan with higher sides. Bake for 20 minutes, testing with a toothpick once done.
5. As brownies are baking, prepare the frosting. Combine butter (1 stick), cocoa, and milk, stir while bringing to a boil.
6. Mix in the powder sugar and vanilla extract until smooth.
7. Pour the warm frosting over the warm brownies and allow to cool.
4. Whole Wheat Beer Bread
Steven – Florida
(Original Recipe from Shane and Simple)
What's great about this beer bread recipe? Easy to make. Easy to eat. 'Nuff said. You also can try making it with different beers and have a beer bread tasting. To really indulge, whip up a little bit of honey butter to slather over a slice of the bread while still warm.
Which style of beer to use?
Dealer's choice!
Recipe
Ingredients
3 cups of whole wheat pastry or regular whole wheat flower
1 tbsp baking powder
1 tsp salt
3 tbsp of maple syrup
12 oz (11.5 oz is okay too) bottle or can of your favorite beer
Instructions
1. Preheat oven to 375 degree
2. In a mixing bows add 3 cups of whole wheat pastry or regular whole wheat flower, 1 Tbsp baking powder, 1 tsp salt, then whisk to combine.
3. Add 3 Tbsp of maple syrup and one 12 oz (11.5 oz is okay too) bottle or can of your favorite beer. Mix until it forms a dough. Make sure everything is well combined. Use your hands if needed.
4. Scrape dough into a silicon, non-stick or lightly sprayed loaf pan and spread evenly in the pan.
5. Bake for 45 minutes to 1 hour. (To check and see if the bread is done, insert a knife in the center of the bread. If it comes out clean, the beer bread is ready.
5. Alaskan Amber Corn Chowder – Instant Pot
Kate – Michigan
Creamy corn chowder packed with flavor. It's easy to modify to make it vegetarian (omit bacon and swap out chicken broth / bouillon for vegetable) or to make it gluten free (swap out flour for a GF flour). The subtle notes of amber ale go great with the sweetness of the corn, and if you add red pepper flakes to the recipe, you get some heat to complement the sweet.
Which style of beer to use?
A smooth, clean amber ale, like Alaskan Amber Ale.
Recipe
Ingredients
4 ears of fresh corn, shucked, silks removed, and cut from cob
5 red skin potatoes, diced
1 yellow onion, diced
1 red bell pepper, diced
1 tbsp of minced garlic
1 tsp red pepper flakes (optional)
2 ½ cups of chicken broth
½ cup of Alaskan Amber Ale (or any easy-drinking amber)
6 strips of bacon
1 tbsp of butter
¾ cup of milk (optional milk and heavy cream mixture for creamier soup)
5 tablespoons flour
½ cup gouda
1 cup cheddar
Instructions
1. Cook or bake the bacon strips, then set aside the leftover fat
2. Set instant pot to sauté, cook onion and minced garlic in the 1 tbsp butter and use 1 tbsp of leftover bacon fat. Cook for 3-4 minutes, then add the corn, potatoes, bell pepper, red pepper flakes, chicken broth, and amber ale.
3. Seal the instant pot lid and pressure cook for 6 minutes, then let the pressure release naturally for 4-5 minutes. While waiting: create a slurry by whisking the flour into the milk or milk / cream mixture until smooth; grate the gouda and cheddar; crumble the cooked bacon.
4. Once depressurized, remove lid and slowly stir in the slurry a little bit at a time to thicken the soup.
5. Immersion blend. (Don't have an immersion blender? Do it the fancy way and throw several ladle scoops of soup into a regular blender.)
6. Slowly stir in the shredded cheese until completely melted.
7. Add salt and pepper to taste.
8. Sprinkle your bowl of soup with bacon crumbles.
6. Brisket Pot Roast
Emily – North Carolina
This brisket is brought to you by a decades old family recipe (see image below "Instructions"). You just know it's old school when a no-muss-no-fuss recipe is written on a lined notecard in partial cursive. Get ready for delicious, fall-off-your-fork brisket brought to you by a long-standing family tradition.
Which style of beer to use?
Dealer's choice!
Recipe
Ingredients
1 Beef brisket
1 Packet of French onion coup mix
1 Can of beer
Butter
High heat oil (canola or vegetable)
Diced medley of carrots, potatoes, onions, and celery
Instructions
1. In a large pan over medium-high heat, brown brisket in butter and oil on all sides.
2. Take out meat and set aside, leaving fat in the pan.
3. Add one can of beer and one package of French onion soup mix.
4. Bring to a boil, then return meat to the pan.
5. Lower heat and cook for about 3 hours.
6. An hour before it's done, add potatoes, carrots, onions, and celery.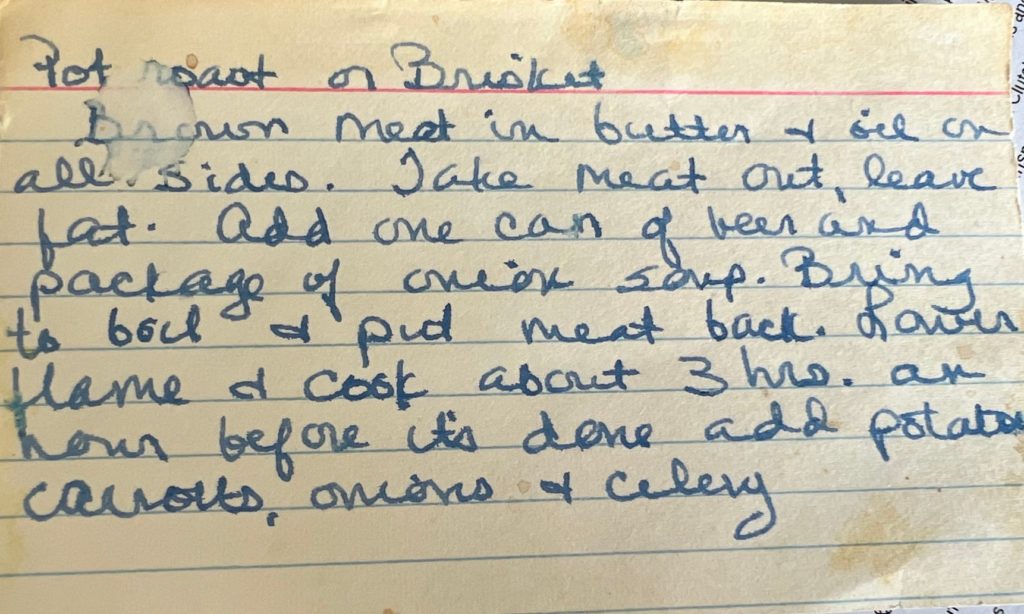 7. Moules marinières à la bière
Iain – Texas
Treat yourself to an upscale restaurant experience at home with this recipe for moules marinières à la bière (beer mussles). It is best served with toasted bread, and it can be elevated by adding cheese—finely shredded gruyere and gouda—with the cream, if desired. Pro tip: Acidic farmhouse ales work great with this recipe because they closely mimic white wine, and you'll want to avoid cooking with hoppy beers.
Which style of beer to use?
Blonde ale or a non-fruited farmhouse ale, such as Jester King Brewery "Le Petit Prince" or Brasserie d'Achouffe "La Chouffe Blond"
Recipe
Ingredients
2 lbs fresh mussels
2 tbsp butter
1 shallot
1 bunch parsley
2 cloves garlic
50 ml heavy cream
200 ml beer
Instructions
1. Clean mussels and remove beards. Set aside for cooking. Discard mussels with cracked shells.
2. Add butter to a large pot with a lid at medium heat. Once butter is melted, add minced shallot and garlic. Cut stems from parsley, finely chop and add to the pot. Cook for approximately 1 minute to sweat. Do not brown.
3. Add beer to pot and let it reduce by approximately 1/3 its volume. Raise heat to produce generous amount of steam.
4. Add mussels to the pot and let them steam in the pot with the lid on for 2-3 minutes. Pick up pot and shake halfway through the cooking time. When 90% or more of the mussels have opened their shells, stir the mussels with a large spoon before removing to a large bowl. Set aside. Keep the liquid in the pan.
5. Add the cream to the pot, stir and let simmer with the liquid mixture until it has reduced 1/3 in volume again. Season with black pepper. (There is saltwater in mussels, so you should not have to add salt here.)
6. Once the liquid mixture is to your liking, add mussels back to the pot and stir to coat in the liquid. Stir to reheat the mussels, but don't cook them. Should take approximately 1 minute. Kill heat and add roughly chopped parsley leaves. Stir again.
7. Plate in a large bowl with more parsley and freshly-ground black pepper to finish. Serve with lemon wedge.
8. Obatzda
Uta – Michigan
Original Recipe from Tara's Multicultural Table
Obatzda is a traditional Bavarian beer cheese dip made with all the best kind soft of cheeses—brie, camembert, and cream cheese. Add beer into the mix, and you can't go wrong! Pro tip: The taste of the beer comes through in this dish, so if you are not a fan of wheat beer, go for the Dunkel.
Which style of beer to use?
Bavarian Weissbier (wheat beer) or Dunkel
Recipe
Ingredients
4 ounces (113 grams) Brie cheese room temperature
4 ounces (113 grams) Camembert cheese room temperature
4 ounces (113 grams) cream cheese room temperature
2 ounces (57 grams) unsalted butter room temperature
½ medium onion finely diced
½ tablespoon paprika sweet, spicy, or a mixture
1/4 teaspoon caraway
Salt and pepper to taste
2 tablespoons (30 milliliters) German beer
Garnish
Caraway seeds
Chopped chives
Thinly sliced radish
Thinly sliced red onion
Lettuce
Recipe
1. In a large bowl or food processor, combine the Brie, Camembert, cream cheese, and butter.
2. Mix together or process until well combined. Stir or blend in the onion, paprika, caraway, salt, pepper, and beer.
3. Cover and refrigerate until chilled, at least an hour. Serve sprinkled with caraway seeds and chives and alongside sliced radish, red onion, and lettuce.
9. Beer Can Chicken
David – South Carolina
Everyone has heard of beer can chicken, and if you have not yet indulged in the time-honored tradition of cooking beer can chicken, consider this a sign from the universe that you should. Straightforward and easy, the beer and grill do all the work to produce a tender, moist chicken the whole family will enjoy.
Which beer style to use?
Dealer's choice! But if you want to keep it classic, pick you favorite—or most tolerated—domestic beer. Like a good ol' Budweiser.
Recipe
Ingredients
1 4-5 lb whole chicken
Poultry rub of choice (e.g. cajun, mesquite, beer can rub, etc)
Garlic seasoning
¼ can of beer
Instructions
Preheat the grill to 250 (set to low)
1. Rinse chicken with cold water and remove giblets and neck if present, then pat dry. Rub choice of poultry seasoning / rub over the exterior of the chicken.
2. Empty ¾ of beer into your stomach, leaving ¼ of the beer can full.
3. Add a teaspoon of garlic seasoning into beer can.
4. Set the whole chicken on the beer can, legs down, move to grill. Balance the beer can chicken directly on grill, close grill lid, and cook for 90 minutes. Check periodically.
5. When chicken is to temp ~170-180, remove from grill and remove beer can from chicken.
6. Let rest for 10 minutes, then serve.
10. Hearty Homemade Chili
Emily – Washington
Many have a solid family chili recipe passed down from parents and grandparents. However, if you do not or your family chili recipe is a little underwhelming, you're invited to cook this hearty homemade chili! It has served hundreds of people over the years at family reunions, birthdays, and super bowl parties.
Which style beer to use?
Stout
Recipe
Ingredients
3 lbs ground beef
1 lb of pork sausage w/sage or zesty hot
4 med to large onions, diced
2 red and 2 green bell peppers, diced
2 cans of green chilis
2 15oz cans of black beans
2 15oz cans of red kidney beans
3 15oz cans of diced tomatoes
1 can of stout beer
4 oz red wine
4 tbsp of minced garlic
6 tbsp chili powder
3 tbsp ground cumin
4 tbsp beef bouillon
1 tbsp oregano
Optional: Hot sauce to taste, shredded cheese to top
Instructions
1. Brown the meat in a skillet, then drain, rinse, and throw in a stock pot.
2. In a skillet, sauté onions until clear and bell peppers until limp.
3. Add sauteed onions and bell peppers and all remaining ingredients to the pot with the meat.
4. Fill pot with water until level with the ingredients.
5. Bring to a boil, then turn down to a simmer, letting simmer for 1 hour.
Serve as is or pour over elbow noodles or rice. Top with shredded cheese and / or diced raw onions for added flavor.
11.  Bratwurst in Beer with Onions
Lynn – Florida
Original Recipe from Heidi at foodiecrush
There's nothing like brats simmered in ale for 40 minutes then crisped up on the grill (gotta get those grill marks). It will fill your kitchen and yard with mouth-watering smells, and your neighbor will probably poke their nose over the fence and beg for some of "whatever you're making."
Which beer style to use?
Amber Ale or Nut Brown Ale
Recipe
Ingredients
1 ½ yellow onions sliced
2 tbsp butter
1 tbsp caraway seeds
½ salt
6 bratwursts
1 12 oz bottle of amber ale or nut brown ale
6 buns
Instructions
1. In a cast iron or heavy bottomed skillet, melt the butter over medium high heat. Add the onion and caraway seeds and cook for 5 minutes or until the onions begin to soften. Season with salt.
2. Nestle the bratwurst in the onions, add the bottle of ale and bring to a low boil. Reduce the heat to a simmer and cook for 30-40 minutes, turning the brats occasionally.
3. To finish the bratwurst on the stove, transfer the onions and beer broth to a bowl and set aside. Add the brats back to the skillet and increase the heat to medium high. Brown the sausages evenly on all sides, adding a little more butter or oil if needed. Add the onions and beer broth back to the skillet and keep warm.
-or-
3. Recommended: To finish the bratwurst on the grill, preheat the grill to medium-high heat. Cook the bratwurst sausages on the grill for 2-4 minutes per side or until browned on all sides. Add back to skillet with the onions and beer and keep warm.
4. Serve on warm buns with onions and coarse, grainy mustard. Add sauerkraut if desired.
12. Beef-ale Stew with Green Onion Buttermilk Dumplings
Andy – Massachusetts
Original Recipe from Sunset Magazine
Rich, hearty beef-ale stew complements fluffy dumplings in a dish made to impress your eyes, your stomach, and your in-laws. It uses 2 bottles of ale, serves 4-6, and takes about 4 ½ hours—don't worry, half of those hours are hands-off cooking during which you can crush the rest of your six pack.
Which beer style to use?
Brown Ale
Recipe
Ingredients
4 lbs beef chuck, trimmed of excess fat and cut into 1 1/2-in. pieces
6 tbsp plus 2 cups all-purpose flour
1 tsp freshly ground black pepper
2 bottles (12 oz. each) ale
2 large onions, thinly sliced
8 oz mushrooms, trimmed and quartered
3 large carrots, peeled, halved lengthwise, and cut into 1-in. lengths
½
 cup thinly sliced green onions (green part only)
4

½

tbsps cold butter, cut into small pieces
Instructions
1. In a large bowl, toss beef with 3 tbsp. flour, 1 tsp. salt, and pepper.
2. In a large pot over medium-high heat, heat 1 tbsp. vegetable oil. Add enough beef to pot to form a single layer (about 1/3 of beef). Brown meat on all sides, about 7 minutes total per batch. Transfer to a large bowl and brown remaining beef in 2 batches.
3. Add 1 bottle ale to pot, scraping up brown bits with a wooden spoon. Pour ale over reserved beef and return empty pot to medium-high heat.
4. Add remaining tbsp. oil to pot. Add onions and 2 tsp. salt. Cook, stirring often, 2 minutes. Cover pot and reduce heat to low. Cook, stirring occasionally, until onions have a hint of gold color, about 20 minutes.
5. Remove lid, raise heat to medium-high, stir in 3 tbsp. flour, and cook, stirring often, 3 minutes. Add mushrooms, reserved beef and ale, remaining bottle of ale, and carrots. Bring to a boil. Cover and lower heat to a gentle simmer. Cook, stirring occasionally, until beef is tender, about 3 hours.
6. About 40 minutes before serving, make dumplings: In a medium bowl, stir together remaining 2 cups flour, green onions, remaining 3/4 tsp. salt, and baking soda. Using a pastry blender or your fingers, work cold butter into flour mixture until it resembles cornmeal with some pea-size pieces.
7. In another bowl, whisk together buttermilk and egg. Gently fold wet ingredients into dry, mixing until a very shaggy dough forms. If more liquid is needed, add additional buttermilk 1 tbsp. at a time. Gently form dough into 12 equal balls and drop into stew.
8. Cover pot and cook 20 to 30 minutes, or until dumplings are fluffy and cooked through. Let sit 15 minutes before serving; stew will thicken as it cools.