Join us as we celebrate our beer guide of the month for September 2019! Read about new tours, beer styles, and more from our City Coordinator, Steve.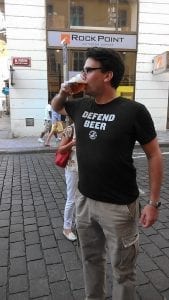 Before you worked at City Brew Tours, what was the most interesting or unusual job you've ever had?
I once moved out West with my brothers and started operating a faro table at the Oriental Hotel for a 25% stake in the business, until an outlaw band called The Cowboys killed my brother- that's when my friend Doc Holiday and I… no wait that's the plot of Tombstone. I worked as an Event Planner for the Community Liaison Office of the United States Embassy in Havana, Cuba. My crowning achievement was planning the mission's community 4th of July Party with the Marine Detachment there and buying 10 cases of Miller Lite that randomly appeared on a store shelf (quite a delicacy in a communist state during the embargo!)
What beer is in your fridge/cellar right now?
Fridge: Silver Branch Glass Castle Czech Pilsner, a crowler of Hellbender's Code Talker Pale Ale, New Belgium's Peach Kick Tart Ale, Rocket Frog Helleanor Helles Lager… several. other. beers 🙂
Cellar: I'm currently cellaring a few Orval bottles and other Bottle Conditioned Belgian Beers, and nice collection of La Folie, Oscar and Felix variants from a trip we took to New Belgium- including their La Folie conditioned on Tahitian Vanilla in Pedro Ximénez sherry casks.
What's something new you've learned about beer in the past week?
I pride myself on sharing style information with folks so they can pinpoint what they like about a particular beer- but I had no idea Belgian Wit beers could have between 5 to 10 % Oats (per style guidelines) included in the grain bill until I saw an Instagram post from local DC organization Black Brew Movement the other day- The more you know….
What has been one of your proudest moments working at City Brew Tours?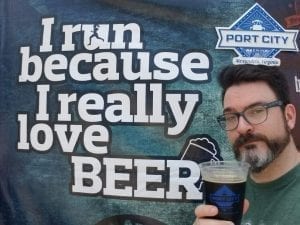 My proudest moment will come when we pour our first beers on our brand new NOVA Brew Tour in Northern Virginia- very excited to launch this new tour experience this month!
What was the last TV show you watched?
The Good Place
What are some of your favorite breweries outside of the ones that we run tours at?

Half Acre (Chicago), New Belgium, Ponysaurus (Durham, NC)
What words of wisdom do you have for anybody taking a tour?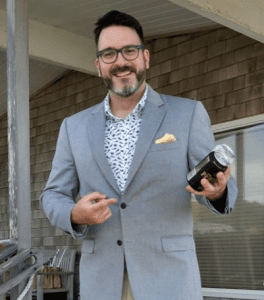 Keep an open mind and try everything but don't feel weird about leaving some beer on the table or just not liking a beer. We pour a lot of beer on tour and breweries make more every day- if you leave 3 oz sitting in a glass it's not the end of the world.
If you could only drink one type of beer for the rest of your life, what would it be?

Daisy Cutter Pale Ale from Half Acre or anything similar. Dry, pleasant but not overpowering bitterness, pine, mango, grassy, crystal clear.
What is something that people would never guess is part of your job as a beer tour guide?
I once removed the seats out of our tour van (mid-tour) to fish someone's wedding ring out that had slipped beneath the floorboards.