By Audrey Quinn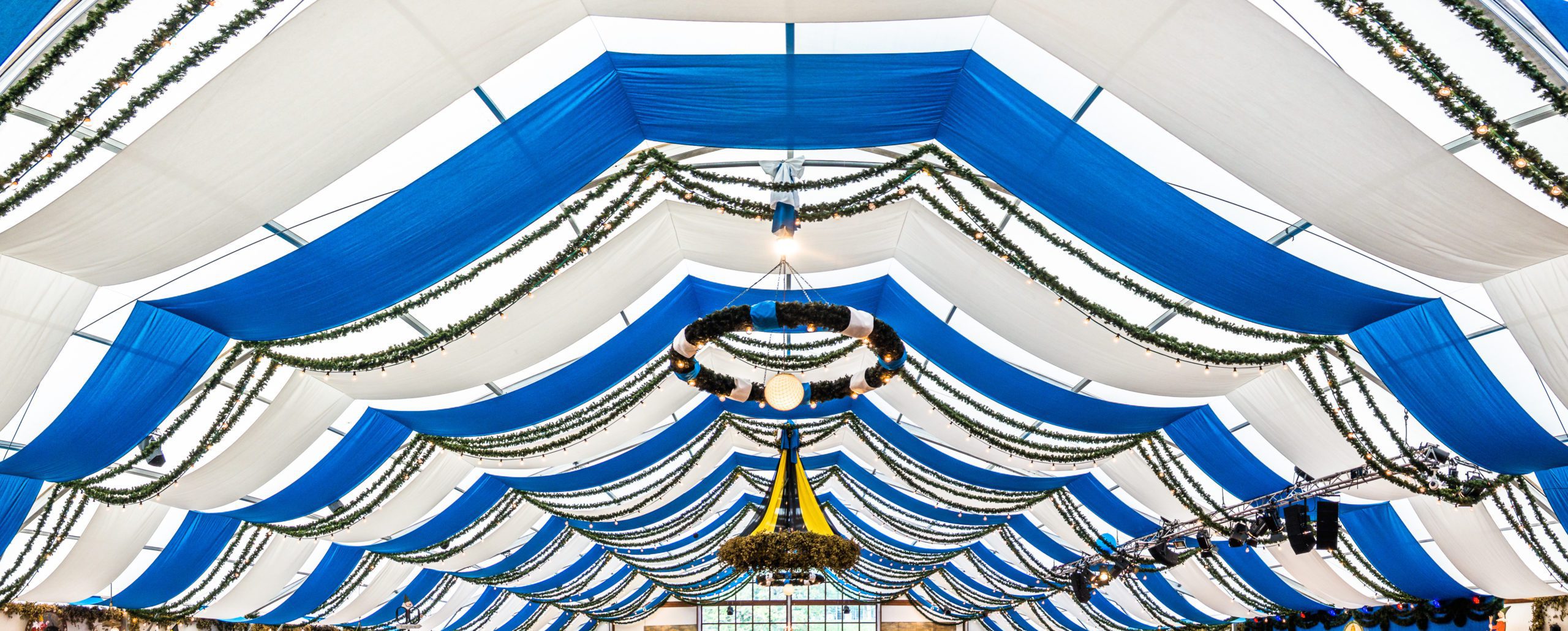 Although there isn't much variety in the beer served at Oktoberfest, the 17 large and 21 small tents at the event could not be more different! This isn't your typical tailgate tent, however, as these tents clock in at thousands of square feet and take three months to set up. From crossbow championships to Pink Mondays, these tents offer variety and delight for locals and tourists alike.
Can't Miss Tents: The Big Tents
The Augustiner Festhalle 
(Yes, there's a tent/brewery with August in the name, while Oktoberfest takes place in September) Named after the Augustinian Monastery, this OG tent/brewery is the one that comes to mind when someone says "Prost!"  This tent features its own butcher shop and traditional Weisn bands. Very popular with locals, it is the best place in town for a weekday lunch. It is also home to the Augustiner Tower, which was originally constructed in 1926 and stood until World War 2. The nearly 100-foot tall tower made its triumphant return in 2010 and serves a dual purpose: to direct visitors to the tent and as storage for hundreds of beer barrels.  
Hofbräu-Festzelt
Any novice beer fan knows this name! The largest tent at Oktoberfest, this tent can house 10,000 visitors at once, and its legendary dance floor can handle 1,000 people busting a move. Here, you can get the best bang for your buck with affordable food choices. And if you're wanting to have your 15 minutes of fame, Müchen TV has a live daily broadcast from the tent—just don't get caught dancing on the tables!
Armbrustschzenzelt
Try saying that name 5 times fast! Here, festival attendees can witness the German Crossbow Shooting Championship. Hosted in this tent since 1936, the tower for the tent is adorned with a marksman and an eagle, which symbolizes the crossbowmen's guild. The tent also hosts traditional costume groups that perform every Wednesday at noon.
Marstall Festzelt
The newest tent on the scene, this dreamy tent was first pitched in 2014. Its façade is adorned with horses, which are a callback to the first-ever Oktoberfest horse races. During the day, it serves as a fantastic meeting point for families. At night, however, it gets rowdy, with live music starting at 6 pm. And while this tent is known for its veal specialties, it also serves odd dishes such as giant black prawns and fawn's back. If the sound of these meals makes you a little queasy, rest assured you will find lots of vegetarian options here too!
Fischer-Vroni
Fish on a stick! Pink Mondays! This tent has it all. A family business since its inception, the grandson of its founder is the host today. Though the smell of roasting fish might be what lures you into this tent, its long-standing support of the LGBTQ community keeps you inside. The owner's support of the LGBTQ community dates back decades when the owner of "Prosecco" bar served tables at this tent for his friends. Today, it hosts "Pink Monday", the pride day of Oktoberfest. Hosted on the second Weisn Monday, it is well-known as one of the biggest party days in the entirety of Oktoberfest. And if this isn't enough to entice you to check this tent out, perhaps the men in dirndls, the traditional German milkmaid outfits, will pique your interest!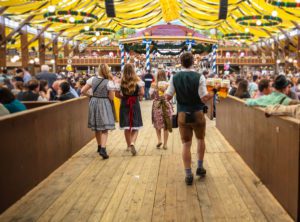 Herzkaperl-Festzelt 
This tent stands for the anarchic, the resistant, the stubborn, and those with rage for the bigshots. This tent was originally constructed in 2010 as an anniversary event to celebrate Oktoberfest's 200th anniversary. However, its lowkey and comfortable vibe has made it a regular tent at Oktoberfest. This tent is perfect for people who want to actually hear the people they are with, as it has little amplification for music.
Small in Size, Big in Impact: the Small Tents
Feisinger Käs-un Weinstubn
Cheese lovers, unite! Let the "cheese Pacman" on the roof of this tent guide you to all things dairy. Though we know the beer at Oktoberfest must be from Munich, the rules are a little looser for cheeses, and this tent has cheeses from France and Italy too. And for those looking to sample cheeses a little closer to home, check out our virtual beer and cheese pairing happy hours!
Café Mohrenkopf
Start your day drinking too early and hit a slump? Check out this tent to get your caffeine fix so you can keep the party rolling. The oldest coffee tent also has its own bakery inside, where they make pretzels and strudel side-by-side. The atmosphere is also a little bit quieter here, so it's the perfect place to refuel before round two of your Oktoberfest festivities.
Bodo's Cafézelt 
Another must-stop for those with a sweet tooth, this tent offers the famous kirschwasser donuts. Though this might seem sacrilegious to the truly dedicated, this tent is beer-free. That doesn't mean you can't get your buzz on here though, this tent offers champagne, cocktails, and other spirits.