Close your eyes and imagine Washington, D.C. The White House, the Lincoln Memorial, the U.S. Capitol building, beer… One of these things might seem like an outlier, but if you did not think of a bustling craft beer scene, then do we have nonpolitical news for you! With dozens of breweries, brewpubs, and craft beer bars in the D.C. area, the nation's capital is thee number one federal district for craft beer.
Washington, D.C. was not always a top craft beer destination, however. For 53 years, there wasn't a single brewery distributing beer inside the District of Columbia's limits following the closure of Heurich Brewery in 1956. The intrepid founders of DC Brau established D.C.'s first brewery in the 21st century in 2009, and since then many other breweries have followed suit. To help visitors navigate the exploding craft beer scene in D.C., we've created a helpful list of best breweries in and around the district.
Jump to:
Best Brewery in Downtown D.C.
Best Brewery for Variety
Best Sustainable Craft Beer Bar
Best Brewery in Alexandria
Best Brewery in Arlington
Best Brewery with Food
Best Brewery for Limited Release Beer
Best Dog-friendly Brewery
Best Cider House in D.C.
Other Breweries and Craft Beer Bars in the D.C. Area
D.C. Brewery Map
1. Red Bear Brewing Co.
Best Brewery in Downtown D.C.
When Red Bear Brewing Co. searched for a D.C. home in 2017 it was all about location, location, location; and sure enough this brewery found the perfect spot in the hip neighborhood of NoMa (North of Massachusetts Ave). With its convenient location, a lineup of flavorful, house-made beers, and a calendar full of fun events, Red Bear is a must visit on any D.C. itinerary.
209 M St. NE, D.C. | www.redbear.beer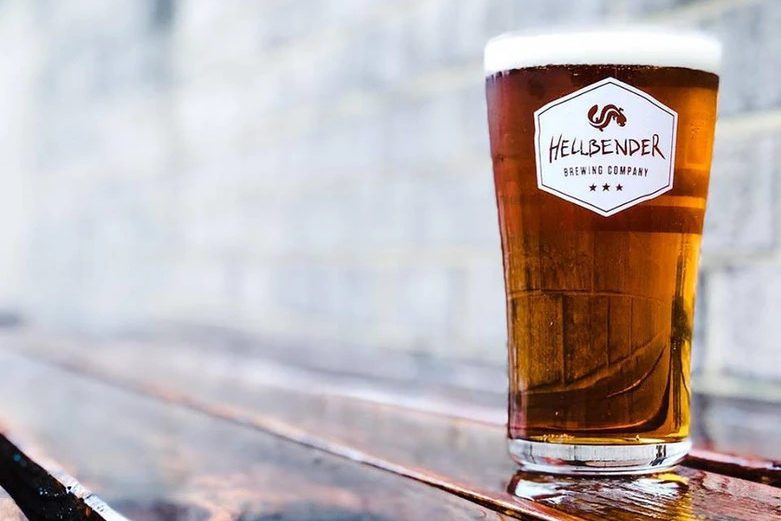 2. Hellbender Brewing Co.
Best Brewery for Variety
Looking for a wide array of creative brews? Hellbender Brewing Co offers up an impressive selection of craft beers that will excite everyone from the beer dabbler to the seasoned pro. Their craft beers on tap rotate through a variety of styles—IPA, Sour, Maibock, Lager, and more—in addition to three year-round beers. Head on over and treat yourself to one of their latest creations.
 5788 2nd St NE, D.C. | www.hellbenderbeer.com


3. Brookland Pint
Best Sustainable Craft Beer Bar
Enjoy a pint or two at Brookland Pint knowing that this craft beer bar operates with a commitment to environmental sustainability. They rely on windmill energy, composting, locally sourced ingredients, and serve up mostly draft American beer to reduce their impact on the environment. It's a business worth supporting if you find yourself in D.C.'s vibrant Brookland neighborhood.
716 Monroe St. NE, D.C. | www.brooklandpint.com


4. Port City Brewing Co.
Best Brewery in Alexandria
Located just a couple miles outside of Old Town Alexandria, Port City Brewing Co. offers up their tried and true flagship beers on draft as well as a rotating list of incredible seasonal and specialty beers. Named "Small Brewery of the Year" in 2015 by the Great American Beer Festival, Port City is a fantastic place to bring your dogs, your kids, and  your appetite for delicious beer and local food truck fare!
3950 Wheeler Ave, Alexandria| www.portcitybrewing.com
5. The Board Room Game Bar and Brewery
Best Brewery in Arlington
With award winning brews, a library of board games, and weekly events, The Board Room is a great brewery for adding some fun into your D.C. trip! Located in the Clarendon neighborhood, the Arlington location offers a spacious seating area for guests to enjoy food, trivia, and craft beer. What can we say? Their brewery game is strong.
925 N. Garfield St., Arlington| www.theboardroomva.com
6. District ChopHouse and Brewery
Best Brewery with Food
With so many brewpubs in D.C., what makes District ChopHouse stand out? Many things, really. It is the oldest, continually operating brewpub in D.C., the restaurant is in an old school, converted bank, oh—and their menu offers an array of mouthwatering seafood and steak options! While deciding on what to order, guests can enjoy a pint or two of District ChopHouse's handcrafted lagers and ales.
509 7th St., DC | www.districtchophouse.com
7. Right Proper Brewing Co.
Best Brewery for Limited Release Beer
There is something special about sipping on a limited release beer. It's exclusive, it's a brief window of opportunity to enjoy a unique craft beer. In addition to their popular flagstaff lineup, Right Proper Brewing Co. gets creative with their seasonal and limited release beers. Be sure to visit Right Proper and check their special brews into Untappd!
920 Girard St. NE, DC| www.rightproperbrewing.com
8. Other Half Brewing Co.
Best Dog-Friendly Brewery
Born in Brooklyn, Other Half opened its spacious Ivy City location in 2020 and is a great place for lovers of dogs and IPAs. They have over a dozen IPAs on tap sure to impress any IPA expert. Plus, while many DC breweries allow dogs on the patio, Other Half welcomes all well-behaved dogs inside and outside making this the perfect place to bring your best friend.
1401 Okie St. NE, DC | www.otherhalfbrewing.com
9. Supreme Core Cider
Best Cider House in D.C.
Thought this was only a craft brewery list? Supreme Core Cider deserves a mention and a visit because it is not an ordinary cider house serving overly sweet ciders. Much like the craft breweries in D.C., Supreme Core Cider pushes the boundaries of innovation, and it uses locally sourced ingredients to create dry, unfiltered ciders that any craft beer drinker will appreciate.
2400 T St. NE, DC | www.district-cider.com

OTHER BREWERIES AND CRAFT BEER BARS IN THE DC AREA
Atlas Brew Works
Bluejacket Brewery
City-State Brewery
DC Brau
Denizens Brewing Co.
Hops N Shine
New District Brewing Co.
The Sovereign
Street Car 82 Brewing Co.

DC BREWERY MAP