Nestled in the corner of the Pacific Northwest along the Puget Sound, Seattle, W.A. is the place to be for many reasons. The Emerald City's reputation for unparalleled seafood, moody weather, and stunning forests and parks is well-known, drawing in visitors and new residents every year. However, it also has established a reputation for its thriving craft beer scene.
Seattle is a beer lover's paradise touting over 70 craft breweries within the city limits. From renowned, big name breweries to cozy, neighborhood nanobreweries, this West Coast city is built on beer—almost literally! When Seattle was not even 3 years old, the Washington Brewery was founded to provide loggers and locals with much needed brews. Since then, the city has enjoyed a rich history of brewing which has turned it into the top craft beer destination it is today.
Whether you are searching for a waterfront brewery on a warm summer afternoon or looking to spend a drizzly day with a hoppy IPA in Ballard, City Brew Tours has the bonafide list of Seattle's best breweries right here!
Jump to:
1. Cloudburst Brewing
Best Brewery Downtown
Want to drink beer in the loading zone of a 120-year old building? Cloudburst Brewing is exactly the no frills, authentic craft beer experience visitors to Seattle should seek out while downtown. They sport a dozen taps that feature several different IPAs as well as some rich stouts and lighter beers like pilsners. Open for drinking-in weekends only. Limited seating. No children allowed. As mentioned – no frills.
2116 Western Ave | www.cloudburstbrew.com

2. Old Stove Brewing
Best Brewery on the Waterfront
Tucked beneath the public park plaza of Pike's Place Market, Old Stove Brewing Company is the brewery to visit for exceptional views of Elliot Bay. The entire length of their western window opens up, transforming the brewery / restaurant into an open air dining space. It is the perfect place to enjoy one of their 24 craft beers on tap. With a variety of light, hoppy, and dark brews, you can sip the day away over the bay.
1901 Western Ave | www.oldstove.com

3.  Reuben's Brews
Best Brewery for Variety
If you enjoy exploring the full spectrum of craft beer, Reuben's Brews is the spot to go. With 24 taps and a wide variety of craft beer offerings—from wild ales to hazy IPAs to barrel-aged brews to lagers and more—there is a craft beer for every whim. In addition to brewing some killer beers, they are dedicated to their community, using Reuben's Brews Foundation to help local nonprofits.
5010 14th Ave NW | www.reubensbrews.com

4. Elysian Brewing
Best Brewery for an IPA
One of the better known names around town, Elysian Brewing is a reflection of 1990s Seattle. Since their opening in 1996, they have carried the creative, rebellious spirit of those times through each artistic beer label and each boundary-pushing beer. Their renowned Space Dust IPA has a newly acquired brother, Dank Dust IPA, which is well worth a visit to Elysian Brewing for a fresh pint at the source.
1221 E Pike St | www.elysianbrewing.com

5. Holy Mountain Brewing Company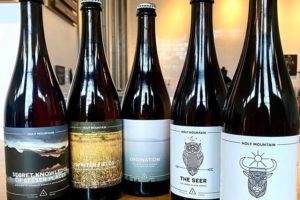 Best Brewery for Avoiding IPAs
IPAs have taken the craft beer industry by storm, but let's face it—not everyone enjoys them and others are tired of them. Head over to Holy Mountain Brewing Company, just up the coast from downtown, for some much needed avoidance (or if you simply want excellent craft beer). Sure, one or two IPAs might be on the taplist; however, Holy Mountain's focuses on brewing hoppy pale ales with a side of classic styles like lagers and Belgian ales.
1421 Elliott Ave W | www.holymountainbrewing.com

6. Urban Family Brewing Company
Best Brewery for a Sour
When the mood strikes for a tart brew, Urban Family Brewing Company is the joint to find. This Ballard brewery has half a dozen or so sours on tap ranging from tempered kettles and saisons to mouth-puckering beers loaded with fruit. If feeling adventurous, Urban Family even offers a sour beer slushie. There are also lagers, stouts, and IPAs for added variety as well as a local food truck on standby for snacks.
1103 NW 52nd St | www.urbanfamilybrewing.com

7. Bad Jimmy's Brewing Company
Best Brewery for Dogs
Reminiscent of a neighborhood biker bar, Bad Jimmy's Brewing Company is a local favorite offering innovative craft beers. Their creations are brewed with a commitment to high standards and a passion for both the industry and their patrons. With a massive beer garden, you can bring your dogs along and spread out on the nice days, though pups are also allowed indoors for those less-than-nice days. Be sure to check out Bad Jimmy's event calendar as well—they've got a great lineup of entertainment that includes trivia, concerts, and comedy shows.
4358 Leary Way NW B | www.badjimmysbrewery.com

8. Georgetown Brewing Company
Best Brewery in Georgetown
Chances are if you've been to a few bars in the Pacific Northwest, then you've seen Manny's Pale Ale, the beloved flagship of Georgetown Brewing Company. While you should treat yourself to a Manny's at the place it is brewed, there are also other incredible craft beers on tap at this independent brewery. You could enjoy a roasty coffee ale, an aged Flanders-style red ale, or an insanely hoppy IPA (if feeling bold).
5200 Denver Ave S | www.georgetownbeer.com

9. Stoup Brewing
Best Brewery in Ballard
There are a cluster of breweries in Seattle's vibrant Ballard neighborhood, but Stoup Brewing stands out from the rest. They are an award-winning brewery, with extraordinary beers, eclectic outdoor seating areas, and a daily local food truck to ensure that you have tasty meal options available. With a nice selection of IPAs punctuated by sours, pilsners, porters, and stouts, there are many craft brews to savor in the family-friendly beer gardens or on the adults-only upstairs deck.
1108 NW 52nd St | www.stoupbrewing.com

10. Fremont Brewing
Best Brewery for Small-Batch Brews
It's always worth a visit to the eclectic and artsy Fremont neighborhood, and while there stop by Fremont Brewing's Urban Beer Garden. Specializing in small-batch, artisan beers made with locally sourced ingredients, this family-owned brewery operates with a commitment to sustainability and their community. Their spacious and inviting beer garden is both family-friendly and dog-friendly, and it is a fantastic place to spend an afternoon sipping away hazy IPAs.
1050 N 34th St | www.fremontbrewing.com

11. Redhook Brewlab
Best Brewery in Capitol Hill
Established back in 1981, long before the big craft beer boom, Redhook continues to be a Seattle staple today. Their Brewlab in Capitol Hill has 16 rotating taps of small-batch, experimental brews that showcase a variety of styles from sours to ambers to IPAs and more. Between their proximity to downtown, lineup of creative beers, choice of indoor or outdoor seating, and a full pub grub menu, Redhook Brewlab is a must visit!
714 E Pike St | www.redhook.com

12. Perihelion Brewery
Best Brewery with Food
Located in the North Beacon Hill neighborhood, Perihelion Brewery is a small venue creating big flavors between their house brews and appetizing food menu. The 18 craft brews on tap offer a wide variety that include barrel-aged ales, blondes, pale ales, and ESBs, while their menu serves up seasonal dishes, burgers, sandwiches, and all sorts of other items you'll want to try! You can dine and drink inside or enjoy the fresh air on their charming patio.
2800 16th Ave S | www.perihelion.beer

13. Ghostfish Brewing Company
Best Brewery with Gluten Free Beer
It can be a real chore to find good gluten alternatives, but Ghostfish Brewing Company takes the pain away with their award-winning gluten free beer! This innovative brewery is reimagining what beer can be with hand-selected gluten free grains, yeast strains, and regional hops. The best part is, you can pair your grapefruit IPA or Belgian ale with a meal from their equally delicious and gluten free food menu!
 2942 1st Ave S | www.ghostfishbrewing.com

Other Seattle Breweries
Aslan Brewing
Beneficial Brewing Company
Best of Hands
Bickerson's Brewhouse
Counterbalance Brewing Company
Dirty Couch Brewing
Elliot Bay Brewery and Pub
Fair Isle Brewing
Figurehead Brewing
Flying Lion Brewing
Future Primitive Brewing
Halcyon Brewing Company
Hellbent Brewing Company
Jellyfish Brewing Company
Ladd & Lass Brewing
Lantern Brewing
Lowercase Brewing
Lucky Envelope Brewing
Machine House Brewery
Maritime Pacific Brewing Company
McMenamins Six Arms
Métier Brewing Company
NW Peaks Brewery
Obec Brewing
Optimism Brewing Company
Outer Planet Brewing
Outlander Brewery and Pub
Pike Brewing
Pint Size Brewing
Ravenna Brewing Company
Rooftop Brewing Company
Seapine Brewing Company
Sovereign Brewing
Standard Brewing
The Good Society Brewery & Public House
Two Beers Brewing Company
West Seattle Brewing Company
Wheelie Pop Brewing
Seattle Breweries Map