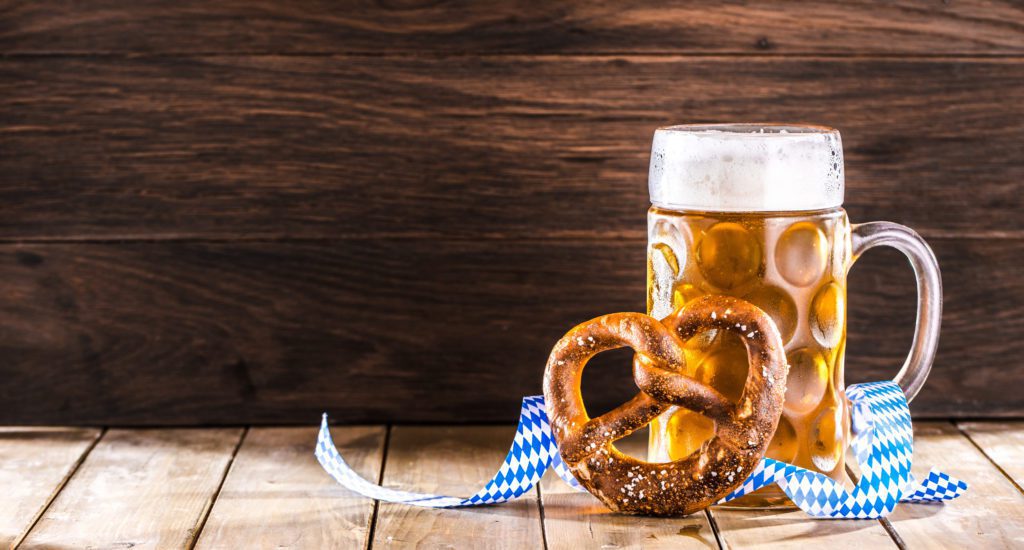 By Ethan Angelica
It's September again, and that means it's time for Oktoberfest! Time to break out the pretzels, cheese, live music, lederhosen and delicious, malty marzen bier, the classic Bavarian lager named for the month of March.
But wait: why does Oktoberfest take place in September and celebrate a March beer? Keep reading to learn the unexpected history of everyone's favorite stein-hoisting holiday.
A Wedding Party Gone Right
The storied Oktoberfest history began as a wedding party. On October 12, 1810, Crown Prince Ludwig married Princess Therese of Sachsen-Hildburghausen. Typical German wedding traditions included a fancy party for royals, but Prince Ludwig decided to mix things up. Instead of a bougie affair, Ludwig and Therese decided to throw a party for the masses. They invited 40,000 residents of Munich to come to the city gates and join a party in the field. The fields were even renamed Theresienwiese ("Therese's Meadow"), and the name has since stuck. (Pro tip: if you ask a German about Oktoberfest, be sure to call it Wiesn, since that's what the locals call it)
And what a party they had!
The first Oktoberfest was six days of free food and drinks, dancing, and singing. While beer was drunk, however, it wasn't the main focus. The party was such a success that the town capped the event with a horse race in honor of the happy couple. The people of Munich had so much fun that, in 1811, they decided that the horse race should become an annual tradition. And why not add in the beer, food, and other celebrations too.
An Evolving Tradition
Oktoberfest hasn't always been just about beer and horses. After the first party, events like tree climbing, bowling, and swings were added, along with an agricultural fair. The organizers created Trachten und Schützenzug, a parade to highlight the traditional costumes of the brewers participating. This all quickly progressed to a full-on carnival, with rides and contests for the best porcelain, silver, and jewelry on display. Real food and beer stands started showing up in 1818, and, by 1819, the city fathers had taken over planning responsibility and made Oktoberfest a full-on yearly tradition.
But why is Oktoberfest in September?
As the 1830s rolled around, and Oktoberfest celebrations kept on growing, the planners realized a problem: October in Bavaria is cold, and the days are short, which provides revelers less time for drinking and partying. The solution? Push the party up a few days! 
With more sunlight and warmer temperatures, visitors could stay at the festival longer and avoid the fall chill. To keep the name of the tradition alive, however, Oktoberfest is always scheduled to end on the first Sunday in October. And, if that happens to be October 1st or 2nd, the festivities are pushed into the Monday or Tuesday of the week. This lines up with the public holiday Tag der Deutschen Einheit, or Day of German Unity. When this happens, Germans call it a "good year."
What's with the March beer?
To pass muster as a beer at Oktoberfest, you have to reach a pretty high bar: the brewery must operate in the city of Munich, and the beer must pass the Reinheitsgebot, or German beer purity laws that restrict the ingredients used to make "true" beer. Not only that, brewing is hot work and summer makes it too hot for the yeast to ferment. Thus, in March – just before planting season – brewers would prep an amber-y lager (the Marzen) that will be ready to drink in the fall, just before brewing season gets started again. Perfect timing for the Oktoberfest!
But, if you're looking for an Oktoberfest-named beer at Oktoberfest, I have bad news for you: it's not a real style. Today, most Oktoberfest beers you'll drink in the United States are a take on the Marzen or a Festbier, both styles that give you the caramel-y, malty flavor we crave this time of year.
Oktoberfest Today
Oktoberfest still remains strong in Germany, even if it has been canceled a few times. Today, over 6 million revelers attend, drinking upwards of 7 million glasses of beer. The festival has grown to 10 times its original footprint, and stretches for 16-18 days—a feat of endurance! If you're lucky enough to go to Oktoberfest, you'll find more than 30 massive beer and food tents, all of which serve beer from six local, approved breweries. And, if you can snag a spot in the tent, you'll have quite a show, with specially-installed beer pipes to keep the brews flowing all day long and servers carrying up to 18 steins at once, weighing more than 90 pounds altogether. But, don't get caught trying to steal one! Every year, over 100,000 steins disappear, and each theft comes with a $60 fine.