By Kate Hellner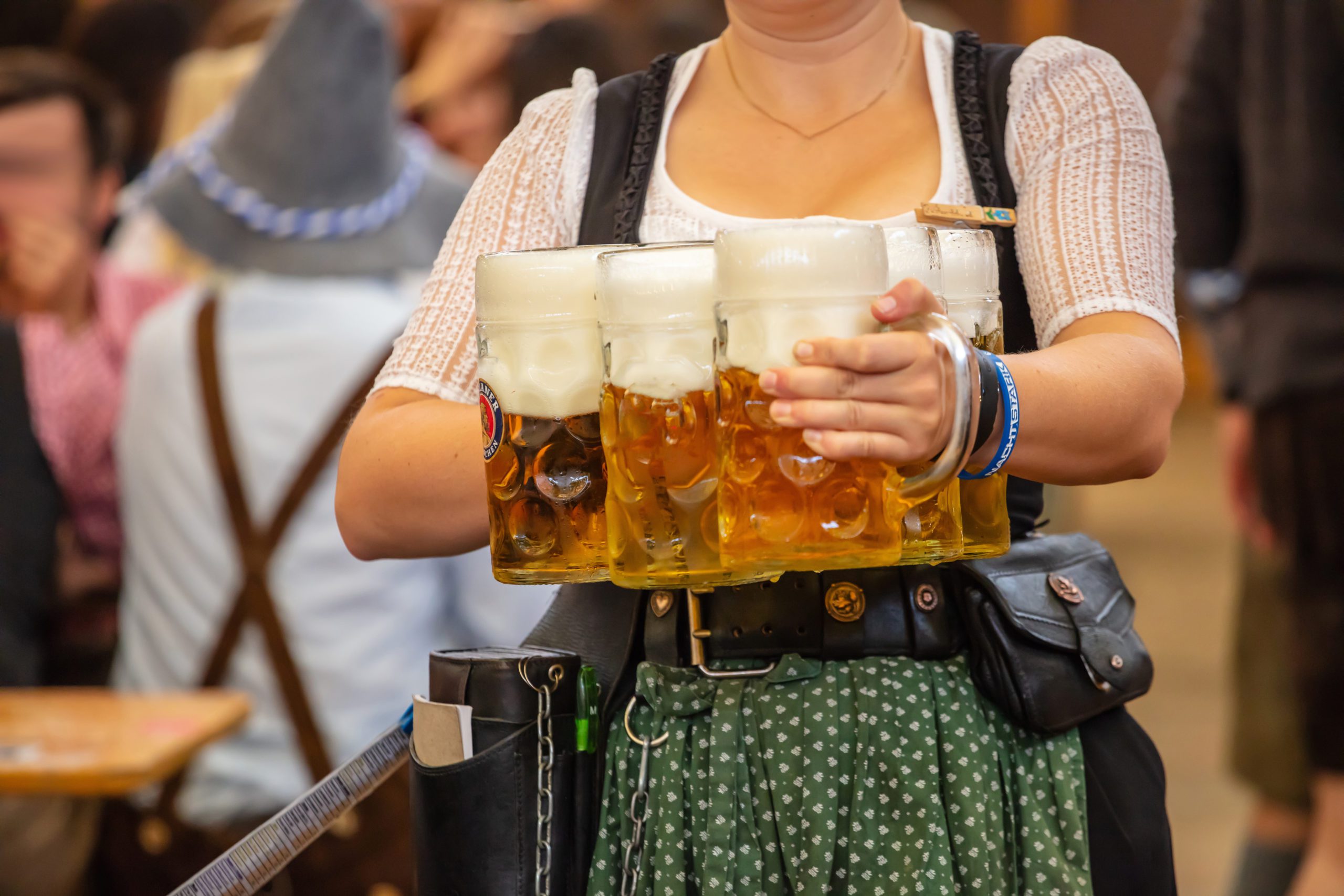 Originating as a marriage celebration between royalty over 200 years ago, Oktoberfest has since come to represent so much more—Bavarian tradition and culture; food, fun, revelers joining together, not just in Munich, but all over the world. However, these days, beer is the first thing that comes to mind when you think of Oktoberfest. 
In the United States, we know tis' the season of Oktoberfest when what seems like every single brewery releases their branded Oktoberfest beer. Yet, is that six-pack from your supermarket's cooler the same kind of beer they enjoy in Germany during Oktoberfest?
America's Love of Märzens
The answer is: not exactly. Most of the big-name Oktoberfest beers we see are either a Märzen or a variation of a Märzen, which is an amber-colored lager with a subtle touch of sweetness to it. Bavarian-born, this lager was named after the month it is brewed in… March! 
In particular, after Märzen beers are brewed in March, they are left to condition in cold cellars during the warm months of summer, then tapped in early fall. Why were these batches of brews stuck in a cold cellar all season? Traditionally, brewing during the summer was banned in Germany in order to preserve the quality of the beer by protecting it from higher temperatures.
When this German lager is tapped in the fall, it pours out in bold hues that range from deep, dark copper to reddish-brown. It strikes a fine balance between crisp and smooth on the palette with a blend of sweetness and hops, while its aroma speaks of toasted bread and hints of spice. The typical ABV is 5-6%, so you can enjoy a couple of these popular beers in a row without overdoing it!
Oktoberfestbier at Wiesn
In the beginning, the Oktoberfestbier served at Wiesn (the name locals to Munich gave Oktoberfest) was not what we imagine today. The beers of old were dark lagers, the early days of the modern dunkel, because the kilning techniques back then only turned out dark malts. (Though we are not complaining about the limited capacity of those kilns since we love a good German dunkel!)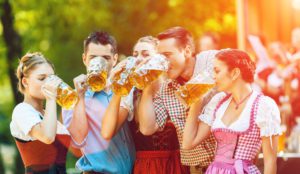 Yet, kilning techniques have since evolved, as have the beers served at Oktoberfest. However, not just any German-style brewery can serve just any beer at the real Oktoberfest in Munich. Only six local breweries serve on the premises: Augustiner, Hofbräu, Paulaner, Hacker-Pschorr, and Spaten, Löwenbräu. These are the breweries producing true Oktoberfest beers in their purest form.
Augustiner is Munich's oldest brewery founded in 1328, and it still exists today! Their popular Wiesn beer is the only beer at Oktoberfest to be stored and served out of the traditional Hirschen (200-liter wooden barrels,) as opposed to steel containers. The wooden barrels give this 6% Hell (Helles) a more mild taste and make it easier to drink since there is less carbon dioxide in the beer. You can find this beer at the castle-like Augustiner Festhalle at Oktoberfest.
Hofbräu is a name known all over, with the Hofbräuhaus in Munich as the proud producer of this Oktoberfest beer. At 6.3%, Hofbräu is the strongest of the Wiesn beers. You'll find this perfectly golden, full-bodied, and palatable beer served in the Hofbräu tent as well as the Oide-Wiesn tent.
Established in 1634, Paulaner is the youngest Munich brewery at Oktoberfest, believe it or not! Their 6% beer finds that beautiful balance between strong malt and subtle hops to result in (as Paulaner describes it) a glass full of "sunshine," and we agree with this picturesque description! Paulaner's beer is served in tents all over Oktoberfest of which the most famous are the Paulaner Festzelt and the Armbrustschützenzelt. 
Hacker-Pschorr's roots go all the way back to the early 15th century; however, it was not until 1972 that the two families, Hacker and Pschorr, reunited the previously divided brand. This Munich brewery offers what is considered to be Oktoberfest's "weakest" beer at 5.8%. It is only half a percent weaker than Hofbräu, emphasizing the narrow range of alcohol percentage and the tight standards the beers must adhere to. Their Oktoberfestbier is a smooth Märzen, brewed to a rich honey color, and can be found in the Hacker tent (aptly named Heaven of Bavaria) and the Pschorr tent, among others. 
Both Spaten and Löwenbräu are consolidated under the Spaten-Franziskaner-Löwenbräu Group since 2003, but both still hold their own place amongst the breweries and brews of Oktoberfest. Spaten, best known for introducing the "Muncher Hell," a Munich pale, back in 1894, delivers an Oktoberfest beer that is bubbly and biscuity at the start then ends with a flourish of hops. This popular 5.9% Wiesn beer is found in many different tents across the fairgrounds, the most prominent of which is the Schottenhamel-Festhalle, where Oktoberfest is officially kicked off each year.
Löwenbräu's beer, otherwise known as Löwenbräu-Wiesntrunk, is a 6.1% lager found all over Munich; however, during Oktoberfest, you'll seek out this "Lion's Brew" at their tent marked by a massive, animatronic lion roaring out "Löwenbräu!" But, don't just visit for the theatrical mascot, stop by to enjoy their crisp, light lager with hints of hops and clean sweetness. 
Märzen vs Munich
No one is going to tell you not to reach for the Oktoberfest labeled Märzen this year, but if you are interested in exploring Oktoberfest beer like the ones above, you can! Look up which businesses near you offer Paulaner brews, or you can find the ever-popular Hofbräuhaus across the States too!