City Brew Tours returns to running tours with expansions in new cities
After enduring the onset of the COVID-19 pandemic, the past 12 months have proven to be a positively transformative period for City Brew Tours. City Brew Tours has used the past year to expand on existing products, branch out into new markets and, most importantly, resume our brewery tours for excited guests.
Before we close the book on 2021, we wanted to share some highlights from the past year, as well as share some news to look forward to in 2022.
BACK TO BREWERY TOURS
After temporarily pausing City Brew Tours outings in the spring of 2020, we were happy to safely welcome customers back on brewery tours in 2021. City Brew Tours resumed our VIP-level tours to some of the best breweries in the nation, starting in May with tours in Cleveland.
Of course, tours look a little different now than they used to. Groups are a little smaller. Masks are necessary, and many breweries require fully vaccinated guests. Those are all necessary precautions to keep our guests safe and to do our part in containing the spread of COVID-19.
Since resuming our operations, City Brew Tours has welcomed 6,465 guests on our brewery tours across our 10 corporate cities nationwide. City Brew Tours also hosted 123 tours for private groups celebrating special occasions in 2021.
Our tours allow us to bring new and return customers to small breweries in all of our tour cities. The brewing industry, like other hospitality industries, was one of the hardest hit in the early days of the pandemic. City Brew Tours is proud to support more than 150 independently-owned and operated breweries with our tours this past year and beyond.
EXPANSIONS TO NEW CITIES
City Brew Tours didn't just resume in-person tours in 2021, we even expanded our operations into new cities!
Our expansion included City Brew Tours' first foray into the South, beginning with brand new franchise locations in Charlotte and Raleigh, North Carolina. Additionally, we've set up shop in Birmingham, Alabama. Between these new franchise locations, we've taken hundreds of happy customers to some of the best breweries each of these cities have to offer.
We also celebrated opening our newest corporate operation in Des Moines, Iowa, earlier this fall. And we're not done yet. Look for City Brew Tours to announce a new corporate location in early 2022 in a city chock full of top-notch beermakers. To be one of the first to hear about our new tour locations, sign up for the City Brew Tours newsletter.
"City Brew Tours has a ton of exciting things planned for the upcoming year," said Chad Brodsky, Founder and CEO of City Brew Tours. "We're thrilled with the opportunity to bring new guests on unforgettable brewery tours in brand new cities in the very near future. Keep your eyes out for some big news!"
City Brew Tours is always looking for new entrepreneurs to partner with for franchise locations. If you're looking for an exciting new business venture in the craft beer industry, please reach out to learn more about our franchise opportunities.

COMPANY GROWTH IN 2021
As happy as we are to have expanded our operations into new cities for new customers, one thing we are particularly proud of is that we also grew the City Brew Tours family of employees. Over the past 12 months, we have been fortunate to hire 29 new City Brew Tours experts to our team.
Of those new employees, we trained and welcomed 19 beer guides to run our signature brewery tours across the country. As City Brew Tours continues to expand in new cities throughout 2022, we will continue to add knowledgeable guides to take our customers on unforgettable excursions to brewery taprooms. If you would like to join our team as a tour guide, please check in on City Brew Tours' jobs board.
City Brew Tours also didn't just grow to include new cities in 2021. Things have changed a lot around here since the onset of the pandemic. City Brew Tours outgrew the Brew Tours name and combined all of our different operations under an umbrella company, CBT Group LLC, which now encompasses three distinct brands.
We launched two new brands—Unboxed Experiences in April of 2020, and Brewvana.com in early 2021. City Brew Tours is proud to announce that both brands are now housed under their own company, Unboxed Enterprises LLC, and are growing rapidly under their own steam. Unboxed Experiences, which leads top-tier virtual events for corporate clients such as Amazon, Twitter, and Philips, will launch a new website in January. Brewvana offers exciting craft beer boxes, such as the popular Holiday Craft Beer Boxes, as well as the membership club Brews Less Traveled. Have you ever wanted to learn how to homebrew? Pick up the Beer Making Kit with Online Class from Brewvana, where you can learn to homebrew alongside live virtual instruction.
Join the newsletters for Unboxed Experiences and Brewvana to keep current with new offerings and exclusive deals. Don't forget to follow us on social media, too!
Unboxed Experiences Facebook | Unboxed Experiences Instagram
Brewvana Facebook | Brewvana Instagram
TALENT ON TAP SCHOLARSHIP CONTINUES
Over the past year, historical gaps in diversity and safe spaces in the craft beer industry again came to a prominent light. Stories of abuse, assault, racism, misogyny and unethical business practices rippled through the brewing industry.
For some inside the craft beer community, this was new information. But for many more, this news affirmed their own life experiences inside a craft brewing industry that continues to lack diversity and opportunities.
City Brew Tours acknowledges the need for a beer community that is supportive of and inclusive to all, and we are dedicated to drive positive change within our community. In 2021, City Brew Tours awarded funds to three outstanding candidates through our Talent on Tap Scholarship program. This scholarship fund provides financial support to women of color who are pursuing education or training to further their careers in the craft beer industry.
The Talent on Tap Scholarship program continues into its second year, with the winning candidates to be announced in February. The window for applications opened Dec. 6 and submissions will be accepted through Monday, Feb. 1.
ONWARD TO 2022
Heading into the new year, watch out for more City Brew Tours news about brand new tour cities! We're extremely excited to share our news with you, so if you haven't already, sign up for our newsletter.
The staff and crew at City Brew Tours are all looking forward to leading thousands of new guests on brewery tours in 2022. The new year promises to provide limitless opportunities for us to connect our guests with some of the best and most innovative craft breweries in the U.S. We're bubbling at the thought of trying out tons of new beer in 2022, and we figured you should, too.
To help you get your New Year started off on the right foot, we've put together a helpful checklist of beer to drink in 2022. It was your resolution to branch out with more beer styles this year, right? Download and print this checklist to keep track of your adventures through craft beer in 2022.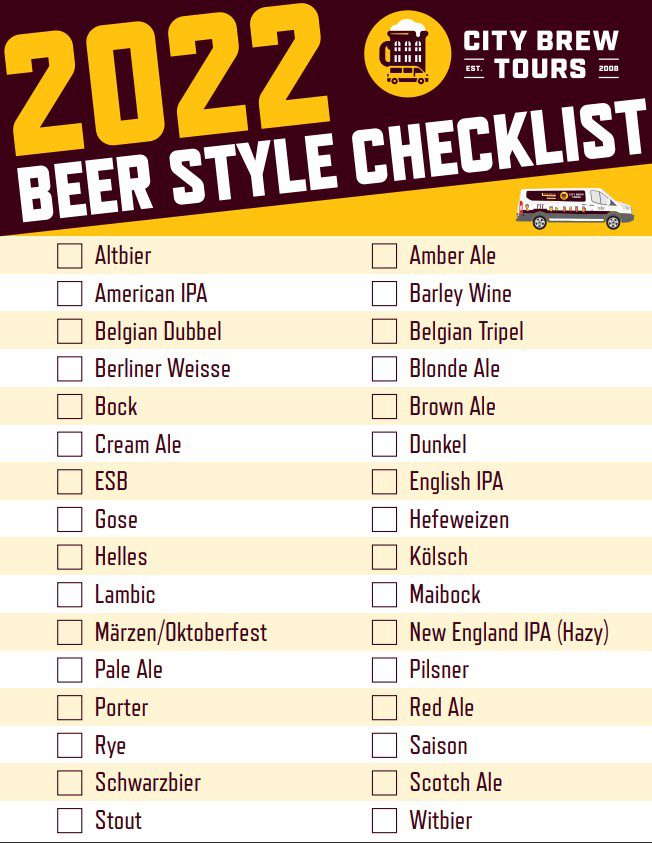 2022 City Brew Tours beer style checklist
We look forward to seeing new and returning guests on all tours in the near future. Happy New Year!