THE BEST AT-HOME CORPORATE EVENTS
Let us entertain, educate, and captivate your co-workers, clients, or meeting attendees with one of our private at-home craft beer experiences offered over video conference. Whether you're looking for team building, a company "outing", or a client appreciation event, City Brew Tours provides an unforgettable, team-enhancing experience with our Beer & Cheese Pairing Experience. Ask about our seasonal options!
BEER & CHEESE PAIRING
Introducing seasonal pairing boxes!  Connect with a private event planner to learn more.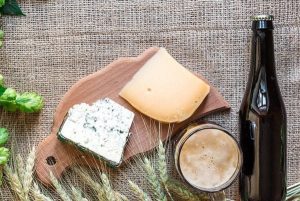 Give your Zoom happy hours more pizzazz with City Brew Tours' Beer and Cheese Pairing Experience. Utilizing the same entertaining and interactive methods that our guides use on tours, this live virtual guided beer entertainment will explore the intricacies of pairing beer and cheese while adding a fun interactive spin to the existing video chat with co-workers or clients.
For groups of 5 or more people, we can deliver custom tasting boxes to participants a few days before the event. The tasting boxes are fully customizable and can include up to 2-4 beers and gourmet cheeses, artisanal chocolates with the ability to customize your box (i.e. custom pint glasses, koozies, etc.) for a nominal fee.
We also offer seasonal versions of our tasting boxes throughout the year. Seasonal boxes change every 2 months and include themes such as Oktoberfest, Holiday Parties, Winter Warmers, and more.
A CUSTOMIZED EXPERIENCE FOR ANY BUDGET
Let our expert staff provide you with a highly successful and unique event for your client or company. Beer just happens to be one of the oldest and most successful social lubricants in human history and is perfect for any corporate event, team-building, or conference. Relax, unwind, and bring your team closer together with an unforgettable City Brew Tour "outing".
Contact us today to get started, and raise a glass to a well-crafted corporate event!
Email: [email protected]
Phone: 856-263-2337