BEER & CHEESE PAIRING HAPPY HOUR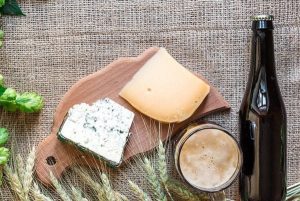 Ever wonder what cheese pairs with what wine and why? Nah, we haven't either! Beer on the other hand, now you're speaking our language!
Pairing beer and cheese is a science and an art. Our expert guides will take you through the ins and outs of what to drink with a sharp cheddar versus a creamy blue cheese and more!
---
What does the Beer & Cheese Pairing Home Happy Hour include?
1 hour of guided beer and cheese edutainment led by an expert CBT guide, but stay and hang out as long as you'd like afterward
Learn how the professionals appraise their beer.
Enjoy the Happy Hour from the comfort of your own home with whichever beer and cheese you can find locally on your next supermarket run.
Join any public event to meet new people, or buy out the session so all your friends can have a private party from your own homes!
More Beer & Cheese Pairing Details
What do I need to participate in this virtual happy hour? 
You need to have at least two types of CHEESE. However, we recommend having at least three of the following because who doesn't like cheese!
1 – FRESH (No Rind) – Example: Ricotta or Mozzarella
2 – AGED FRESH CHEESE – Example: Similar to above but made with Goat's milk
3 – SOFT WHITE RIND – Example: Camembert or Brie
4 – SEMI-SOFT –  Example: Munster and Gouda
5 – HARD – Example: Cheddar or Gruyere
6 – BLUE – Example: Gorgonzola or Roquefort
You should have your favorite BEER on hand, but a variety of beers is better. Pairings are best experienced when you have beer styles with varying characteristics (ie. Stout vs IPA).
If you are really looking to party, grab some dark or milk chocolate too!
Can I have my beer and cheese delivered?
Private experiences can include hand-delivered custom pairing boxes. Inquire HERE.