City Brew Tours offers unforgettable all-inclusive tours and beer-focused experiences in some of the best beer cities throughout North America. With over a decade of experience, City Brew Tours has created the ultimate craft beer experience that blends history, beer knowledge, transportation, and great food with unrivaled access to an area's top breweries and their beer.
Our mission is to be the leading curator of craft beer experiences for visitors, locals, and the community as both an ambassador and an advocate for the brewing industry.
---
Meet the Team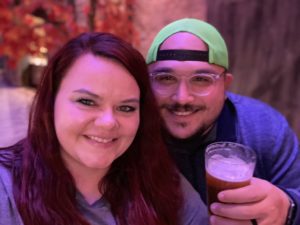 Jeff and Whitney St. Andre spent the first chapter of their life together in North Texas. These days, they can generally be found exploring Central Texas breweries with their two sons and golden retrievers. In 2019, they went on a brewery bus tour while on vacation in New York City. They had such a good time that they began exploring other cities through brewery tours. Jeff knew that he needed to bring this experience to Austin. The sense of community in the Austin beer scene aligned perfectly with the sense of community that Jeff and Whitney experienced on their City Brew Tours. Above all, Jeff and Whitney want to provide guests with a brewery experience that they will never forget.
Jeff is an avid home-brewer who spends his days working in IT. Besides working on beer-related or computer-related things, he enjoys sports, being outdoors, and spending quality time with his family.
Whitney is an operations guru and the Co-Host of the Cults, Crimes, and Cabernet podcast. When she isn't advocating for the families of victims, she likes spending time "adventuring" with family and friends.
If you need any assistance, please do not hesitate to contact us.
Where City Brew Tours began
City Brew Tours was founded in Burlington, Vermont in 2008 by Chad Brodsky, a college kid who had fallen in love with craft beer while studying in Vienna. Thirsting for more, he returned home and enrolled in the University of Vermont's "Beer Making 101" class. Fortunately, Chad quickly realized he wasn't cut out to brew beer. Instead he bought a used church van, put on his lederhosen, and set off to spread the gospel of craft beer. At the tender age of 21, Chad became the first to establish a brewery tour company on the East Coast.
As of  September 2022, City Brew Tours operates in 16 cities and continues to expand. City Brew Tours jumped to the West Coast in November, 2019, in Portland, Oregon. In 2021 CBT opened three new locations: Des Moines, I.A. and two franchises in North Carolina, one in Charlotte, the other in Raleigh. City Brew Tours Austin was established in October 2022 and begins operation in January of 2023.