KEEP AUSTIN BREWING! GOOD TIMES ARE ON TAP IN ATX.
Austin is the capital of the Lone Star State and it just might be the capital of craft beer. With well over 100 amazing breweries, Central Texas remains a mecca for beer travelers. We have something for everyone, from laid-back country taprooms in Dripping Springs to award-winning breweries Downtown, to eclectic and diverse breweries in East Austin, or just about anywhere else in the greater Austin area.
We have great communities, and they all have one thing chiefly in common: Killer Beer. What better way to experience this fun and energetic town than with a behind-the-scenes look at some of the greatest breweries in Texas and the world? Jump in one of our climate-controlled vans and let our expert beer guides show you what Austin has to offer for beer lovers of all shapes and sizes.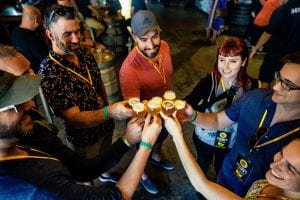 We have done all the legwork to set up great relationships with the best breweries in and around Austin so we can give you access to some really good times! We look forward to being your beer guides and showing you what the great state of Texas has to offer. Don't worry about not being able to visit every highly-rated brewery in Austin in one trip—we offer great discounts for our frequent flyers!
Austin Affiliate Breweries
The Brewtorium
Lazarus Brewing Co.