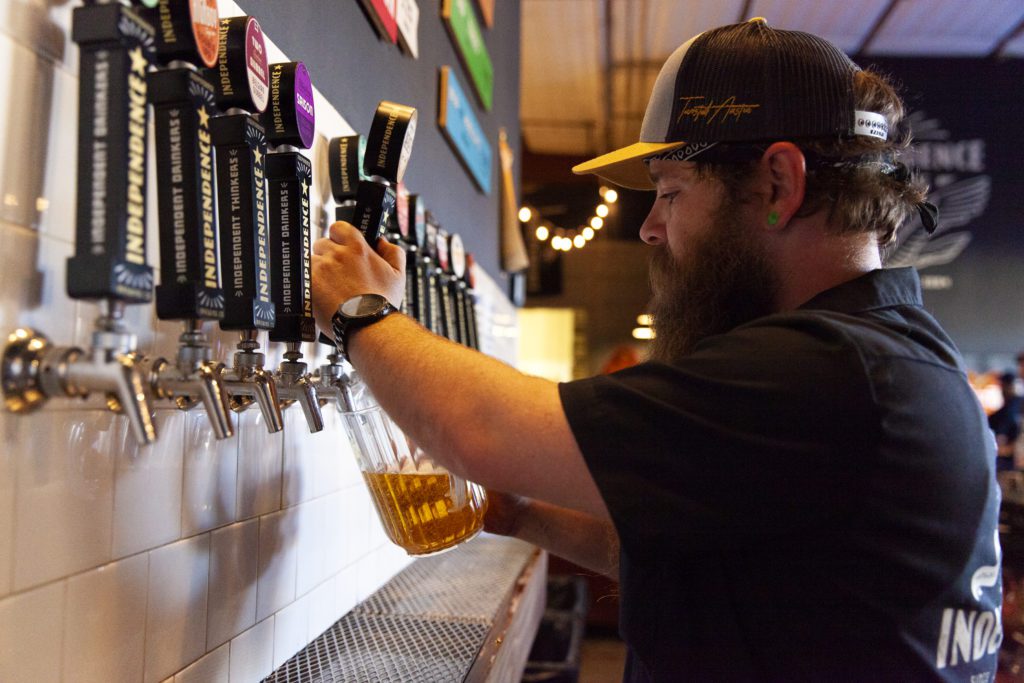 Independence Brewing has served the independent thinkers and drinkers of Texas since 2004, making it the second oldest production brewery in Austin. Founded by Amy and Rob Cartwright, University of Texas at Austin alums who started their brewing career at Austin's original brewpubs the Bitter End and Copper Tank, the couple's small mom, pop and dog operation has grown to one of Texas' largest craft breweries.
With Amy at the helm, Independence Brewing was one of the first women-led breweries in Texas and champions women in brewing – she helped start the Pink Boots chapter in Austin and has brewed the Pink Boots Highboy releases. Embracing a "come as you are" mindset, Independence has a diverse crew as well as fan base.
Independence Brewing's motley crew of 30 now brews 20,000 barrels a year. The team likens themselves to their spirit animal, the venerable grackle—aka the black sheep of birds—because like the grackle their beers are bold, loud, and travel in packs. KAW!
Independence Brewing is most well known for brewing Stash IPA, "The Chronic" of Austin's IPA scene. It's an enlightening hop trip of six different hop profiles: citrusy and floral, earthy and dank, piney and resinous. Independence first started working on this beer in 2008 after hearing some local homebrewers say their Pale Ale was "too drinkable." Originally nicknamed the STFU beer, the brewery has brewed more than a million cases of Stash since then.
Fun fact: you can order a "Busted For Possession" – a 50/50 blend of Stash IPA and Convict Hill Stout – in the Independence taproom.
Address
3913 Todd Lane Ste. 607
Austin, Texas 78744
Website