Unbox A Frozen Fun Celebration
During this super fun virtual experience, guests will make their own "ice cream in-a-bag," then make ice cream floats. We'll deliver ice cream float kits to you and your guests' doors, then invite you to follow along as one of our unforgettable hosts guides you through the ice cream-making process and entertains you with ice cream float history, trivia, while you work those dance moves to all the songs that use the word "shake" or "ice cream." There are a lot!
Make Your Own Ice Cream
Experience the magic of making ice cream without any fancy equipment! Our float kits include ingredients and supplies to make vanilla or flavored ice cream using just a couple zip-top bags. The kits even include a color-changing spoon!
Turn it Into a Float
Once everyone's ice cream is ready, it's time to choose a soda – root beer, orange or cherry – and build your float! Don't worry, we aren't sending you mass-produced stuff. Go crazy with flavor combinations, or stick to the American classic, root beer and vanilla.
Interactive Virtual Experience
Each Ice Cream Float Experience is live and fully interactive. Guests can chat with each other and the host, and everyone will get a kick out of making ice cream together and learning some sweet trivia! This quirky experience is a perfect (and delicious) way to celebrate any occasion young or old.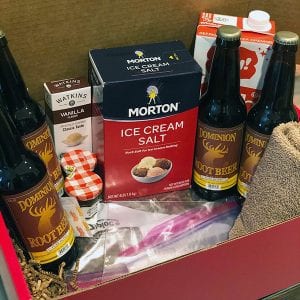 Tiers & Customizations
We offer several tiers of Ice Cream Float Experiences. The base experience includes 2 sodas and ingredients for vanilla ice cream. Make it more memorable by adding ice cream flavorings, cherry soda, or reusable metal straw. You can customize your ice cream float kits with branded glassware, notecards, and other materials.