Thai Chicken Coconut Curry
By Isaac – Business Development Manager of City Brew Tours
I could give you a story about backpacking across Asia and how this recipe has changed my life and 5 pages of what it means to me, but I'll spare you. I have been able to pack in a ton of veggies and nutrients into this, and it can all be done in one pan.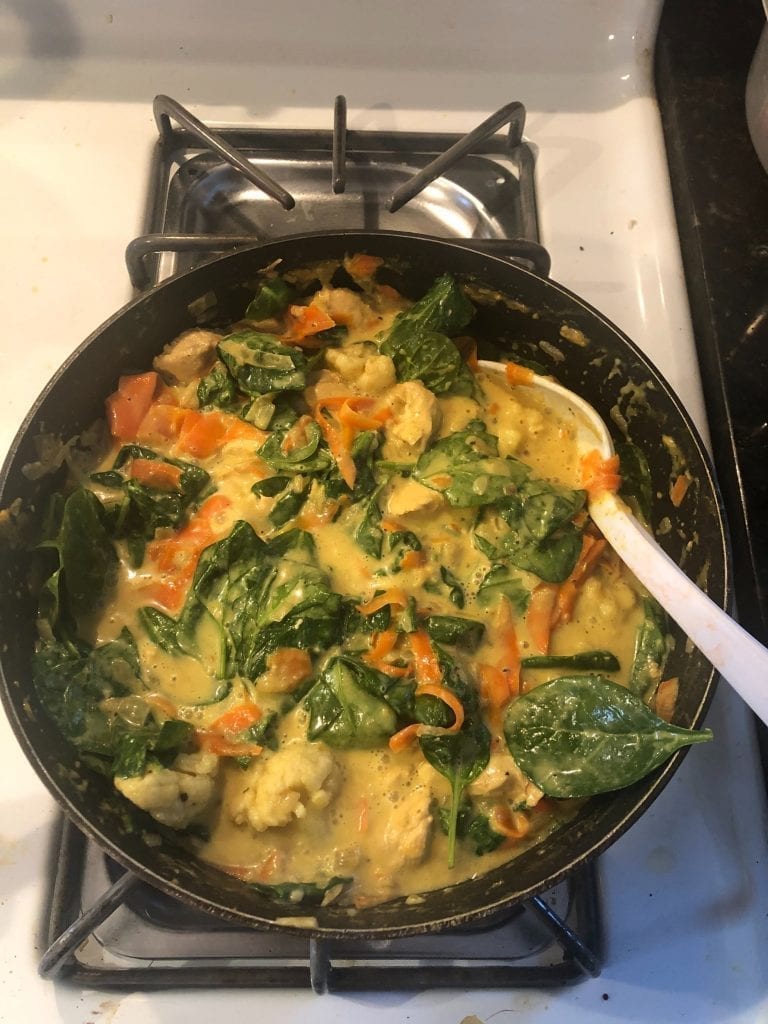 Ingredients
You will need:
Coconut Oil
2 Chicken breasts
2 Yellow onions (you could do with 1)
Fresh Ginger Root (about 3oz minced, will make this recipe super "bright")
Garlic (as much as you can possibly muster putting into a dish)
1 can of coconut milk
2 tsp Coriander
3 tablespoons Curry Powder
About 6 carrots or (1.5 cups shredded)
A small bag of baby spinach
Any other veggies you want to throw in, cauliflower works nicely
Lime Juice
Brown Sugar
Plain Yogurt (not needed, but I've been throwing it in.)
Instructions
Heat up coconut oil in a pan and saute onions. Add chicken (I like to cut the breasts up into smaller chunks) and cook. I like to add about 3oz of fresh minced ginger, as much garlic as humanly possible, and 2 tsp of coriander, mix in and cook until fragrant. Add the can of coconut milk, 3 tablespoons of curry powder, the shredded carrots, and salt and pepper to taste. Bring to a boil, simmer for about 5 minutes, until it thickens a bit. Also, add any additional veggies you're wanting to add at this stage. Yogurt if you're including it. Add the spinach and lime juice, brown sugar if you want. Make any salt/pepper/any other spices to taste adjustments now.
Cook until spinach is wilted 1-2 minutes. You're done! Enjoy with rice or naan!
Beer Pairings
There's loads of beer that would work really well with that recipe. I could take the easy route on this one and suggest that a Belgian Wit would really knock it out of the park (a local favorite for me is Port City's Optimal Wit). A good Pale Ale (DC Brau The Public) would work. I'm going to go with a style that has been aggressively brewed by a lot of local homebrew club members this season: Schwarzbier. With those nutty, roasty malts, it marries nicely with the sweetness of the coconut milk, and that crispy boi finish is going to sidestep the subtle heat on the back end of this recipe. I'm again going to turn to Port City Brewing Company on this one, although it's no longer on the draft lines. I know Sam Adams will throw out a one-off, but probably hard to find right now. Your best bet would a Kostritzer (last spotted at Total Wine for me).