City Brew Tours offers unforgettable all-inclusive tours and beer-focused experiences in some of the best beer cities throughout North America. With over a decade of experience, City Brew Tours has created the ultimate craft beer experience that blends history, beer knowledge, transportation, and great food with unrivaled access to an area's top breweries and their beer.
Our mission is to be the leading curator of craft beer experiences for visitors, locals, and the community as both an ambassador and an advocate for the brewing industry.
---
THE STORY BEHIND THE STORY
Like any good pint of beer, our company started with an idea. Founded in Burlington, Vermont in 2008 by diehard beer-lover Chad Brodsky, City Brew Tours is more than your average "beer party bus." We take guests on thirst-quenching adventures through North America's most exciting craft beer scenes with as much a focus on education as entertainment. After returning from studying in Vienna where he first fell in love with craft beer, Chad enrolled in a "Beer Making 101" class. Upon realizing beer-brewing wasn't his forte, Chad bought an old church van to start spreading the craft beer gospel. With Burlington's label as the fourth best beer city on Earth, Chad's timing was perfect in launching Burlington Brew Tours, which quickly rose to stardom for unique beer-geek-led tours. After expanding to more cities, Burlington Brew Tours evolved into City Brew Tours, with an ever-growing list of locations.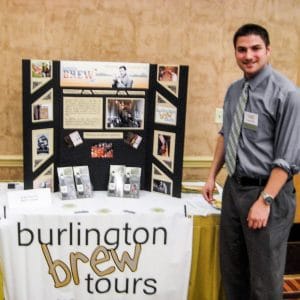 Now, following years of success, Chad has teamed up with Connor Wolfarth to bring City Brew Tours to Charlotte and deliver the same educational (and delicious) craft beer excursions the nation has adored for more than a decade to the Queen City.
For Connor, it was love at first pint when he first discovered Dogfish Head Brewery – a now mainstream craft brewery in Rehoboth Beach, DE. After 8 years in the corporate world, Connor knew the time had come to chase his passion and build on and expand the City Brew Tours brand in what has become one of his favorite cities in the world, Charlotte. Connor has always been drawn to Charlotte's vibrant craft beer scene, community, and local connoisseurs. And now, he's proud and excited to be a part of it, sharing and celebrating everything Charlotte's craft beer culture has to offer. Whether he's travelling for work or leisure, you'll always find Connor making at least one pit stop at a local craft brewery to this day. His goal is to provide locals and visitors to Charlotte alike the best craft beer experience Charlotte has to offer.
WE ARE PROUD MEMBERS OF: