The Bachelor, Charlotte…
…This isn't a TV show. This is real life and, no pressure, but you don't want to be the-guy-who-planned-the-terrible-bachelor-party. You want to be the man, the hero, the-guy-no-one-can-beat-because-he-planned-the-best-bachelor-party-ever. Be that man with City Brew Tours, Charlotte.
 Take your best friend on a guided tour of Charlotte's bustling craft beer scene, meeting locals and exploring the rich artisanal history of craft beer locally and worldwide. We'll plan every moment, so you can focus on chilling, sipping, and chewing on perfectly-paired bites.
With City Brew Tours, YOU drink, WE drive. It's the perfect game plan for you and you beer-loving crew. Contact us to celebrate your buddy's last night of freedom in Charlotte, the City Brew Tours way.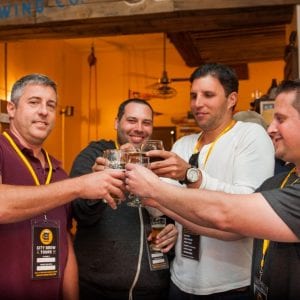 What does your Bachelor Party get?
Our award-winning craft beer tours do more than fill you up with good beer. You'll get educated too, exploring Charlotte's rich and diverse craft beer history and lively community. Step into the city's inner craft beer circle and brewery-hop with confidence, knowing you never have to put pedal to the metal – only beer to the beard. Included in every package:
VIP behind-the-scenes tours
Beer tastings at every location
Meal pairing or snack options
Flexible itinerary, pick-up, and drop-off
Comfortable round-trip transportation
Your very own expert Beer Guide
Get Started
*Private tours are inclusive of all gratuity and service fees. Premium add-ons are available.