City Brew Tours offers unforgettable all-inclusive tours and beer-focused experiences in some of the best beer cities throughout North America. With over a decade of experience, City Brew Tours has created the ultimate craft beer experience that blends history, beer knowledge, transportation, and great food with unrivaled access to an area's top breweries and their beer.
Our mission is to be the leading curator of craft beer experiences for visitors, locals, and the community as both an ambassador and an advocate for the brewing industry.
City Brew Tours Tampa is a family-owned business. We and all our guides love beer, and we love drinking it together.

Alan Sandler
Alan is a recovering criminal defense attorney with a long history of service in Tampa. A graduate of Chamberlain High School, Alan received his Bachelor of Arts in Criminal Justice from USF before pursuing his Juris Doctorate from St. Thomas University in Miami Gardens. After graduation, Alan returned to Tampa and began his work at the Office of the Public Defender, serving as Lead Trial Attorney and trying dozens of cases.
Interested in pursuing purely criminal law, Alan owned and operated a variety of law firms over the past 20 years. And while his interests in the legal realm may have waned, Alan is putting one of his other loves to good use: craft beer! Alan serves as our managing partner and one of our guides for corporate events, and is a fan of hazy IPAs.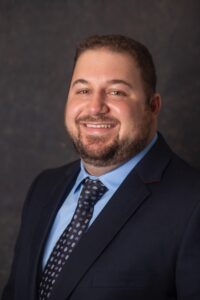 Brad Sandler
Brad is a dedicated hospitality and sales operations professional with over ten years in the hotel industry. Brad graduated from Florida International University's Chaplin School of Hospitality and holds a background in both Marriott and Hilton hotels. Always the entertainer, Brad loves wrestling, hunting for uncommon or unusual movies and television to watch, sports, and classic rock.
Brad loves Big Storm's regular stable of beers, and is also a fan of our neighbor Funky Buddha Brewery, located in Miami.
Jeff Sandler
Jeff was born in Mississippi and raised in Florida. A graduate of Chamberlain High School, Jeff received his Juris Doctorate from the University of Florida, where he was a member of Alpha Epsilon Pi and Florida Blue Key. (Editor's note: There are way too many lawyers around here.) Jeff spent his career as a title attorney before moving to New Hampshire for a third-party logistics venture with Amazon. He and his wife Debbie have three children. Jeff loves reading, fishing, and cooking.
A frequent return visitor to Tampa, Jeff loves double IPAs for their hoppy bitterness.

Matt Sandler
Matt is a marketing operations and demand gen pro born and raised in Tampa. (That's me.) He graduated from the University of Florida with a degree in political science and history, foolishly thinking he wanted to become a lawyer like the guys here above him. Talk about bad influences. Instead, about the only thing he could convince anyone he could do was write. After cutting his teeth at Morgan & Morgan as a content writer in Brooklyn, Matt returned home to Tampa like a wayward son and expanded his marketing talents into web design, SEO, PPC, and much more.
Today he works as an independent consultant for a variety of companies, assisting with marketing, software implementation, and business process improvements. Matt loves traveling, his partner Laura, and beer slushies. Though the Florida Man IPA from Cigar City is causing him to reconsider his tastes.
Where City Brew Tours began
City Brew Tours was founded in Burlington, Vermont in 2008 by Chad Brodsky, a college kid who had fallen in love with craft beer while studying in Vienna. Thirsting for more, he returned home and enrolled in the University of Vermont's "Beer Making 101" class. Fortunately, Chad quickly realized he wasn't cut out to brew beer. Instead he bought a used church van, put on his lederhosen, and set off to spread the gospel of craft beer.
Chad's timing was perfect. MSNBC had recently pronounced Burlington the fourth best beer city in the world, and Americans were starting to get a taste for craft beer. Vermont Pub and Brewery founder, Greg Noonan, was the first to open his doors to the new business, and Burlington Brew Tours was born. At the tender age of 21, Chad became the first to establish a brewery tour company on the East Coast.
Burlington Brew Tours became well known for its unique tours led by beer geeks who doubled as designated drivers. By 2012 Chad had perfected his business model. He left his full-time job in finance and opened a second location in Boston. With tours running in two cities, Chad changed the company's name to "City Brew Tours" and set off to add more locations.
By the end of 2017, Chad was juggling operations in five cities and needed help. Enter Barry Hansen, Jr., a professional brewer and part time City Brew Tours beer guide who was instrumental in launching operations in Washington, DC a couple years prior. Barry grew into the role of COO, became co-owner and used his background in leadership, biotechnology and the brewing industry to streamline logistics and expand the company.
With Barry on board, City Brew Tours grew quickly. The company opened three new locations and launched a franchising program in a span of just two years. 
As of at the close of 2022, City Brew Tours operates in 20 cities and continues to expand. The year 2022 saw the launch of three new locations: Salt Lake City, UT; Jersey Shore, NJ; and Austin, TX. With more locations coming soon, don't miss out on special announcements—sign up for the City Brew Tours newsletter.