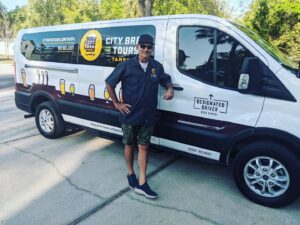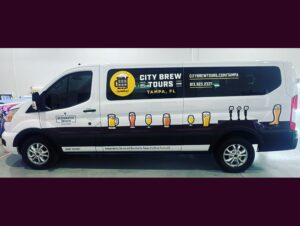 Let our guides handle the driving! Tampa is home to some pretty awful traffic for a mid-sized city, and we've got up to four different breweries to visit across it. Hop in one of our passenger vans or luxury tour buses and receive an account of Tampeño history, culture, and beer. We drive you right up to the best craft breweries in town, while our wise beer wizards delight you with their knowledge of our city and most importantly, our brewery partners.
This frees you up to do what you came for: sampling! Enjoy each of our stop's delicious beer and snacks while our designated drivers handle the rest. We'll get you to and from each location, safe and sound, so that you can indulge in the best of what Tampa's breweries have to offer.
We pick you up at 325 N Florida Ave, just outside the Starbucks located at the Hyatt Place in Downtown Tampa. There is plenty of street or garage parking available nearby, and this is also a central location for many hotels in the area. However, we strongly recommend walking or using a ride-sharing service or public transportation. If you're using GPS, you can navigate right to the Starbucks. If you need to park, we recommend the Fort Brooke Garage nearby.