Planning a convention or conference that's a hit is hard! Let us help you. We offer personalized event crafting assistance to convention and conference planners who want to put a little extra shine on their events. We handle all kinds of requests, including pre- and post-event activities, sponsorship opportunities, and more!
A customized experience at any budget
No matter your budget, we can create an ideal experience for you and your group. We can customize the number of stops, the length of the tour, how many samples are served, and more to create an event perfect for your group. Want to take it to the next level? Wow your guests with a delicious beer and food pairing or buffet. Let them relax, enjoy, and remember your convention fondly!
Rent-A-Beer-Guide
Brewery tours are just the start when it comes to how we can take your event to the next level. We offer a variety of options ranging from casual to complex, depending on your audience. Our knowledgeable beer guides and inspired brewery partners can build an agenda ideal for your audience. If your group is from out of town, we can naturally slot in some of our core offerings, like engaging discussions about Tampa's history and the growth of our beer industry. Our team will take your feedback every step of the way to build a fun and exciting event, right in your convention or conference space.
Past classes have included:
Tasting Beers (Most Popular)
Beer 101: Intro to Beer
Belgian Beers
Craft Beer Around the World
Double IPAs
History of Beer
Sensory Evaluation
Sour Ales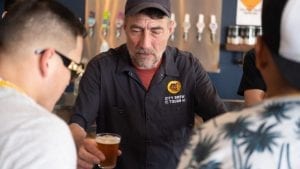 Contact us today to get started, and raise a glass to a well-crafted corporate event!
Email: [email protected]
Phone: 813-923-2337